Abstract
Computer vision is an inter-disciplinary topic crossing boundaries between computer science, statistics, mathematics, engineering and cognitive science.
Research in computer vision involves the development and evaluation of computational methods for image analysis. This includes the design of new theoretical models and algorithms, and practical implementation of these algorithms using a variety of computer architectures and programming languages. The methods under consideration are often motivated by generative mathematical models of the world and the imaging process. Recent approaches also rely heavily on machine learning techniques and discriminative models such as deep neural networks.
Problems that will be considered in the program include image restoration, image segmentation, object recognition and 3D reconstruction. Current approaches to address these problems draw on a variety of mathematical and computational topics such as stochastic models, statistical methods, differential geometry, signal processing, numerical algorithms and combinatorial optimization. Practical considerations also require the use of a wide variety of computational methods, including techniques that scale to large datasets.
The focus of the program will be on problems that involve modeling, machine learning and optimization. The program will also bridge a gap between theoretical approaches and practical algorithms, involving researchers with a variety of backgrounds.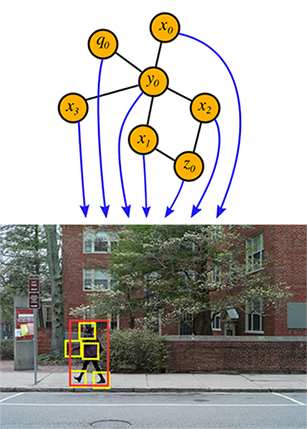 Confirmed Speakers & Participants
Zeynep Akata

University of Amsterdam

Feb 24-27, 2019

Mohit Bansal

UNC Chapel Hill

Feb 24-Mar 27, 2019

Richard Baraniuk

Rice University

Feb 17-23, 2019

Ronen Basri

Weizmann Institute of Science

Feb 17-23, 2019

Alex Berg

University of North Carolina, Chapel Hill

Feb 18-22, 2019

Tamara Berg

University of North Carolina, Chapel Hill

Feb 24-27, 2019

Katie Bouman

Harvard-Smithsonian Center for Astrophysics

Mar 17-23, 2019

Yuri Boykov

University of Western Ontario

Apr 29-May 3, 2019

Nadav Cohen

Institute for Advanced Study

Feb 22-22, 2019

Jerome Darbon

Brown University

Apr 29-May 3, 2019

Ian Dell'Antonio

Brown University

Mar 17-23, 2019

Pedro Felzenszwalb

Brown University

Feb 4-May 10, 2019

Rob Fergus

Courant Institute of Mathematical Sciences, New York University

Feb 17-23, 2019

Sanja Fidler

University of Toronto

Apr 28-May 4, 2019

Katerina Fragkiadaki

Carnegie Mellon

Feb 17-23, 2019

Bill Freeman

MIT

Mar 17-23, 2019

Benar Fux Svaiter

Instituto de Matemática Pura e Aplicada (IMPA)

Feb 3-Apr 6, 2019; Apr 28-May 11, 2019

Davi Geiger

Courant Institute, NYU

Feb 4-May 10, 2019

Stuart Geman

Brown University

Feb 4-May 10, 2019

Basilis Gidas

Brown University

Feb 4-May 10, 2019

Anna Gilbert

University of Michigan

Mar 17-23, 2019

Tom Goldstein

University of Maryland

Feb 17-23, 2019

Dorit Hochbaum

University of California, Berkeley

Apr 29-May 3, 2019

Judy Hoffman

University of California, Berkeley

Feb 17-23, 2019

Furong Huang

University of Maryland

Feb 18-22, 2019

Michal Irani

Weizmann Institute of Science

Feb 4-May 10, 2019

David Jacobs

University of Maryland

Feb 4-May 10, 2019

Tina Kapur

Brigham and Women's Hospital

Mar 17-23, 2019

Kathlén Kohn

Technical University of Berlin

Aug 27, 2018-Jun 7, 2019

Vladimir Kolmogorov

Institute of Science and Technology (IST)

Apr 28-May 4, 2019

M. Pawan Kumar

University of Oxford

Apr 28-May 4, 2019

Triet Le

The National Geospatial-Intelligence Agency

Feb 24-27, 2019

Victor Lempitsky

Samsung AI Center Moscow

Apr 28-May 4, 2019

Florencia Leonardi

University of Sao Paulo

Feb 4-May 10, 2019

Karen Livescu

Toyota Technological Institute at Chicago

Feb 17-23, 2019

Renato Monteiro

Georgia Tech

Apr 28-May 4, 2019

Raymond Mooney

The University of Texas at Austin

Feb 24-27, 2019

Roberto Oliveira

IMPA

Apr 28-May 4, 2019

Kate Saenko

Boston University

Feb 4-May 10, 2019; Feb 18-22, 2019; Feb 25-26, 2019

Guillermo Sapiro

Duke University

Feb 4-May 10, 2019; Feb 25-26, 2019

Carola-Bibiane Schönlieb

University of Cambridge

Mar 17-31, 2019

Amit Singer

Princeton University

Mar 17-23, 2019

Rekha Thomas

University of Washington

Apr 28-May 4, 2019

Naftali Tishby

Hebrew University

Feb 17-23, 2019

Shubhendu Trivedi

Toyota Technological Institute at Chicago

Feb 4-May 10, 2019

Alain Trouve

Ecole Normale Supérieure \

Feb 4-May 10, 2019

Marilyn Vazquez

George Mason University

Feb 4-May 10, 2019

Olga Veksler

University of Waterloo

Apr 28-May 4, 2019

Rene Vidal

Johns Hopkins University

Feb 17-23, 2019

Rachel Ward

University of Texas at Austin

Mar 17-23, 2019

Daphna Weinshall

Hebrew University of Jerusalem

Feb 3-Mar 8, 2019; Apr 15-May 9, 2019

Yair Weiss

Hebrew University of Jerusalem

Apr 28-May 4, 2019

Michael Werman

Hebrew University

Apr 28-May 4, 2019

Eric Xing

Carnegie Mellon University

Feb 24-27, 2019

Lihi Zelnik-Manor

Technion - Israel Institute of Technology

Apr 28-May 4, 2019

Rashid Zia

Brown University

Mar 17-23, 2019
Visit dates listed on the participant list may be tentative and subject to change without notice.
Application Information
ICERM welcomes applications from faculty, postdocs, graduate students, industry scientists, and other researchers who wish to participate in one of our semester-long programs. Some funding may be available for travel and lodging. Applications will be accepted up until the start of the semester program and will be considered as long as funds and space are available.
Any graduate student who applies should have research interests that relate to the program topic; a statement of support from the advisor is required. In addition, graduate students will only be considered if they can remain in-residence for a minimum of six weeks.
Postdoctoral Fellowships
Interested in applying for a salaried postdoc position for this program? Applications are accepted via Mathjobs.org (search under "B" for Brown University/ICERM) between June and December in the year prior to the program's start date.
Your Visit to ICERM
ICERM Facilities

ICERM is located on the 10th & 11th floors of 121 South Main Street in Providence, Rhode Island. ICERM's business hours are 8:30am - 5:00pm during this event. See our facilities page for more info about ICERM and Brown's available facilities.

Traveling to ICERM

ICERM is located at Brown University in Providence, Rhode Island. Providence's T.F. Green Airport (15 minutes south) and Boston's Logan Airport (1 hour north) are the closest airports. Providence is also on Amtrak's Northeast Corridor. In-depth directions and transportation information are available on our travel page.

Lodging/Housing

Visiting ICERM for longer than a week-long workshop? ICERM staff works with participants to locate accommodations that fit their needs. Since short-term furnished housing is in very high demand, take advantage of the housing options ICERM may recommend. Contact housing@icerm.brown.edu for more details.

Childcare/Schools

Those traveling with family who are interested in information about childcare and/or schools should contact housing@icerm.brown.edu.

Family Support

With a recent gift from Microsoft Research, we are pleased to announce that there are fellowships available to assist in defraying dependent care costs. A separate application for this fellowship will be provided to those that have accepted an invitation to participate in an NSF-funded research program. Fellowship decisions will be made based on the justification and the availability of funds.

Technology Resources

Wireless internet access and wireless printing is available for all ICERM visitors. Eduroam is available for members of participating institutions. Thin clients in all offices and common areas provide open access to a web browser, SSH terminal, and printing capability. See our Technology Resources page for setup instructions and to learn about all available technology.

Discrimination and Harassment Policy

ICERM is committed to creating a safe, professional, and welcoming environment that benefits from the diversity and experiences of all its participants. The Brown University "Discrimination and Workplace Harassment Policy" applies to all ICERM participants and staff. Participants with concerns or requests for assistance on a discrimination or harassment issue should contact the ICERM Director, who is the responsible employee at ICERM under this policy.

Exploring Providence

Providence's world-renowned culinary scene provides ample options for lunch and dinner. Neighborhoods near campus, including College Hill Historic District, have many local attractions. Check out the map on our Explore Providence page to see what's near ICERM.
Visa Information
Contact visa@icerm.brown.edu for assistance.
Need a US Visa?

J-1 visa requested via ICERM staff

Reimbursable

B-1 or Visa Waiver Business (WB) –if you already have either visa – contact ICERM staff for a visa specific invitation letter.

Not Reimbursable

B-2 or Visa Waiver Tourist (WT)

Already in the US?

F-1 and J-1 not sponsored by ICERM: obtain a letter approving reimbursement from the International Office of your home institution PRIOR to travel.

H-1B holders do not need letter of approval.

All other visas: alert ICERM staff immediately about your situation.
Financial Support
Acceptable Costs

1 roundtrip between your home institute and ICERM
Flights on U.S. or E.U. airlines – economy class to either Providence airport (PVD) or Boston airport (BOS)
Ground Transportation to and from airports and ICERM.

Unacceptable Costs

Flights on non-U.S. or non-E.U. airlines
Seats in economy plus, business class, or first class
Change ticket fees of any kind
Multi-use bus passes
Meals or incidentals

Advance Approval Required

Personal car travel to ICERM from outside New England
Multiple-destination plane ticket; does not include layovers to reach ICERM
Arriving or departing from ICERM more than a day before or day after the program
Multiple trips to ICERM
Rental car to/from ICERM
Flights on a Swiss, Japanese, or Australian airlines
Arriving or departing from airport other than PVD/BOS or home institution's local airport
2 one-way plane tickets to create a roundtrip (often purchased from Expedia, Orbitz, etc.)

Reimbursement Request Form

https://icerm.brown.edu/money/

Refer to the back of your ID badge for more information. Checklists are available at the front desk.

Reimbursement Tips

Scanned original receipts are required for all expenses
Airfare receipt must show full itinerary and payment
ICERM does not offer per diem or meal reimbursement
Allowable mileage is reimbursed at prevailing IRS Business Rate and trip documented via pdf of Google Maps result
Keep all documentation until you receive your reimbursement!

Reimbursement Timing

6 - 8 weeks after all documentation is sent to ICERM. All reimbursement requests are reviewed by numerous central offices at Brown who may request additional documentation.

Reimbursement Deadline

Submissions must be received within 30 days of ICERM departure to avoid applicable taxes. Submissions after thirty days will incur applicable taxes. No submissions are accepted more than six months after the program end.
Associated Semester Workshops