Abstract
Partial differential equations (PDEs) have long played crucial roles in the field of fluid dynamics. These PDE models, including Euler and Navier-Stokes equations for incompressible and compressible flows, kinetic equations for rarefied flows, and equations for more complex flows such as magneto-hydrodynamics flows, have motivated numerous studies from the theory of PDEs to the design and analysis of computational algorithms, and their implementation and application in computational fluid dynamics (CFD). This discipline is continually and dynamically evolving, constantly bringing forward new results in PDE theory, computation, and application to CFD, and also setting up the ground for generalizations to other related applications including electro-magnetics, fluid-structure interactions, cosmology, and computational electronics.
The aim of this workshop is to review the recent progress in the type of PDEs arising from fluid dynamics and other related physical areas, in terms of their theory, computation, and applications. The invited speakers include PDE analysts, applied and computational mathematicians, and engineers. Many of the invited speakers have made fundamental contributions to the development of PDE numerical methods and mathematical analysis as well as cutting edge applications. In harmony with ICERM's mission, the most significant aspect of this workshop is cutting-edge computational mathematics, and reinforcing the critical role played by computation in the mathematical and experimental aspects of fluid dynamics.
This workshop aims to showcase recent advances in the theory and computation of PDEs with applications in CFD. It is thus an excellent vehicle to commemorate Professor Saul Abarbanel, who has made fundamental contributions to fluid dynamics and PDEs, especially in their computation and application to CFD. To honor his memory, this workshop will focus on recent developments in the field, highlighting the exchange of current research ideas and setting the stage for future research.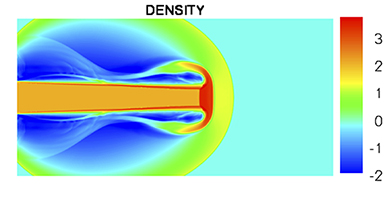 Confirmed Speakers & Participants
Application Information
ICERM welcomes applications from faculty, postdocs, graduate students, industry scientists, and other researchers who wish to participate in the topical workshops. Some funding may be available for travel and lodging. Graduate students who apply must have their advisor submit a statement of support in order to be considered.
Your Visit to ICERM
ICERM Facilities

Traveling to ICERM

Lodging

Childcare/Schools

Technology Resources

Discrimination and Harassment Policy

Exploring Providence
Visa Information
Contact visa@icerm.brown.edu for assistance.
Reimbursable

B-1 or Visa Waiver Business (WB)

Not Reimbursable

B-2 or Visa Waiver Tourist (WT)

Already in the US?

F-1 and J-1 not sponsored by ICERM: need to obtain a letter approving reimbursement from the International Office of your home institution PRIOR to travel.

H-1B holders do not need letter of approval.

All other visas: alert ICERM staff immediately about your situation.
Financial Support
Acceptable Costs

1 roundtrip between your home institute and ICERM
Flights on U.S. or E.U. airlines – economy class to either Providence airport (PVD) or Boston airport (BOS)
Ground Transportation to and from airports and ICERM.

Unacceptable Costs

Flights on non-U.S. or non-E.U. airlines
Seats in economy plus, business class, or first class
Change ticket fees of any kind
Multi-use bus passes
Meals or incidentals

Advance Approval Required

Personal car travel to ICERM from outside New England
Multiple-destination plane ticket; does not include layovers to reach ICERM
Arriving or departing from ICERM more than a day before or day after the program
Multiple trips to ICERM
Rental car to/from ICERM
Flights on a Swiss, Japanese, or Australian airlines
Arriving or departing from airport other than PVD/BOS or home institution's local airport
2 one-way plane tickets to create a roundtrip (often purchased from Expedia, Orbitz, etc.)

Reimbursement Request Form

https://icerm.brown.edu/money/

Refer to the back of your ID badge for more information. Checklists are available at the front desk.

Reimbursement Tips

Scanned original receipts are required for all expenses
Airfare receipt must show full itinerary and payment
ICERM does not offer per diem or meal reimbursement
Allowable mileage is reimbursed at prevailing IRS Business Rate and trip documented via pdf of Google Maps result
Keep all documentation until you receive your reimbursement!

Reimbursement Timing

6 - 8 weeks after all documentation is sent to ICERM. All reimbursement requests are reviewed by numerous central offices at Brown who may request additional documentation.

Reimbursement Deadline

Submissions must be received within 30 days of ICERM departure to avoid applicable taxes. Submissions after thirty days will incur applicable taxes. No submissions are accepted more than six months after the program end.