Organizing Committee
Tim Schulze
University of Tennessee
Vivek Shenoy
University of Pennsylvania
Peter Smereka
University of Michigan
Abstract
The theme of this workshop is the computation, modeling, and mathematical analysis of heterostructured nanocrystalline materials. This includes quantum dots, nanowires, graphene, and grain boundaries. These various phenomena will be discussed in the context of modeling and computation on different scales ranging from density functional theory to continuum mechanics. The workshop will also address various techniques that allow one to combine models on different scales to yield efficient computational methods.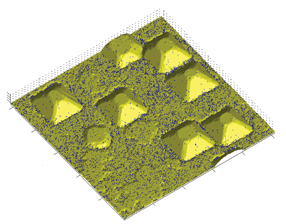 Confirmed Speakers & Participants
Talks will be presented virtually or in-person as indicated in the schedule below.
Speaker
Poster Presenter
Attendee
Virtual Attendee
Arvind Baskaran

University of Maryland College Park

Henry Boateng

STFC Daresbury Laboratory

Victor Chan

University of Michigan

Eric Chason

Brown University

Matt Elsey

Intel Corporation

Selim Esedoglu

University of Michigan

Jim Evans

Iowa State University

Brittan Farmer

University of Minnesota

Irene Fonseca

Carnegie Mellon

Carlos Garcia-Cervera

University of California, Santa Barbara

Yong Han

Iowa State University

Shaun Hendy

University of Auckland

Jeff Hoyt

McMaster University

Robert Kohn

Courant Institute of Mathematical Sciences NYU

Joachim Krug

Institute for Theoretical Physics University of Cologne

Marta Lewicka

University of Pittsburgh

Xingjie Li

University of North Carolina at Charlotte

Jianfeng Lu

Duke University

Mitchell Luskin

University of Minnesota

Irfan Mansuri

Devi Ahilya University

Dionisios Margetis

University of Maryland

Normand Modine

Sandia National Laboratories

Marco Morandotti

Technische Universitat Munchen

Hoai-Minh Nguyen

Ecole Polytechnique Federale de Lausanne

Paul Patrone

National Institute of Standards and Technology (NIST)

Paolo Piovano

University of Vienna

Nirand Pisutha-Arnond

University of Michigan

Kristofer Reyes

University at Buffalo

Tim Schulze

University of Tennessee

Vivek Shenoy

University of Pennsylvania

Peter Smereka

University of Michigan

Brian Spencer

University at Buffalo

Ellad Tadmor

University of Minnesota

Jerry Tersoff

IBM

Axel Voigt

Institute of Scientific Computing - Technische Universitat Dresden

Peter Voorhees

Northwestern University

Benedikt Wirth

University of Munster

Zhengyu Zhang

Hefei National Laboratory for Physical Sciences at the Microscale

Barbara Zwicknagl

University of Bonn
Workshop Schedule
Wednesday, May 30, 2012
Time
Event
Location
Materials
8:30 - 9:25am EDT
Welcome Coffee and Registration
11th Floor Collaborative Space
9:25 - 9:30am EDT
ICERM Director's Welcome - Jeffrey Brock, ICERM Deputy Director
11th Floor Lecture Hall
9:30 - 10:00am EDT
Effective rate constants for nanostructured heterogeneous catalysts - Shaun Hendy, Victoria University of Wellington
11th Floor Lecture Hall
10:00 - 10:30am EDT
Coffee/Tea Break
11th Floor Collaborative Space
10:30 - 11:00am EDT
Variational Methods for Crystal Surface Instability - Irene Fonseca, Carnegie Mellon University
11th Floor Lecture Hall
11:00 - 11:30am EDT
Reconstruction, Disorder, and Nanostructure Formation at Compound Semiconductor Surfaces - Normand A. Modine, Sandia National Laboratories
11th Floor Lecture Hall
11:30 - 1:30pm EDT
Break for Lunch
1:30 - 2:00pm EDT
Pattern formation in a compressed elastic film on a compliant substrate - Robert V. Kohn, Courant Institute, NYU
11th Floor Lecture Hall
2:00 - 2:30pm EDT
Origins of Residual Stress in Thin Films - Eric Chason, Brown University
11th Floor Lecture Hall
2:30 - 3:00pm EDT
Quantum Phase Transitions in Topological Insulator and Graphene Nanoribbon Heterostructures - Zhenyu Zhang, University of Science and Technology of China & Harvard University
11th Floor Lecture Hall
3:00 - 3:30pm EDT
Coffee/Tea Break
11th Floor Collaborative Space
3:30 - 4:00pm EDT
Multigrid Methods in Multiscale Modeling of Atomic Solids - Carlos J. Garcia-Cervera, University of California, Santa Barbara
11th Floor Lecture Hall
4:00 - 4:30pm EDT
Wrinkling of a floating elastic film- energy and pattern - Hoai-Minh Ngyuen, University of Minnesota
11th Floor Lecture Hall
4:30 - 5:00pm EDT
Asymmetric transition states in quantum dots - Brian Spencer, University at Buffalo
11th Floor Lecture Hall
5:00 - 7:30pm EDT
Reception and Poster Session
11th Floor Lecture Hall and Collaborative Space
Thursday, May 31, 2012
Time
Event
Location
Materials
9:30 - 10:00am EDT
Quasiequilibrium Monte Carlo- Off-Lattice Kinetic Monte Carlo Without Saddle Points - Henry Boateng, University of Michigan
11th Floor Lecture Hall
10:00 - 10:30am EDT
Coffee/Tea Break
11th Floor Collaborative Space
10:30 - 11:00am EDT
Compositional Uniformity of Deoped Nanowires and the Stability of Nanowire Growth - Peter Voorhees, Northwestern University
11th Floor Lecture Hall
11:00 - 11:30am EDT
Threshold dynamics for the mean curvature motion of networks with unequal surface tensions - Selim Esedoglu, University of Michigan
11:30
11:30 - 11:40am EDT
Group Photo
11th Floor Lecture Hall
11:40 - 1:30pm EDT
Break for Lunch
1:30 - 2:00pm EDT
Hyper-QC- Accelerated Finite-Temperature Quasicontinuum Simulations Using Hyperdynamics - Ellad B. Tadmor, University of Minnesota
11th Floor Lecture Hall
2:00 - 2:30pm EDT
Far-from-equilibrium formation of multi-component heteroepitaxial metal nanostructures - Jim Evans, Iowa State University
11th Floor Lecture Hall
2:30 - 3:00pm EDT
Elasticity of prestrained structures - Marta Lewicka, University of Pittsburgh
11th Floor Lecture Hall
3:00 - 3:30pm EDT
Coffee/Tea Break
11th Floor Collaborative Space
3:30 - 4:00pm EDT
Dynamic Density Functional Theory (DDFT) model for nano-crystal growth from fluid phase- The effect of fluid flow - Arvind Baskaran, University of California, Irvine
11th Floor Lecture Hall
4:00 - 4:30pm EDT
Universality of step bunching behavior in systems with non-conserved dynamics - Joachim Krug, Institut fuer Theoretische Physik, Universitaet zu Koeln
11th Floor Lecture Hall
4:30 - 5:00pm EDT
Complex dynamics and morphologies in nanowire growth - Jerry Tersoff, IBM
11th Floor Lecture Hall
Friday, June 1, 2012
Time
Event
Location
Materials
9:00 - 9:30am EDT
Fast KMC simulation of Heteroepitaxial Growth - Tim Schulze, University of Tennesse
11th Floor Lecture Hall
9:30 - 10:00am EDT
Crystal facets in epitaxy- Progress and challenges - Dionisios Margetis, University of Maryland
11th Floor Lecture Hall
10:00 - 10:05am EDT
Survey Distribution
11th Floor Lecture Hall
10:05 - 10:35am EDT
Coffee/Tea Break
11th Floor Collaborative Space
10:30 - 11:00am EDT
A phase-field-crystal study for heterogeneous nucleation - Axel Voigt, University of Dresden
11th Floor Lecture Hall
11:00 - 11:30am EDT
Molecular dynamics simulations of FCC- BCC interphase boundary kinetics in pure Fe - Jeff J. Hoyt, McMaster University
11th Floor Lecture Hall
11:30 - 1:30pm EDT
Break for Lunch
1:30 - 2:00pm EDT
Atomistic-to-Continuum Coupling Methods - Mitchell Luskin, University of Minnesota
11th Floor Lecture Hall
2:00 - 2:30pm EDT
Kinetic Monte Carlo Simulation of Heteroepitaxial Growth- Wetting Layers, Quantum Dots, Capping, and NanoRings - Peter Smereka, University of Michigan
11th Floor Lecture Hall