Abstract
The purpose of this workshop is to bring together experts in representation theory, categorification, low-dimensional topology, mathematical physics, and combinatorics, in order to understand how categorifications of the braid groups and Hecke algebras allow one to compute and understand link invariants. Our concrete goals are to:
(a) develop and compare various algebro-geometric models for link homology, and use them to explicitly compute Khovanov-Rozansky homology of various links
(b) categorify various structures in the Hecke algebra (center, cocenter, Kazhdan-Lusztig cells, Jones-Wenzl projectors) using Soergel bimodules
(c) compare the geometric and algebraic constructions above, and understand the connection between the (co)center of the Soergel category and the Hilbert scheme of points on the plane
This workshop is fully funded by a Simons Foundation Targeted Grant to Institutes.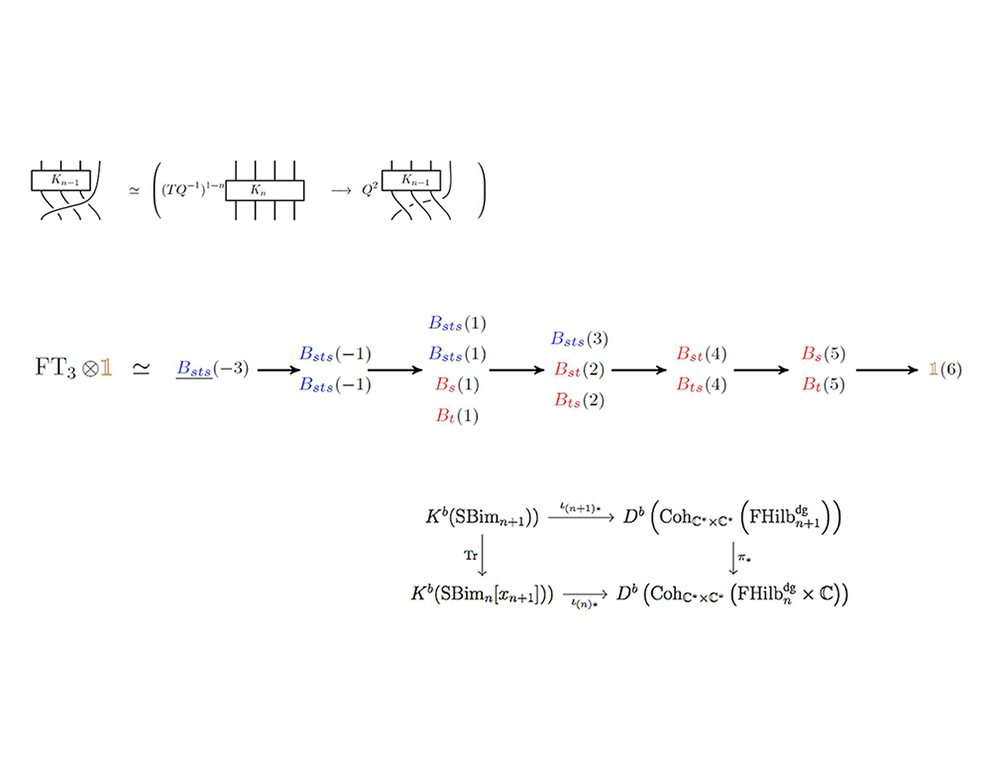 Confirmed Speakers & Participants
Talks will be presented virtually or in-person as indicated in the schedule below.
Speaker
Poster Presenter
Attendee
Virtual Attendee
Workshop Schedule
Friday, February 28, 2020
Time
Event
Location
Materials
8:30 - 8:55am EST
Registration - ICERM 121 South Main Street, Providence RI 02903
11th Floor Collaborative Space
8:55 - 9:00am EST
Welcome - ICERM Director
11th Floor Lecture Hall
9:00 - 10:00am EST
Introduction - Eugene Gorsky, UC Davis
11th Floor Lecture Hall
10:00 - 10:30am EST
Coffee/Tea Break
11th Floor Collaborative Space
10:30 - 11:15am EST
Matrix factorizations and Soergel bimodules - Alexei Oblomkov, UMASS Amherst
11th Floor Lecture Hall
11:30 - 11:40am EST
Group Photo
11th Floor Lecture Hall
11:45 - 1:45pm EST
Break for Lunch / Free Time
1:45 - 2:30pm EST
Triply graded homology of algebraic links and affine Springer theory - Oscar Kivinen, Caltech
11th Floor Lecture Hall
2:45 - 3:15pm EST
Coffee/Tea Break
11th Floor Collaborate Space
3:15 - 4:15pm EST
Introduction to Soergel Bimodules - Ben Elias, University of Oregon
11th Floor Lecture Hall
4:30 - 6:00pm EST
Welcome Reception
11th Floor Collaborative Space
Saturday, February 29, 2020
Time
Event
Location
Materials
9:00 - 9:45am EST
Cocenter of the Soergel category - Matt Hogancamp, Northeastern University
11th Floor Lecture Hall
10:00 - 10:30am EST
Coffee/Tea Break
11th Floor Collaborative Space
10:30 - 11:15am EST
Invariants of 4-manifolds from Khovanov-Rozansky link homology - Paul Wedrich, MSRI
11th Floor Lecture Hall
11:30 - 1:15pm EST
Break for Lunch / Free Time
1:30 - 2:15pm EST
Braids and Annular Khovanov-Lee theory- a survey - Eli Grigsby, Boston College
11th Floor Lecture Hall
2:30 - 3:15pm EST
An annular filtration on Sarkar-Seed-Szabo's spectral sequence - Melissa Zhang, University of Georgia
11th Floor Lecture Hall
3:30 - 4:00pm EST
Coffee/Tea Break
11th Floor Collaborate Space
4:00 - 5:00pm EST
Open Discussion
11th Floor Lecture Hall
Sunday, March 1, 2020
Time
Event
Location
Materials
9:00 - 9:45am EST
Foam evaluation and Kronheimer-Mrowka homology of planar graphs - Mikhail Khovanov, Columbia University
11th Floor Lecture Hall
10:00 - 10:30am EST
Coffee/Tea Break
11th Floor Collaborative Space
10:30 - 11:15am EST
Link homology as a tale of two quivers - Lev Rozansky, University of North Carolina at Chapel Hill
11th Floor Lecture Hall
12:30 - 2:15pm EST
Break for Lunch / Free Time