Abstract
With the substantial recent progress in connectomics, the study of comprehensive maps of nervous systems, much more is known about the connectivity structure of brains. This has led to a multitude of new questions about the relationship between connectivity patterns, neural dynamics and brain function, many of which lead to new mathematical problems in graph theory and dynamics on graphs. The goal of this workshop is to bring together a broad range of researchers from neuroscience, physics, mathematics, and computer science to discuss new challenges in this emergent field and promote new collaborations.
This workshop is fully funded by a Simons Foundation Targeted Grant to Institutes.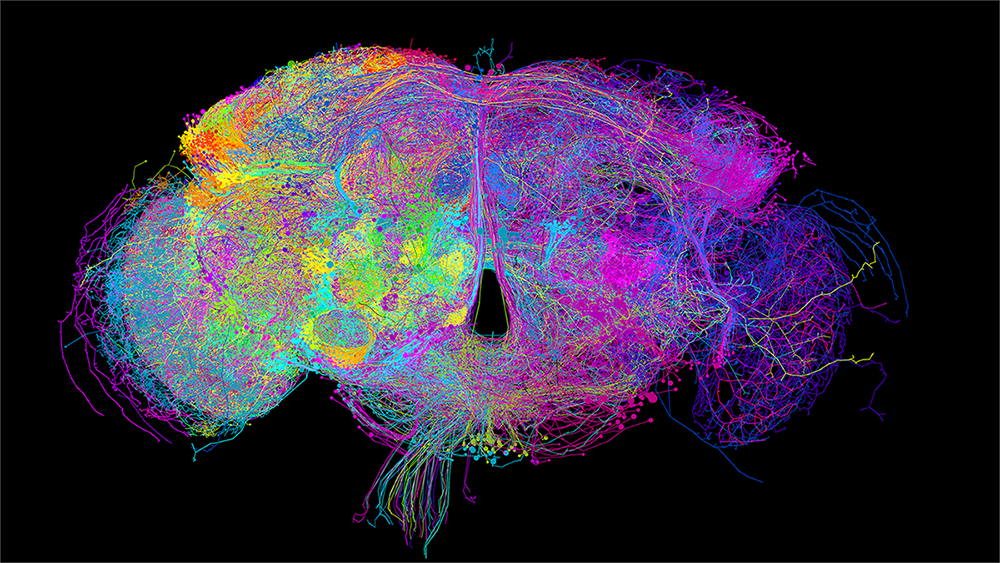 Confirmed Speakers & Participants
Talks will be presented virtually or in-person as indicated in the schedule below.
Speaker
Poster Presenter
Attendee
Virtual Attendee
Workshop Schedule
Saturday, May 14, 2022
Welcome

11th Floor Lecture Hall

Brendan Hassett, ICERM/Brown University

Semantic and Syntactic Information in the Age of Connectomics

11th Floor Lecture Hall

Speaker
Aurel Lazar, Columbia University

Session Chair
Dmitri Chklovskii, Flatiron Institute & NYU Neuroscience Institute

Abstract

A major challenge in sensory neuroscience is the faithful representation of sensory stimuli in the spike (time) domain. To address this challenge, we encoded complex visual fields and auditory scenes using neural circuits that consist of receptive fields and biological spike generators. Under Nyquist-type rate conditions, we formally demonstrated that the encoded syntactic (Shannon) information can be recovered with arbitrary precision. The derivation of these analytical results is based on frame theory, the theory of dynamical systems, statistics and machine learning. The early Drosophila olfactory system, while sensing a complex odorant landscape, encodes the odorant object identity (semantic information) and the odorant concentration waveform (syntactic information) into a confounding combinatorial neural code. We show how, in the antennal lobe of the fruit fly, the semantic information of odorant identity is decoupled from the syntactic information of odorant concentration and represented in the spike domain for further processing in higher brain centers.

Coffee Break

11th Floor Collaborative Space

A comprehensive model of the Macaque V1 cortex

11th Floor Lecture Hall

Virtual Speaker
Lai-Sang Young, New York University

Session Chair
Dmitri Chklovskii, Flatiron Institute & NYU Neuroscience Institute

Abstract

In the last several years I have been involved in building a biologically detailed model of the Macaque V1. Our aim was to build a single network model capable of most of the major V1 functions, in the hope that a dynamical system that behaves sufficiently like real V1 may shed light on its neural mechanisms. Work on the magno-receiving input layer is nearly complete. The model's capabilities include realistic spontaneous and evoked responses, orientation and direction selectivity, visible ranges of spatial and temporal frequencies, simple vs complex cells, contrast response, gamma rhythms, etc. My talk will consist of an overview followed by a brief guided tour of the model.

Modular and cyclic structure in a vertebrate sensorimotor neural circuit

11th Floor Lecture Hall

Speaker
Runzhe "Tony" Yang, Princeton University

Session Chair
Dmitri Chklovskii, Flatiron Institute & NYU Neuroscience Institute

Abstract

The recent explosion of neuronal wiring diagrams enables the investigation of fundamental questions about the organization of nervous systems through cross-species comparisons. In this talk, I will present the first vertebrate sensorimotor wiring diagram at synaptic resolution, with comparisons drawn against C. elegans. I will first show functional modules discovered by Bayesian inference with stochastic block modeling based on connectivity. The modularity is maintained even if all strong connections are discarded, against the longstanding conjecture that weak connections are functionally insignificant. I will then show a cyclic structure within the oculomotor module. The precise cellular cycles are found to be statistically overrepresented through motif analysis. The cyclic structure could be relevant for theories of oculomotor function that depend on recurrent connectivity.

Group Photo (Immediately After Talk)

11th Floor Lecture Hall

Distributed and Localized Control and Optimization: Neuroscientific Connections?

11th Floor Lecture Hall

Speaker
James Anderson, Columbia University

Session Chair
David Lipshutz, Flatiron Institute

Abstract

Recent advances in distributed control theory have expanded the class of distributed control problems that can be solved in a convex manner. Localization; the idea that disturbances to the system state should not be allowed to propagate throughout the entire network, nor should their effect be felt for long periods of time, serves as both a desirable goal for distributed control and a simplifying assumption. In this talk I will describe the system level synthesis framework paying particular attention to the role of locality. I will then discuss how the nervous system of the cnidarian Hydra vulgaris may provide an ideal "minimal chasis" for the studying distributed control models of animal behavior and decision making.

Coffee Break

11th Floor Collaborative Space

Variability in structural network changes resulting from traumatic brain injury

11th Floor Lecture Hall

Speaker
Sarah Muldoon, University at Buffalo

Session Chair
David Lipshutz, Flatiron Institute

Abstract

Traumatic brain injury (TBI) damages white matter tracts and changes brain connectivity, but how specific changes relate to differences in clinical/behavioral outcomes is not known. Here, I'll present recent work classifying different patterns of changes in brain network structure after injury in a rat model of TBI. We find that local changes in motif coherence can be used to define subgroups within injured rats that display different patterns of injury induced change. Further, computational modeling of brain dynamics suggests that these different underlying brain networks could be related to the observed heterogeneity in clinical outcomes such as the propensity to develop epilepsy.

Reception

11th Floor Collaborative Space
Sunday, May 15, 2022
Distributed dynamics and cognition in large-scale brain circuits

11th Floor Lecture Hall

Virtual Speaker
Xiao-Jing Wang, New York University

Session Chair
Sarah Muldoon, University at Buffalo

Abstract

In spite of considerable progress in computational neuroscience, most theoretical research has been limited to local neural circuits. By contrast, with recent technological advances, neuroscience of multi-regional brain-wide neural circuits is poised to take off. Here I will introduce large-scale modeling of cortex based on mesoscopic connectome for monkey cortex. Our model naturally gives rise to a hierarchy of timescales; I will discuss mathematical analysis of its mechanism and functional implications. I will highlight the concept of macroscopic gradients of synaptic excitation and inhibition as a general principle of large-scale cortical organization, and illustrate how our model can be used to investigate distributed cognitive functions such as working memory and decision making.

Coffee Break

11th Floor Collaborative Space

Comparing topological measures of neural structure and function

11th Floor Lecture Hall

Speaker
Chad Giusti, University of Delaware

Session Chair
Sarah Muldoon, University at Buffalo

Abstract

Topological methods provide us with measures of mesoscale, nonlinear organization in both structure and function of brain networks. Persistent homology, in particular, has been useful as a statistic for differentiation between populations and states. However, determining when two structures detected by topological means are similar -- homologous, in the non-mathematical sense -- remains a challenge. Here, I will discuss a new approach for comparing topological structure across modalities, subjects, or measurements; show initial results demonstrating their application to simulations of multi-system neural activity; and, discuss current and near-future challenges for applying topology to the study of brain networks.

Analysis of the complete connectome of the Drosophila larval brain

11th Floor Lecture Hall

Virtual Speaker
Albert Cardona, Laboratory of Molecular Biology, Cambridge

Session Chair
Sarah Muldoon, University at Buffalo

Abstract

A synaptic wiring diagram, or connectome, of a nervous system serves as the basis for formulating and evaluating models of neural function and behavior. Here, we mapped the synaptic-resolution connectome of the whole brain of the Drosophila larva from volume electron microscopy, comprising 3,013 neurons and 544,000 synaptic sites. The brain of this organism is capable of complex forms of learning and action selection, and there are excellent genetic tools to experimentally test hypotheses of neural circuit function. We used the connectome to identify all cell types, paired all uniquely identified, mirror-symmetric neurons across the brain hemispheres, and developed new tools to analyze the connectivity graph in the light of four different edge types: axo-dendritic, axo-axonic, dendro-dendritic and dendro-axonic. We hierarchically clustered all brain neurons based on synaptic connectivity, and analyzed intra- and inter-cluster interactions. We found pervasive multisensory and interhemispheric integration throughout the brain's multi-layered circuits; highly recurrent architecture and abundant feedback from descending neurons onto the majority of cell types in the brain; and descending-ascending circuit motifs between the brain and nerve cord. The complete brain connectome breaks open the sensorimotor transformation black box and serves as a basis for studying the structure-function relationship of neural circuits.

Closing Remarks

11th Floor Lecture Hall

Dmitri Chklovskii, Flatiron Institute & NYU Neuroscience Institute
David Lipshutz, Flatiron Institute
All event times are listed in ICERM local time in Providence, RI (Eastern Daylight Time / UTC-4).
Schedule Timezone Updated