News Archive
ICERM Newsletter Fall 2014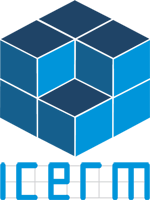 Fall 2014 - In This Issue:
Spring Semester '15
Director Search
Call for Proposals
Postdoctoral Fellowships
Fall Semester '15
Grad Opportunities
Spring Semester '16
Seeking TA's
Did You Know?
New Board Members & Staff
All Upcoming Programs
Institute for Computational and Experimental Research in Mathematics
---
Dear friends and alumni of ICERM,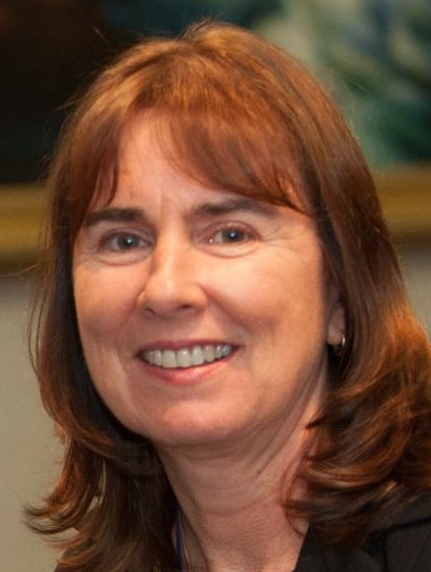 We're in the midst of an exciting fall program in High Dimensional Approximation, and looking forward to the spring program in Emergent Phenomena and Phase Transitions. We are accepting applications to participate in this program and its workshops, so please take a moment to learn more about it below.
The fall has been unusually busy as we've also had our NSF site visit in September for ICERM's 2015-2020 renewal proposal. I look forward to sharing information with you about our future plans next spring. In the meantime, you can read about our many upcoming programs and opportunities for early career researchers in this newsletter, and perhaps learn a few new things about ICERM.
Sincerely,
Jill Pipher
ICERM Director
---
Spring 2015 Semester Program
Phase Transitions and Emergent Properties
February 2 - May 8, 2015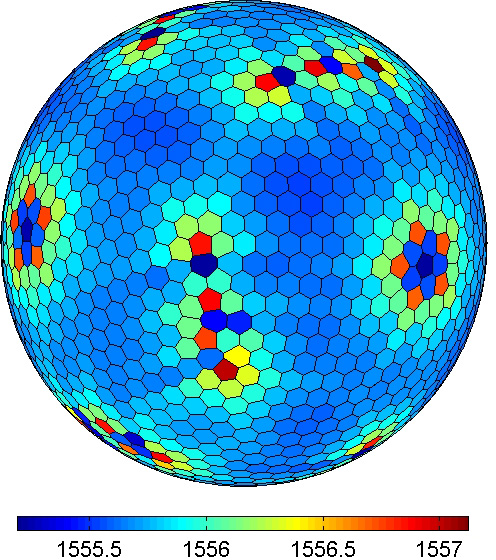 Description:
Emergent phenomena are properties of a system of many components which are only evident or even meaningful for the collection as a whole. A typical example is a system of many molecules, whose bulk properties may change from those of a fluid to those of a solid in response to changes in temperature or pressure. The basic mathematical tool for understanding emergent phenomena is the variational principle, most often employed via entropy maximization. The difficulty of analyzing emergent phenomena, however, makes empirical work essential; computations generate conjectures and their results are often our best judge of the truth.
The semester will include three workshops that will concentrate on different aspects of current interest, including unusual settings such as complex networks and quasicrystals, the onset of emergence as small systems grow, and the emergence of structure and shape as limits in probabilistic models. The workshops will (necessarily) bring in researchers in combinatorics and probability as well as statistical physics and related areas.
Organizing Committee:
Mark Bowick, Syracuse University
Beatrice de Tiliere, Université Pierre et Marie Curie, Paris
Richard Kenyon, Brown University
Charles Radin, University of Texas
Peter Winkler, Dartmouth College
Associated Workshops:
---
ICERM Seeks New Director
The institute's Board of Trustees and Brown University seek a new director of ICERM for an appointment to begin between August 2015 and July 2016. The Director will serve as the scientific and administrative leader of the institute and will be a distinguished member of the Brown faculty.

The successful candidate will possess outstanding scholarly credentials, including a Ph.D., as well as demonstrated academic leadership experience. The Director will hold a tenured position at Brown University in the Department of Mathematics or the Division of Applied Mathematics, or jointly in at least one of these departments. Preference will be given to applicants whose research interests align with the mission of ICERM. Although the Director will have no formal teaching obligations, the Director's faculty appointment will carry some expectation of service both to the department(s) in which the Director is appointed and to the university. The term of the appointment as Director of ICERM ends August 2020, and may be renewed.
The search committee consists of members of the ICERM Board of Trustees and faculty in Mathematics and Applied Mathematics.
For more information, please go to our job posting.
---
Summer@ICERM
ICERM is currently seeking proposals for its 8-week undergraduate research program: Summer@ICERM.

Pre-Proposal Requirements:
A 2-3 page document which identifies one faculty leader and potential partner(s), a short description of the focus of the program, and a sample list of 8-10 research projects suitable for undergraduates. Preference will be given to proposals that relate to one of the semester program themes occurring in the adjacent spring or fall semester.
Deadline
Please submit pre-proposals to director@icerm.brown.edu. The ICERM directorate and a subcommittee of the Education Advisory Board (EAB) will review all pre-proposals beginning March 2, 2015.
ICERM accepts proposals for all of its research programs.
For more details about the proposal process and associated deadlines, please visit our "How to propose a Program" website.
---
Applications Now Open
2015-2016 Postdoctoral Fellowships

Two 2015-2016
Academic
Year Institute
Postdoctoral
Fellowships
Four Fall 2015
Semester
Postdoctoral
Fellowships
Four Spring
2016 Semester
Postdoctoral
Fellowships
All Postdoctoral
Fellows
matched
with faculty
mentors
Apply via
Mathjobs.org
These positions are open to mathematical
scientists at an early stage of their
career.
Postdoctoral Institute Fellowships:
ICERM's two Postdoctoral Institute
Fellowships are 9-month salaried positions
(with possibility of summer support), both
commencing in September 2015. One will
participate in the fall 2015
"Computational Aspects of the Langlands
Program" semester program and remain as
a researcher-in-residence during the
spring 2016 semester. The other will begin
as a researcher-in-residence during the
fall 2015 semester and will participate in
the spring 2016 "Dimension and Dynamics"
semester program.
Postdoctoral Fellowships: ICERM's eight
Postdoctoral Fellowships are semester-
long positions that come with stipends.
Four begin in September 2015 during the
"Computational Aspects of the Langlands
Program" semester program. The other
four start in February 2016 during the
"Dimension and Dynamics" semester
program.
Eligibility: applicants must have
completed their Ph.D. within three years
of the start of the appointment.
Applicants must submit an AMS Standard
Cover Sheet, curriculum vitae (including
publication list), cover letter, research
statement, and three letters of
recommendation via Mathjobs.org.
Applications will be accepted until all
positions are filled.
Brown University is an Equal Opportunity/
Affirmative Action employer.
---

Fall 2015 Semester Program
Computational Aspects of the Langlands Program
September 9, 2015 - December 4, 2015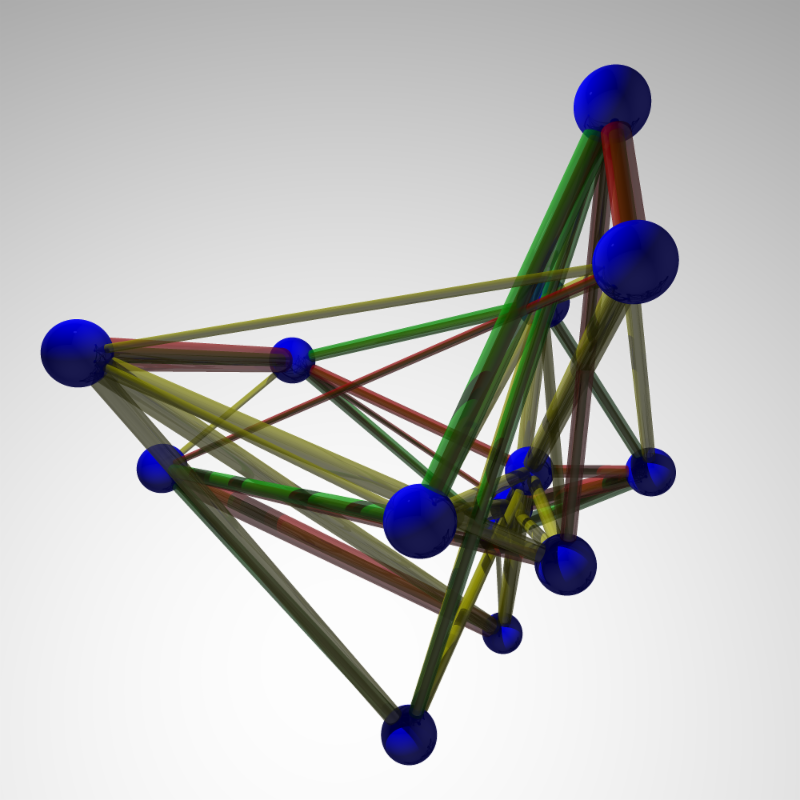 Description:
In the late 1960s, Robert Langlands discovered a unifying principle in number theory providing a vast generalization of class field theory to include nonabelian extensions of number fields. This principle gives rise to a web of conjectures called the Langlands program which continues to guide research in number theory to the present day. For example, an important first instance of the Langlands program is the modularity theorem for elliptic curves over the rational numbers, an essential ingredient in the proof of Fermat's last theorem.
Despite its many successes, the Langlands program remains vague in many of its predictions, due in part to an absence of data to guide a precise formulation away from a few special cases. In this thematic program, we will experiment with and articulate refined conjectures relating arithmetic-geometric objects to automorphic forms, improve the computational infrastructure underpinning the Langlands program, and assemble additional supporting data. Such data has proven valuable for researchers in number theory, and it will continue to be made available at the L-Functions and Modular Forms Database.
During the semester we will focus on three specific aspects of the Langlands program. First, we will look at elliptic curves over number fields and genus 2 curves over the rationals and will consider their relationship to modular forms. Second, we will consider computational aspects of modular forms in higher rank. Specifically, we will examine K3 surfaces and their connections to modular forms on orthogonal groups. Our third topic concerns analytic aspects of L-functions, building upon and complementing the algebraic, arithmetic, and geometric data.
Organizing Committee:
Alina Bucur, UCSD
Brian Conrey, AIM and University of Bristol
David Farmer, AIM
John Jones, Arizona State University
Kiran Kedlaya, UCSD
Michael Rubinstein, University of Waterloo
Holly Swisher, Oregon State University
John Voight, Dartmouth College
Associated Workshops:
---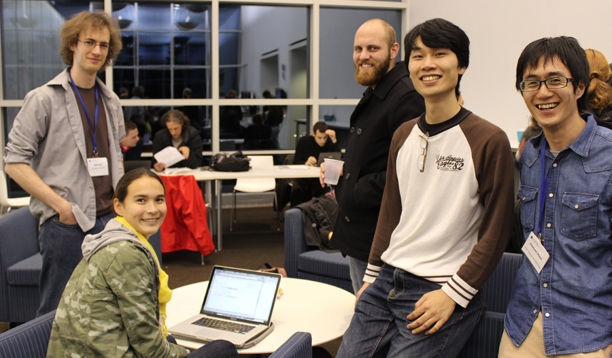 Opportunities for Graduate Students
ICERM welcomes applications from graduate students who wish to spend between 6 weeks and one semester at the institute to participate in one of our semester-long programs.
Upcoming Semester Programs:
ICERM provides graduate students with workspace, shared computers, and lockers; support for local expenses may be provided. The research interest of participants should relate to the semester program topic. Applications may be submitted at any time until the end of a semester program and will be considered as long as funds and space remain available.
---

Spring 2016 Semester Program
Dimension and Dynamics
February 1 - May 6, 2016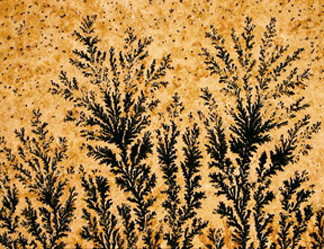 Description:
Since its introduction by Felix Hausdorff in 1919, the concept of the Hausdorff dimension of sets and measures has been a versatile and powerful tool in classical analysis, geometry and geometric measure theory, mathematical physics and numerous applications. However, there has been a particularly important symbiosis between dynamical systems and dimension theory. This connection arises both from application of dimension theory to the classification and geometric analysis of dynamical systems (and their invariant sets and measures), and the fact that many classical objects of study in mathematics arise from (sometimes implicit) dynamical systems, which often play a role in the dimension theory of said objects.
Recently, there has been substantial progress on a number of central problems in dimension theory, and while many old problems remain, many new ones have also presented themselves. These include a deeper understanding of the relationship between dimension, entropy and Lyapunov exponents; the recent strengthenings of the Marstrand projection theorem and its implications for dimensions of sums of Cantor sets and the connections with number theory; multifractal analysis of ergodic averages, particularly the recent advances for multiple ergodic averages; and improved computational methods for obtaining effective bounds on Hausdorff dimension. This proposed program aims to set the stage for further progress on the many open problems in the field.
It is a challenging classical problem to compute numerically dimensions of given fractals. In recent years, computer-aided proofs in mathematical analysis have gained an increasing presence in mathematical research. One reason for this field's growing impact is due to its ability to produce high-quality quantitative information about global, nonlinear problems. As a consequence, solutions to a large class of previously intractable problems are now within reach, and recently several long-standing conjectures have been verified using rigorous computations.
During the semester we will focus on three specific aspects of the interaction between these two areas: (i) ergodic, algebraic and combinatorial methods in dimension theory; (ii) computations in fractal geometry in dynamical systems; and (iii) fractal geometry and hyperbolic dynamics.
Organizing Committee:
Dmitry Dolgopyat, University of Maryland
Mike Hochman, Hebrew University of Jerusalem
Izabella Laba, University of British Columbia
Stefano Luzzatto, ITCP-Trieste
Yakov Pesin, Penn State University
Mark Pollicott, Warwick University
Joerg Schmeling, Lund University
Boris Solomyak, University of Washington
Warwick Tucker, Uppsala University
Associated Workshops:
---
Seeking Summer TAs
ICERM is seeking four graduate student or postdoc TAs with interest/expertise in the Summer@ICERM program topic of "Computational Dynamics and Topology". The TAs will assist the two faculty leaders: Y.M. Baryshnikov and V. Zharnitsky (both from the University of Illinois at Urbana-Champaign).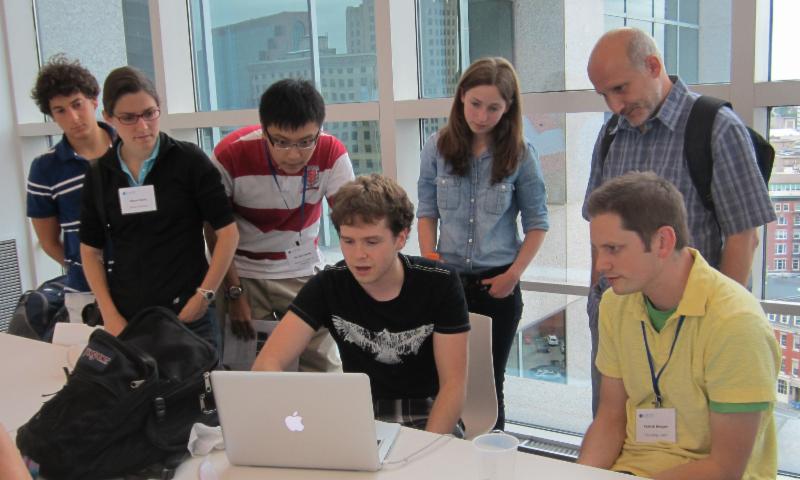 Typically 18-20 students participate in this program from all over the country. This is an 8-week position running from June 15 to August 7, 2015. It comes with a stipend of $5,000 for graduate students and $7,000 for postdocs.
Candidates should send their application materials to applications@icerm.brown.edu by Friday, February 27, 2015.
For more details, go to our TA job posting.
---

Did you know?
ICERM hosts public lectures and its next one will feature Dr. Andrea Bertozzi (UCLA) speaking about the "Mathematics of Crime" on Thursday, November 20, 2014 at 5:30pm.
---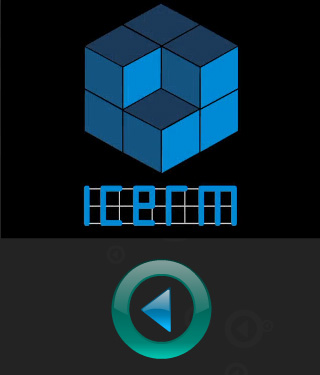 Did you know?
ICERM live-streams many of its workshop lectures and has an extensive video archive of its workshop lectures available on-line 24/7.
---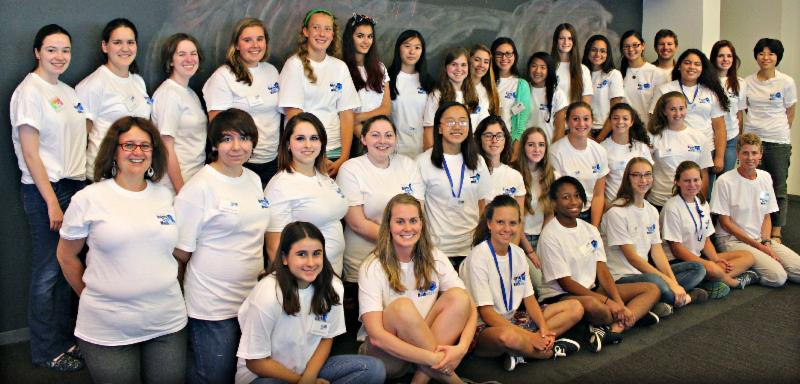 Did you know?
In summer 2014 the institute launched "GirlsGetMath@ICERM", a week-long math summer camp for Providence-area high school girls.
---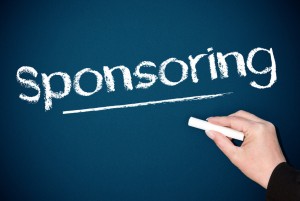 Did you know?
ICERM has an Academic Sponsorship Program and the annual sponsorship fee is allocated for support of an institution's participation in ICERM programs and events.
---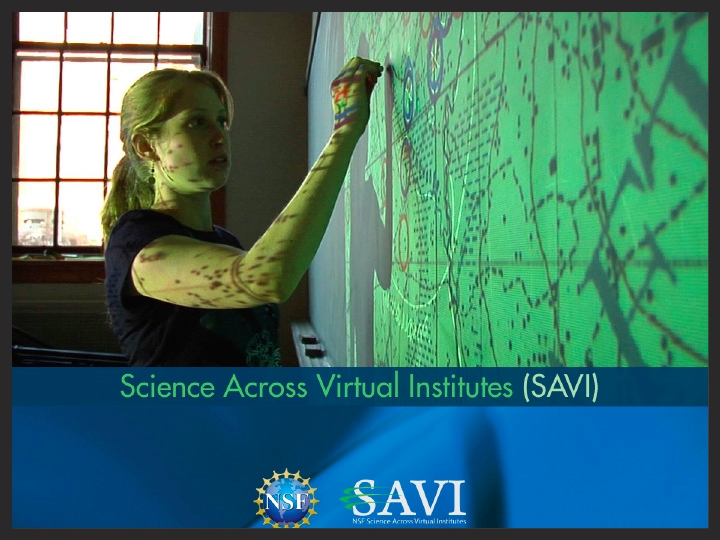 Did you know?
As part of NSF's SAVI program, the Virtual Institute for Mathematical and Statistical Sciences (VI-MSS) at ICERM presently includes jointly funded international collaborations with institutes and institutions in Brazil, Israel, Japan, and South Africa.
---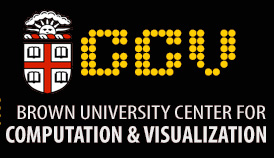 Did you know?
ICERM visitors have access to Brown University's Center for Computation and Visualization (CCV) which provides a high performance computing environment for complex numerical simulation, modeling, and analysis.
---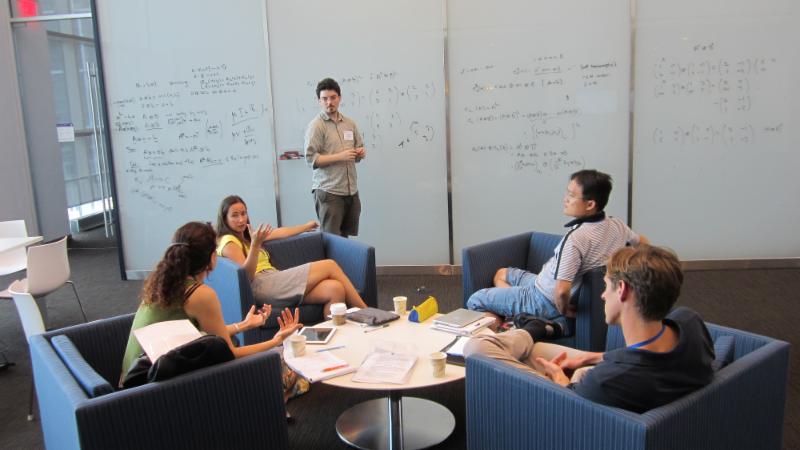 Did you know?
ICERM's IdeaLab hosts a one-week program aimed at 20-25 early career researchers that focuses on solving a topical problem at the frontier of research.
---

Did you know?
"MathBytes@ICERM" introduces math topics in unique 10-20 minute video clips and features researchers who communicate their topics in concise and fun ways.
---
Welcome New Board Members and Staff!
Board of Trustees:
Douglas Arnold
, University of Minnesota
Yann LeCun
, NYU, and Director of Research, Facebook
Scientific Advisory Board:
Charles Epstein
, University of Pennsylvania
Anna Gilbert
, University of Michigan
Sally Goldman
, Google Research
Guillermo Sapiro
, Duke University
Anne Schilling
, University of California/Davis
Cosma Schalizi
, Carnegie Mellon University
ICERM Staff:
Danielle Izzi
, Administrative Assistant
Brian Lavall
, Events Support Technician
Jenna Sousa
, Program Manager
---
All Upcoming Programs and Events
---
Thanks to Our Recent Sponsors:
Academic Sponsors:
Cornell University, Department of Mathematics Georgia Institute of Technology, School of Mathematics Iowa State University, Department of Mathematics Korea University, Department of Mathematics Michigan State University, Department of Mathematics Michigan Technological University, Department of Mathematical Sciences Tufts University, Department of Mathematics UMASS Amherst, Department of Mathematics and Statistics Worcester Polytechnic Institute, Mathematical Sciences Department
Corporate Sponsors:
Google Mathematical Association of America (MAA) Microsoft Research