News Archive
ICERM Newsletter Summer 2015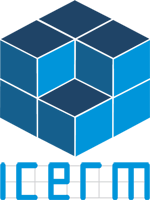 August 2015 - In This Issue:
Next ICERM Director Announced
Collaborate@ICERM
Call for Proposals
New Board Chairs
Research Nugget
Early-Career Opportunities
Upcoming Events
Thanks to Our Sponsors
Institute for Computational and Experimental Research in Mathematics
---
A letter from the Director
Dear friends and colleagues,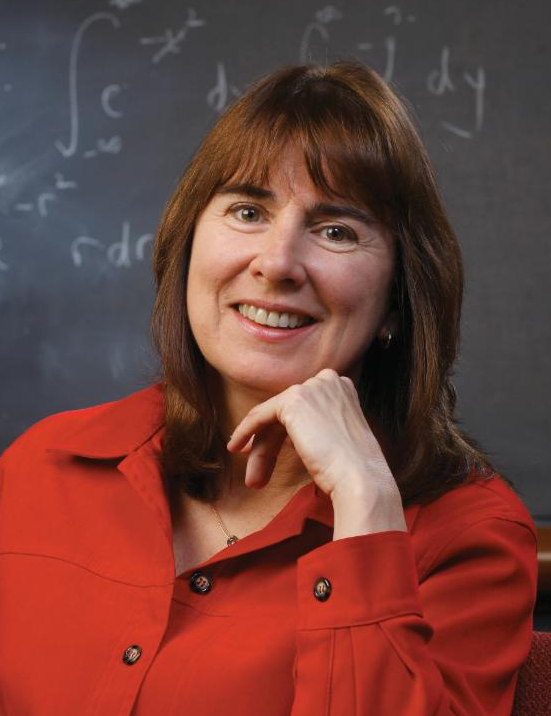 I am happy to report that ICERM has had a very successful and exciting 2014/2015 year, with about 1000 visitors to programs and events, our largest to date. The Fall 2014 program, High Dimensional Approximation, brought theorists and experimentalists together from several areas: approximation, optimization, compressed sensing, and discrepancy. The interplay between synergistic groups was dynamic and successful. The Spring 2015 program investigated phase transitions and emergent phenomena. Despite the challenge of launching this program and its first workshops during a series of extraordinary blizzards in the northeast, the organizers crafted an innovative and fruitful semester. In this newsletter you'll find a nugget from researchers in the program: R. Kenyon, D. Kral, C. Radin, and P. Winkler.
Our summer schedule has been packed with a variety of workshops and programs, including the Summer@ICERM undergraduate research program, the Research Experiences for Undergraduate Faculty (REUF) collaboration with AIM, and the GirlsGetMath@ICERM week-long summer day camp. A three-day introduction to Data Sciences for early-career mathematicians in late July is virtually "sold out". IdeaLab 2015 focused on inverse problems and uncertainty quantification, using some newly developed interactive software created by the organizers: Omar Ghatttas, Youssef Marzouk and Noemi Petra. It was a special pleasure to host and co-sponsor the twenty-first annual CAARMS conference, founded and organized by William Massey of Princeton University, and this year co-organized by Ulrica Wilson, ICERM Associate Director and Professor at Morehouse College.
ICERM is currently accepting applications from students, faculty, and research scientists to participate in upcoming semester programs: in particular, we provide support for travel and local accommodations for graduate students who can spend most or all of the semester in residence, and we provide postdoctoral fellowships for periods ranging from one semester to a year. If your university is an academic sponsor, there are funds available now to support faculty and student visitors from your institution. To encourage more sponsorships from smaller schools, we have created a "small graduate program" level of support. More information can be found on our website.
Let me take this opportunity to point out that all of ICERM's scientific activities are generated by proposals. Indeed, the strength and impact of this institute depends upon the engagement of you, members of the broad mathematical community. Please consider submitting a proposal for an undergraduate research program, a small-group research program, a workshop, or a semester-long themed program. I encourage you to contact one of the directors for additional guidance in creating a strong proposal for review by ICERM's Science Board.
Some of ICERM's constituents may already know that our renewal proposal was submitted to the NSF in March, 2014, and was followed by a site visit in September. Many former organizers, visitors, postdocs and students participated in our site visit or in our surveys, and provided first-hand reports on their scientific experience at ICERM. These individual reports were critically important to our renewal and I am grateful to all who shared this information and to those who volunteered to be interviewed by the NSF team. We were gratified to learn in December that the resulting written review by the site visit panelists was extremely positive. We now eagerly anticipate the official announcement of a continuing award, which has been recommended for funding by the Director of DMS. As we prepare for the next five-year grant cycle for ICERM, some important near-term changes are in the works. In this newsletter, we announce a new Deputy Director and Associate Director, new Board chairs, some new staff, a new program for small-group research projects, and a newly appointed incoming Director, Brendan Hassett, Brown University, who will take over in July 2016. ICERM even has some new signage in the lobby of 121 S. Main St., the beautiful downtown building we share with Brown's School of Public Health.
In addition to receiving this newsletter and other updates from our mailing list, you are invited to get updates via Facebook or Twitter. Please feel free to pass on this newsletter to any colleagues and students who might like to be kept informed about activities and opportunities at ICERM.
Finally, a big thanks once again to ICERM staff for their dedication and efforts in the past year. A good research environment depends on many factors, not least of which is help from knowledgable and welcoming staff.
Best wishes for a productive and delightful summer,
Jill
---
New ICERM Director Announced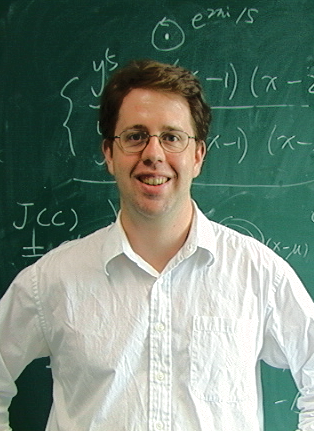 ICERM is pleased to announce that Dr. Brendan Hassett has been appointed the next Director of ICERM. Before succeeding Jill Pipher in July 2016, he will spend this coming academic year ramping up and getting to know faculty and students in Brown's Department of Mathematics as a full Professor.
Prior to the start of his Brown appointment, Dr. Hassett was the Milton Brockett Porter Professor at Rice University. His research is in the field of algebraic geometry and the geometry of solutions to algebraic equations. Dr. Hassett will bring extensive administrative experience to Brown and the institute. He served as chair of the Rice Department of Mathematic from 2009 until 2014, and has organized numerous meetings and conferences.
He currently serves on the Board of Trustees at the Mathematical Sciences Research Institute (MSRI) in Berkeley, CA, has been a panelist on multiple occasions for the NSF and Simons Foundation, and has served on the Program Committee for the Central Section of the American Mathematical Society, among other things. Thanks to the search committee, co-chaired by Jeff Brock (Mathematics) and Bjorn Sandstede (Division of Applied Mathematics), for their tireless efforts on behalf of the institute.
---
Collaborate@ICERM: Our Newest Program
We are pleased to announce a new program for those interested in small-group research. Collaborate@ICERM offers teams of 3-6 researchers the opportunity to spend five days at the institute during the summer (May-August) or in the month of January. The team research project should have a computational or experimental component. ICERM provides access to a variety of software packages as well as to high-performance computing through Brown's Center for Computation and Visualization.
Proposals are now invited and will be reviewed by the ICERM Science Board during their November meeting. Proposals should specify the research project, the members of the team, the case for convening at ICERM, and possible dates. The proposal narrative should be no longer than 2-3 pages. Supporting materials should include short CVs of team members. This program provides funding for travel to the institute and local accommodations for six nights. International travel is partially supported. The entire team should be present for the week at ICERM. Proposals involving research projects that continue a collaboration fostered at one of the past ICERM semester programs are encouraged. The ICERM website has additional important information for organizers and participants: see Proposals and Participate.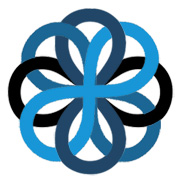 ---
Call for Proposals
ICERM is seeking proposals for semester programs, topical workshops, Collaborate@ICERM (small group research), and Summer@ICERM (undergraduate research).
ICERM encourages proposals for programs that support its mission to foster and broaden the relationship between mathematics and computation.
Those interested in developing a proposal are encouraged to contact the ICERM Director at director@icerm.brown.edu to discuss program ideas prior to submission. For more details and proposal requirements, please visit our proposal page.
---
New Board Chairs Appointed
ICERM is extremely pleased to announce two new board chairs: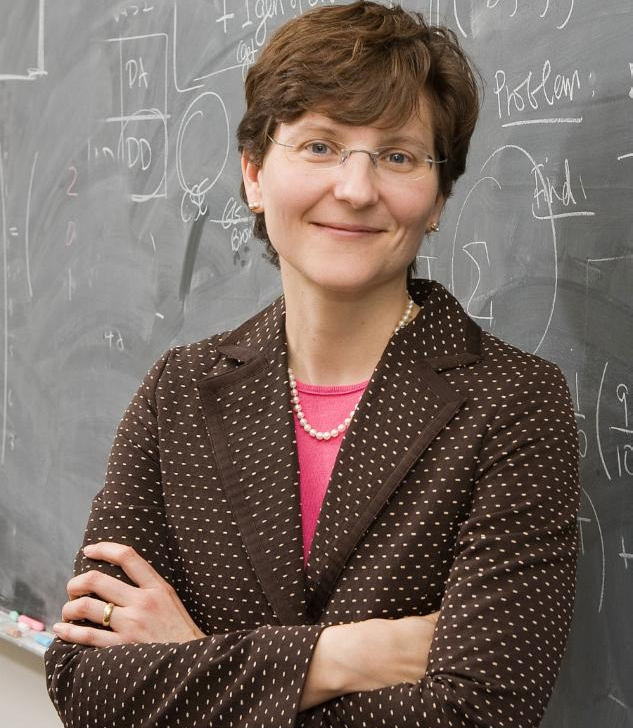 Dr. Anna Gilbert (University of Michigan) accepted the Board of Trustees' invitation to assume the position of Scientific Advisory Board (SAB) chair starting March 2015. She replaces Dr. Andrea Bertozzi. Dr. Gilbert has served as an active and engaged member of the SAB, and as chair plays a central role in guiding the scientific direction of the institute. Dr. Gilbert's research interests include analysis, probability, networking, and algorithms. She is the recipient of several awards, most recently the EURASIP Signal Processing Best Paper award (2010), and the SIAM Ralph E. Kleinman Prize (2013).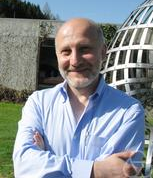 Dr. Sergei Tabachnikov (Penn State/ICERM) accepted Jill Pipher's invitation to assume the position of Chair of the Education Advisory Board (EAB) beginning May 2015. He replaces Dr. Thomas Banchoff. Dr. Tabachnikov has served as an ex officio member on all three of ICERM's boards during his tenure as Deputy Director of ICERM (2013-2015) and was instrumental in the development of the Summer@ICERM undergraduate research program. He was the faculty co-leader on the first two Summer@ICERM programs, both of which produced a high number of research outcomes and publishable papers. As chair of the EAB, he will play a central role in guiding the future directions of this committee. Dr. Tabachnikov works in geometry, topology, and dynamics. He combines theoretical research with computer experiments. Among other things, Dr. Tabachnikov is the Director of the NSF-funded semester-long MASS (Mathematics Advanced Study Semesters) Program at Penn State.
We would like to take this opportunity to thank the outgoing chairs for their many years of service.
---
Research Nugget: Limits of Permutations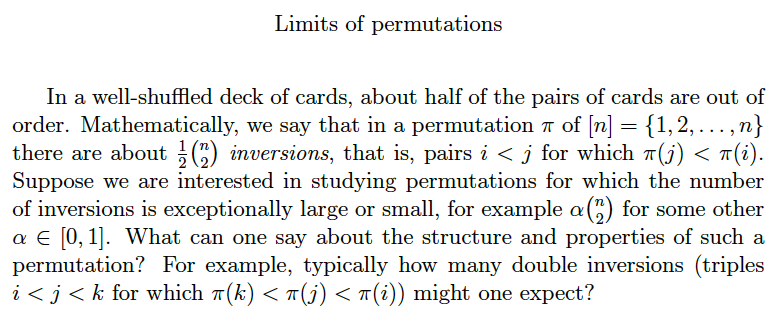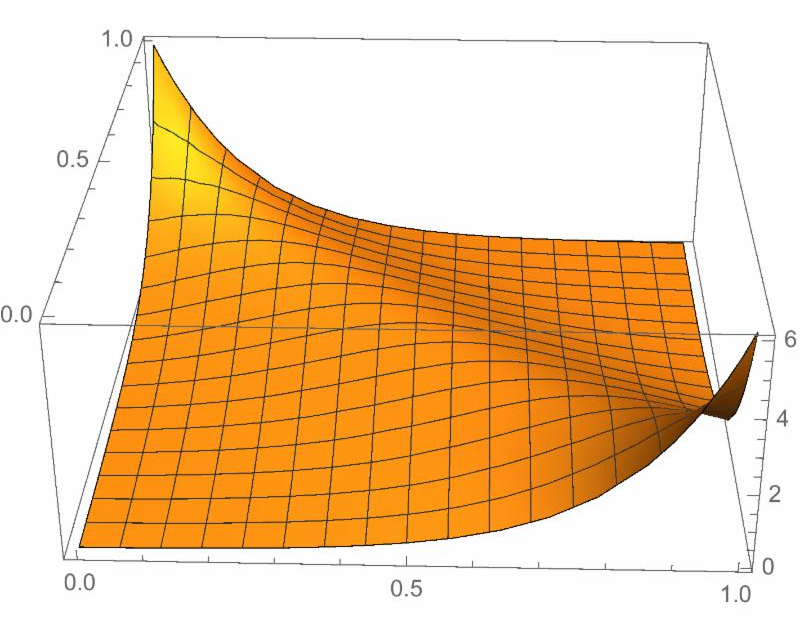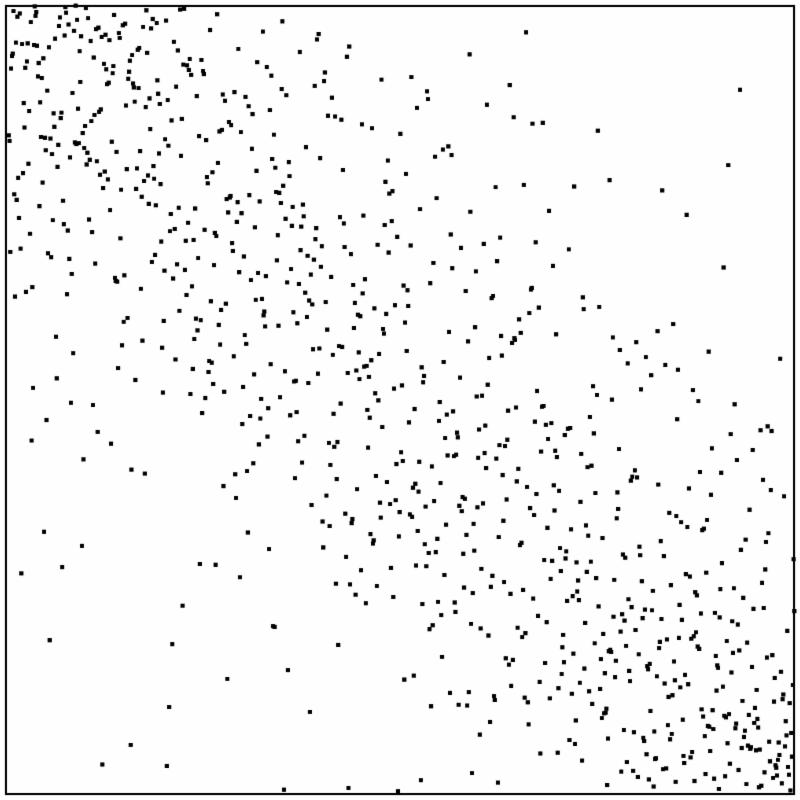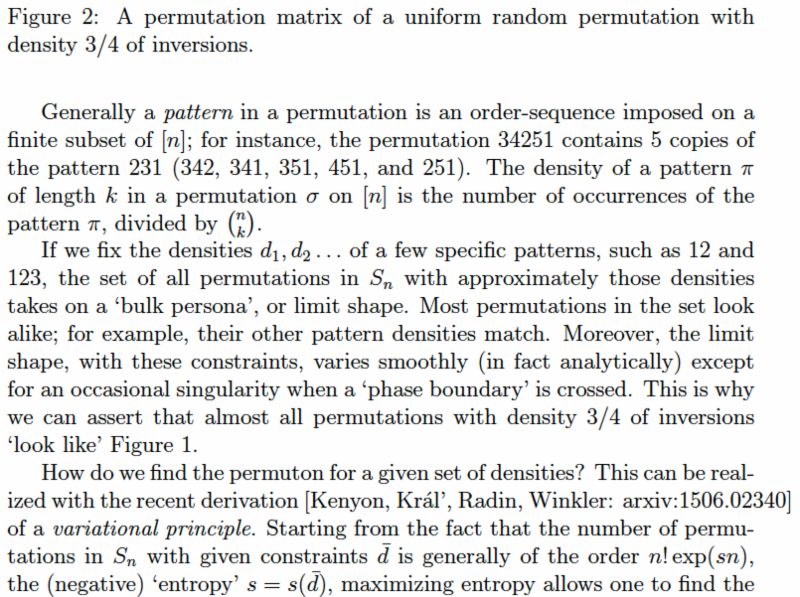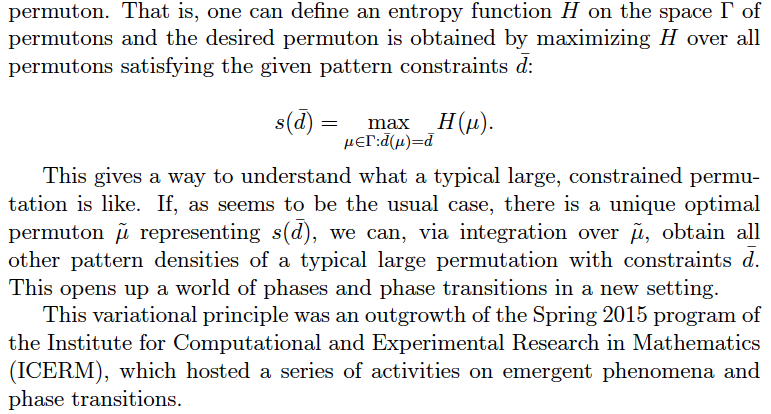 Submitted by R. Kenyon, D. Kral, C. Radin, and P. Winkler.
---
Opportunities for Early-Career Researchers
ICERM invites early-career researchers to participate in its programs.
Graduate Students: ICERM welcomes applications from graduate students who wish to spend between 6 weeks and one semester at ICERM to participate in one of its semester-long programs. ICERM offers support for travel to the institute and local accommodations.
Graduate students who present a poster at an ICERM workshop are typically awarded funding for local accommodations.
Postdocs: ICERM brings early-career mathematicians to the institute in order to support and expand their research and to create lasting career collaborations and connections. There are three ways to participate as a Postdoctoral Fellow in an ICERM semester program:
Postdoctoral Institute Fellows: The institute funds two academic-year postdoctoral positions that include a stipend and benefits. Each Institute Postdoc is a research participant in either the fall or spring semester program and is matched with a faculty mentor for the entire academic year. Apply via Mathjobs.org
Postdoctoral Semester Fellows: These postdoctoral researchers are associated with a specific program and are in residence for that semester, supported by a monthly stipend and benefits. Apply via Mathjobs.org.
Postdoctoral Visitors: Postdoctoral researchers with support from their home institutions can apply for travel and/or lodging support to participate in an ICERM semester program.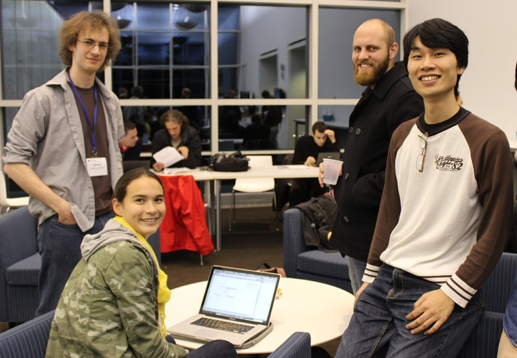 ---
Upcoming ICERM Programs and Events
Semester Programs
Despite its many successes, the Langlands program remains vague in many of its predictions, due in part to an absence of data to guide a precise formulation away from a few special cases. In this thematic program, we will experiment with and articulate refined conjectures relating arithmetic-geometric objects to automorphic forms, improve the computational infrastructure underpinning the Langlands program, and assemble additional supporting data. Such data has proven valuable for researchers in number theory, and it will continue to be made available at the L-Functions and Modular Forms Database.
Since its introduction by Felix Hausdorff in 1919, the concept of the Hausdorff dimension of sets and measures has been a versatile and powerful tool in classical analysis, geometry and geometric measure theory, mathematical physics and their numerous applications. However, there has been a particularly important symbiosis between dynamical systems and dimension theory. This connection arises both from application of dimension theory to the classification and geometric analysis of dynamical systems (and their invariant sets and measures), and the fact that many classical objects of study in mathematics arise from (sometimes implicit) dynamical systems, which often play a role in the dimension theory of said objects. This semester program will focus on: (i) Ergodic, algebraic and combinatorial methods in dimension theory; (ii) Computations in fractal geometry in dynamical systems; and (iii) Fractal geometry and hyperbolic dynamics.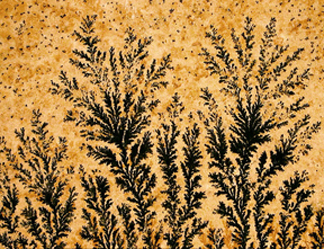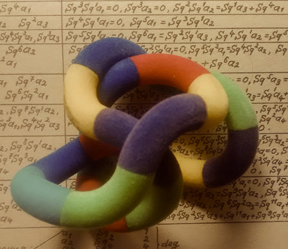 This thematic semester aims at exploring those areas of topology where the research challenges stem from scientific and engineering problems and computer experiments rather than the intrinsic development of the topology proper. Some topics that will be covered: moduli spaces of linkages, hinges and origami; configuration spaces of hard disks and coverings; topological robotics; topology of random simplicial complexes and random varieties; topology in condensed matter; high-dimensional expanders; equipartitions and Tverberg-type theorems.
Incompressible fluids are an abundant source of mathematical and practical problems. The question of global-in-time regularity versus finite-time singularity formation for incompressible fluids, governed by the Navier-Stokes or Euler equations, has been one of the most challenging outstanding problems in applied PDE. There have also been new developments in the study of the onset of turbulence due to linear and nonlinear instabilities in incompressible fluids. Interfacial and surface water waves are physical phenomena that, in addition to the challenges outlined above, involve the evolution of free boundaries. These problems embody many of the mathematical challenges found in studies of nonlinear PDEs.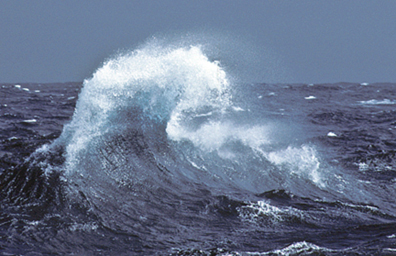 Topical Workshops
Mathematics in Data Science (July 28-30, 2015)
Numerical Methods for Large-Scale Nonlinear Problems and Their Applications (August 31 - September 4, 2015)
Summer Programs
Research Experiences for Undergraduate Faculty (REUF) (July 20-24, 2015)
GirlsGetMath@ICERM (August 17-21, 2015)
Special Events
Public Lecture: The Mathematics of Origami (November 12, 2015)
---
Did you know?
ICERM postdoctoral fellowship applications for 2016-2017 are now being accepted via
MathJobs.org

These positions are open to mathematical scientists at an early stage of their career.
---
Did you know?
ICERM has a new Deputy Director! Sinai Robins will begin his appointment at ICERM starting August 1, 2015.
For the past 7 years, Sinai has been Professor of Mathematics at Nanyang Technological University in Singapore. Dr. Robins was a co-organizer of ICERM's Summer@ICERM program in 2014. We look forward to welcoming him as Deputy Director.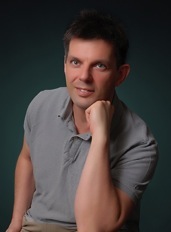 ---
Did you know?
Caroline Klivans (Brown University) will be joining ICERM as an Associate Director starting August 1, 2015.
Dr. Klivans will be responsible for the graduate student and postdoc mentoring program, including the Professional Development seminar series.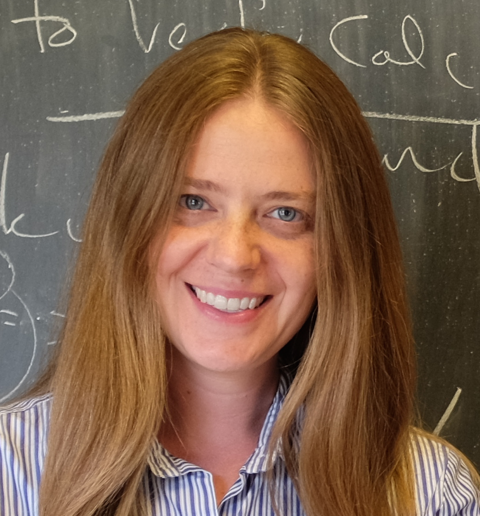 ---
Welcome Incoming Postdocs, New Board Members and Staff
Postdoctoral Fellows:
FALL 2015:
Olga Balkanova
Sandro Bettin
Edgar Costa
Anna Medvedovsky
James Weigandt
SPRING 2016:
Farkas Abel
Marta Canadell
Nishant Chandgotia
Zhiqiang Li
Polina Vytnova
Education Advisory Board:
John Ewing, Math for America
Tatiana Shubin, San Jose State University
ICERM Staff:
Heather Forand, Program Coordinator
---
Did you know?
Our most recent public lecture,
The Mathematics of Cooking
, can be viewed from ICERM's lecture video archive?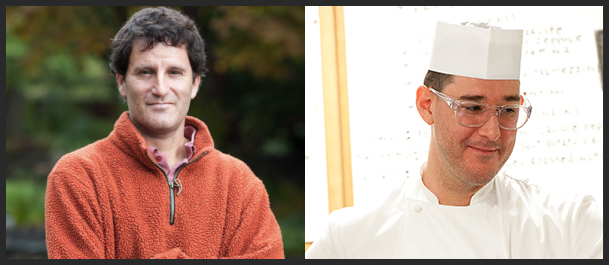 Enjoy this sold-out event co-hosted with Johnson & Wales University. Watch as Dr. Michael Brenner (Harvard) and award-winning Chef Mark Ladner (NYC's Del Posto) mash-up mathematics and cooking in this fun lecture.
---
Did You Know?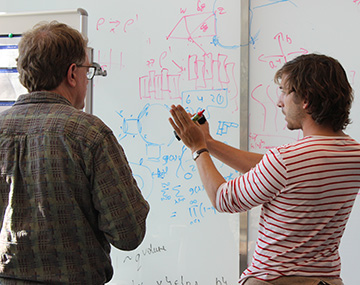 ICERM supports all of its semester program's
early-career researchers
by providing:
Professional-development activities;
Weekly peer-to-peer seminars;
Mentor-mentee program;
State-of-the-art infrastructure;
Collaborative work environment;
Application process for requesting financial support.
---
Did you know?
GirlsGetMath@ICERM
is in its second year! 25 high-school girls from Rhode Island will attend our week-long summer day camp this August. 64% will be attending from public schools, 28% from charter schools, and 8% from independent schools.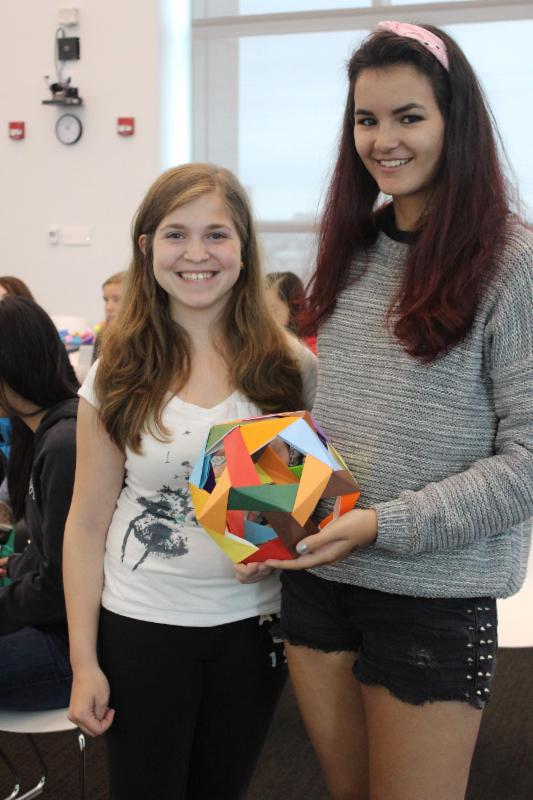 This program was made possible by grants from the Phoebe Snow Foundation and the MAA.
---
Did you know?

"MathBytes@ICERM"
introduces math topics in unique 10-20 minute video clips and features researchers who communicate their topics in concise and fun ways.
---
Did you know?
ICERM has an international summer research training program (
VI-MSS
) that provides graduate students with the opportunity to work in small teams. The teams work on projects and engage with a diverse group of graduate students from different countries and cultural backgrounds.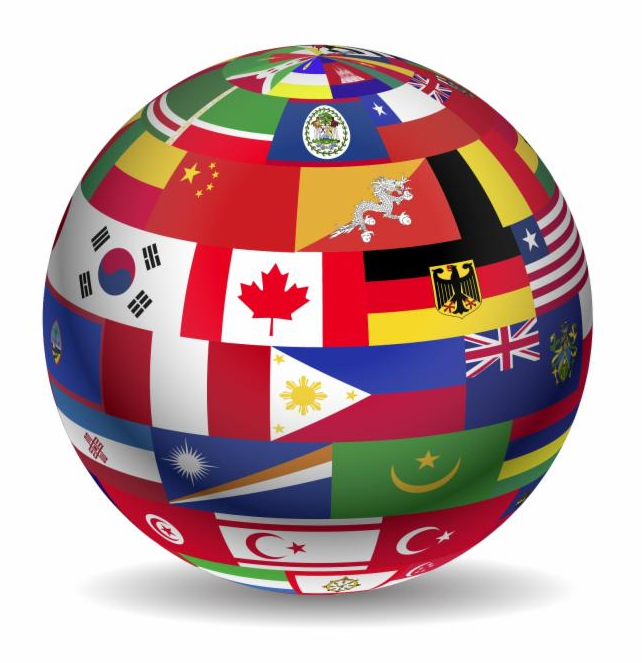 Each program is held in collaboration with a foreign university or institution. Partner institutions currently include EPFL (Switzerland), IMPA (Brazil), Kobe University (Japan), Tel-Aviv University (Israel), and Tübingen University (Germany).
---
Did you know?
ICERM has a new math
"Nuggets"
page featuring brief summaries describing all or some portion of the research accomplished during a specific ICERM program.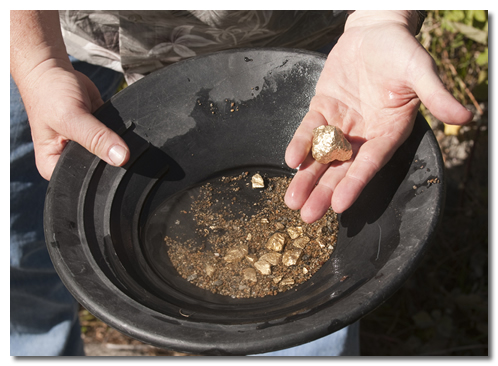 ---
Did you know?
ICERM hosts an 8-week summer undergraduate research program.
Summer@ICERM
is designed for a select group of 12-14 undergraduate scholars. Students work in groups of two or three, supervised by faculty advisors and aided by teaching assistants.

Since June, the 2015 cohort has been working on research topics ranging from applied topology, applied computational dynamics, and PDE models. They will give talks about their findings and write up their research into draft papers at the end of the program.
---
Did you know?
ICERM visitors have access to Brown University's Center for Computation and Visualization (
CCV
).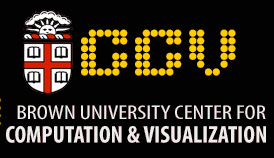 CCV provides a high performance computing environment for complex numerical simulation, modeling, and analysis.
---
Did you know?
ICERM was pleased to host the 21st annual Conference for African American Researchers in Mathematics (
CAARMS
).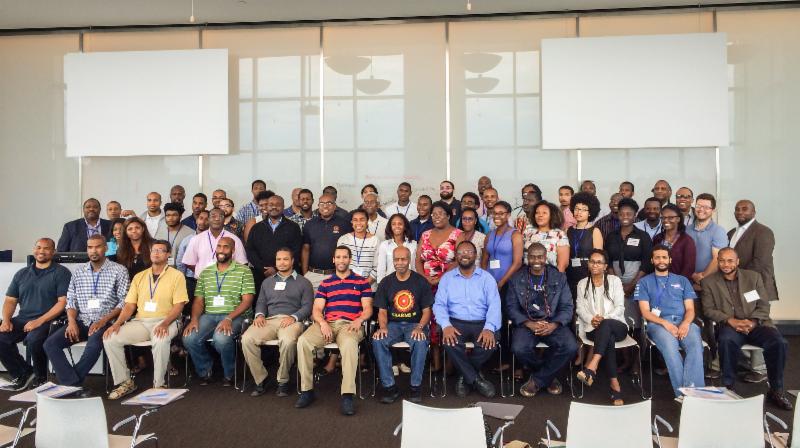 CAARMS 21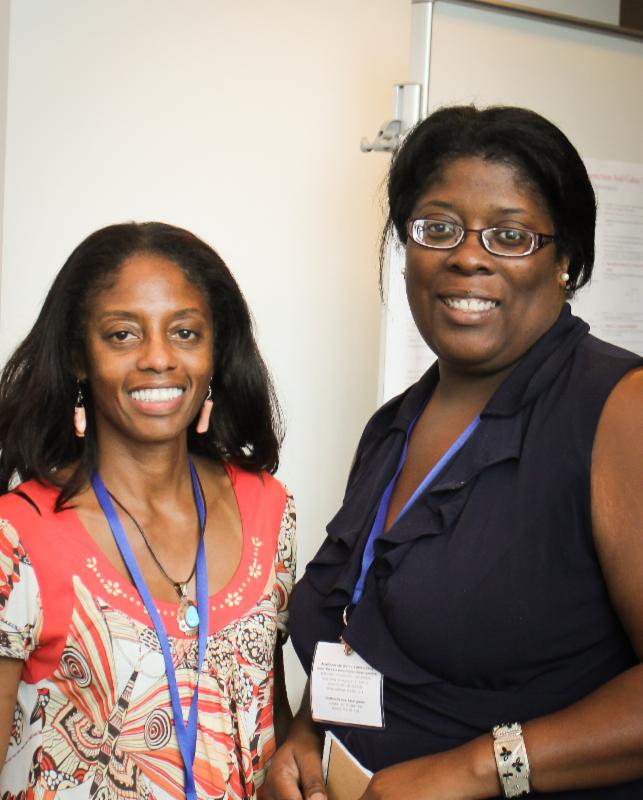 Reuniting old friends and making new ones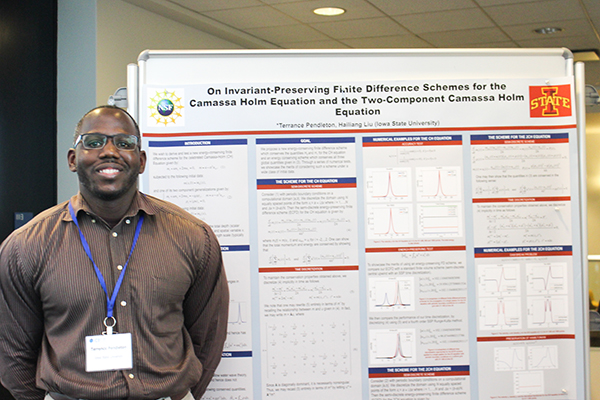 Poster presentation

Jill Pipher with CAARMS visitors
---
Thanks to Our Sponsors!
ICERM would like to thank its academic and corporate sponsors. Sponsors help to support the activities at ICERM and in return
receive many benefits.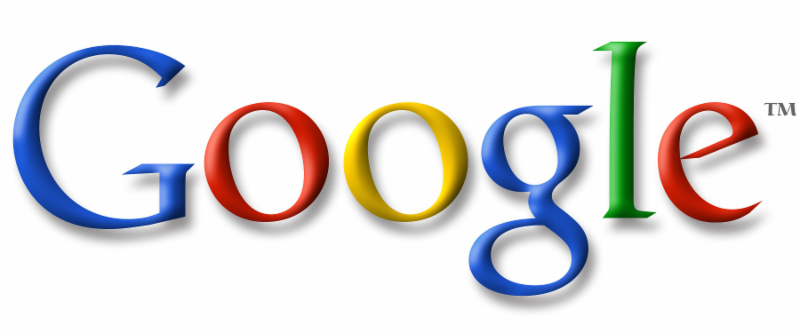 Interested in learning more about ICERM's sponsorship program and its benefits? Contact Juliet_Duyster@icerm.brown.edu.