Abstract
Data-rich investigations need advanced tools for allowing data to inform and interact with models. Bayesian Nonparametrics is a rapidly growing subfield of statistics and machine learning that provides a framework for creating complex statistical models that are both expressive and tractable. Recent, successful applications of nonparametric Bayesian models across a variety of domains suggests that these models have the potential for wide use. The challenge of constructing and using models on very high dimensional or even infinite dimensional spaces creates many opportunities for fruitful interactions between mathematicians, statisticians and computer scientists. Areas of interest include prior construction, posterior inference, posterior asymptotics, algorithmic development, and practical applications.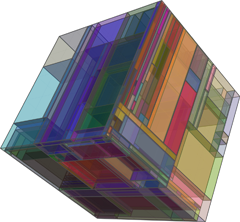 Confirmed Speakers & Participants
Talks will be presented virtually or in-person as indicated in the schedule below.
Speaker
Poster Presenter
Attendee
Virtual Attendee
Tutorial Week Schedule
Thursday, September 13, 2012
Time
Event
Location
Materials
9:00 - 10:30am EDT
Gaussian Processes I - Ryan Adams, Harvard University
11th Floor Lecture Hall
10:30 - 10:50am EDT
Coffee/Tea Break
11th Floor Collaborative Space
10:50 - 12:20pm EDT
Gaussian Processes II - Ryan Adams, Harvard University
11th Floor Lecture Hall
12:20 - 1:40pm EDT
Break for Lunch
1:40 - 3:10pm EDT
Combinatorial Stochastic Processes I - Tamara Broderick, University of California, Berkeley
11th Floor Lecture Hall
3:10 - 3:30pm EDT
Coffee/Tea Break
11th Floor Collaborative Space
3:30 - 5:00pm EDT
Combinatorial Stochastic Processes II - Tamara Broderick, University of California, Berkeley
11th Floor Lecture Hall
Friday, September 14, 2012
Time
Event
Location
Materials
9:30 - 10:30am EDT
Matlab Practical: Gaussian Processes - Dilan Görür, University of California, Irvine
11th Floor Lecture Hall
10:30 - 11:00am EDT
Coffee/Tea Break
11th Floor Collaborative Space
11:00 - 12:00pm EDT
Matlab Practical: Dirichlet Processes - Dilan Görür, University of California, Irvine
11th Floor Lecture Hall
12:00 - 1:30pm EDT
Break for Lunch
1:30 - 3:30pm EDT
Theoretical Foundations I - Peter Orbanz, University of Cambridge
11th Floor Lecture Hall
3:30 - 4:00pm EDT
Coffee/Tea Break
11th Floor Collaborative Space
Associated Semester Workshops