Abstract
Monte Carlo methods have become increasingly important in Engineering and the Sciences. These application areas have posed challenges and opportunities in the analysis of modern Monte Carlo algorithms. The workshop's main focus is on: a) the mathematical techniques and aspects that have been key in the analysis of these algorithms, and b) the identification of techniques that are likely to play a role in future analysis.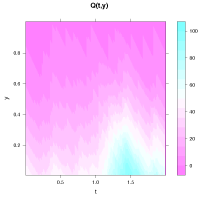 Confirmed Speakers & Participants
Talks will be presented virtually or in-person as indicated in the schedule below.
Speaker
Poster Presenter
Attendee
Virtual Attendee
Workshop Schedule
Wednesday, November 28, 2012
Time
Event
Location
Materials
9:00 - 9:25am EST
Registration and Welcome Coffee
11th Floor Collaborative Space
9:25 - 9:30am EST
ICERM Director's Welcome
11th Floor Lecture Hall
9:30 - 10:30am EST
Importance sampling in the neighborhood of a stable equilibrium point - Paul Dupuis, Brown University
11th Floor Lecture Hall
10:30 - 11:00am EST
Coffee/Tea Break
11th Floor Collaborative Space
11:00 - 12:00pm EST
Continuous Sequential Importance Sampling for Irreducible Diffusions - Krzysztof Latuszynski, University of Warwick
11th Floor Lecture Hall
12:00 - 2:30pm EST
Break for Lunch and Free Time
2:30 - 3:30pm EST
ABC and empirical likelihood - Christian Robert, Universite de Paris-Dauphine
11th Floor Lecture Hall
3:30 - 4:00pm EST
Coffee/Tea Break
11th Floor Collaborative Space
4:00 - 5:00pm EST
Some Recent Advances in Optimal Scaling for MCMC - Gareth Roberts, University of Warwick
11th Floor Lecture Hall
5:15 - 6:45pm EST
Welcome Reception
11th Floor Collaborative Space
Thursday, November 29, 2012
Time
Event
Location
Materials
9:00 - 10:00am EST
Feedback Particle Filter - Sean Meyn, University of Illinois at Urbana-Champaign
11th Floor Lecture Hall
10:00 - 10:30am EST
Coffee/Tea Break
11th Floor Collaborative Space
10:30 - 11:30am EST
Can local particle filters beat the curse of dimensionality - Ramon van Handel, Princeton University
11th Floor Lecture Hall
11:30 - 11:40am EST
Group Photo
11th Floor Lecture Hall
11:40 - 2:30pm EST
Break for Lunch and Free Time
2:30 - 3:30pm EST
Slow Mixing for the Hard-Core Model on Z^2 - Dana Randall, Georgia Institute of Technology
11th Floor Lecture Hall
3:30 - 4:00pm EST
Coffee/Tea Break
11th Floor Collaborative Space
4:00 - 5:00pm EST
Comparison Inequalities and Fastest-Mixing Markov Chains - Jim Fill, Johns Hopkins University
11th Floor Lecture Hall
7:00 - 8:30pm EST
Poster Session
11th Floor Lecture Hall and Collaborative Space
Friday, November 30, 2012
Time
Event
Location
Materials
9:30 - 10:30am EST
Adaptive and Interacting MCMC algorithms - Eric Moulines, Centre National de la Recherche Scientifique (CNRS)
11th Floor Lecture Hall
10:30 - 11:00am EST
Coffee/Tea Break
11th Floor Collaborative Space
11:00 - 12:00pm EST
On the empirical efficiency of local MCMC algorithms with auxiliary variables - Mylene Bedard, University of Montreal
11th Floor Lecture Hall
12:00 - 2:30pm EST
Break for Lunch and Free Time
2:30 - 3:30pm EST
The Best Performing Monte Carlo Estimator A likelihood Framework for Compromising between Statistical Efficiency and Computational Efficiency - Xiao-Li Meng, Harvard University
11th Floor Lecture Hall
3:30 - 3:35pm EST
Please don't forget to fill out your survey, thanks!
11th Floor Lecture Hall
3:35 - 4:00pm EST
Coffee/Tea Break
11th Floor Collaborative Space
Associated Semester Workshops