Abstract
This workshop will explore topological properties of random and quasi-random phenomena in physical systems, stochastic simulations/processes, as well as optimization algorithms. Practitioners in these fields have written a great deal of simulation code to help understand the configurations and scaling limits of both the physically observed and computational phenomena. However, mathematically rigorous theories to support the simulation results and to explain their limiting behavior are still in their infancy.
Randomness is inherent to models of the physical, biological, and social world. Random topology models are important in a variety of complicated models including quantum gravity and black holes, filaments of dark matter in astronomy, spatial statistics, and morphological models of shapes, as well as models appearing in social media. The probabilistic method, theory of point processes, and ideas from stochastic and integral geometry have been central tools for proofs and efficient algorithms to measure topological quantities, such as Betti numbers of random geometric complexes.
The workshop topics include: random simplicial complexes, topological invariants in Gaussian random fields, and topological aspects of phase transitions, and geometry and topology of hard disks. A major theme of this workshop will center around computational issues and numerical experiments based on existing models and implementations.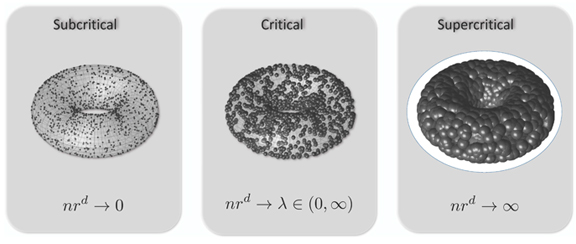 Confirmed Speakers & Participants
Talks will be presented virtually or in-person as indicated in the schedule below.
Speaker
Poster Presenter
Attendee
Virtual Attendee
Associated Semester Workshops