Abstract
The primary goal of this opening workshop is to expose program participants to many of the methods and software packages relevant to this program. There will be introductory lectures and ample time for experimentation with methods and software under the tutelage of area experts and software developers.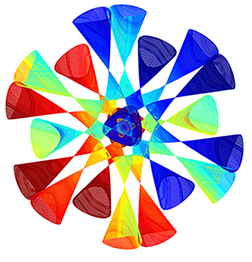 Confirmed Speakers & Participants
Talks will be presented virtually or in-person as indicated in the schedule below.
Speaker
Poster Presenter
Attendee
Virtual Attendee
Workshop Schedule
Wednesday, September 5, 2018
Time
Event
Location
Materials
8:30 - 8:45am EDT
Check-In/Registration
11th Floor Lecture Hall
8:45 - 9:00am EDT
ICERM Welcome - Brendan Hassett and ICERM staff
9:00 - 10:00am EDT
Non Linear Algebra at the ICERM - Frank Sottile, Texas A&M University
11th Floor Lecture Hall
10:00 - 10:30am EDT
Coffee/Tea Break
10:30 - 11:30am EDT
Software for tropical geometry - Diane Maclagan, University of Warwick
11th Floor Lecture Hall
10:45 - 11:45am EDT
TBD - Cynthia Vinzant, North Carolina State
11th Floor Lecture Hall
11:30 - 1:00pm EDT
Brainstorming Groups - forming questions for afternoon - lunch provided
11th Floor
1:00 - 1:30pm EDT
Brown Card Office - Sponsored IDs
1:30 - 2:00pm EDT
Q&A
11th Floor Lecture Hall
2:00 - 3:00pm EDT
Group or Individual Work
3:00 - 3:30pm EDT
Coffee/Tea Break
11th Floor Collaborative Space
3:30 - 5:00pm EDT
Group or Individual Work
5:00 - 6:30pm EDT
Welcome Reception
11th Floor Collaborative Space
Thursday, September 6, 2018
Time
Event
Location
Materials
9:00 - 10:00am EDT
Real and convex algebraic geometry - Cynthia Vinzant, North Carolina State University
11th Floor Lecture Hall
10:00 - 10:30am EDT
Coffee/Tea Break
10:30 - 11:30am EDT
TBD - Diego Cifuentes, MIT
11th Floor Lecture Hall
11:30 - 1:00pm EDT
Break for Lunch
1:00 - 2:00pm EDT
Q&A
11th Floor Lecture Hall
2:00 - 3:00pm EDT
Group or Individual Work
3:00 - 3:30pm EDT
Coffee/Tea Break
11th Floor Collaborative Space
3:30 - 5:00pm EDT
Group of Individual Work
Friday, September 7, 2018
Time
Event
Location
Materials
10:00 - 10:30am EDT
Q&A
11th Floor Lecture Hall
10:30 - 12:00pm EDT
Group or Individual Work
12:00 - 2:00pm EDT
Break for Lunch/Free Time
2:00 - 3:00pm EDT
Solutions from Groups and Other Discussion
11th Floor Lecture Hall
3:00 - 3:30pm EDT
Coffee/Tea Break
11th Floor Collaborative Space
3:30 - 4:30pm EDT
Solutions from Groups and Other Discussion
11th Floor Lecture Hall
Monday, September 10, 2018
Time
Event
Location
Materials
9:00 - 10:00am EDT
Foundations of Numerical Algebraic Geometry - Jonathan Hauenstein, University of Notre Dame
11th Floor Lecture Hall
10:00 - 10:30am EDT
Coffee/Tea Break
10:30 - 11:30am EDT
Techniques for real solutions to nonlinear algebraic systems - Danielle Brake, University of Wisconsin Eau Claire
11th Floor Lecture Hall
11:30 - 1:00pm EDT
Brainstorming Groups - forming questions for afternoon - lunch provided
11th Floor
1:00 - 2:00pm EDT
Q&A
11th Floor Lecture Hall
2:00 - 3:00pm EDT
Group or Individual Work
3:00 - 3:30pm EDT
Coffee/Tea Break
11th Floor Collaborative Space
3:30 - 5:00pm EDT
Group or Individual Work
Tuesday, September 11, 2018
Time
Event
Location
Materials
9:00 - 10:00am EDT
TBD - Thomas Kahle, Otto-von-Guericke Unversität
11th Floor Lecture Hall
10:00 - 10:30am EDT
Coffee/Tea Break
10:30 - 11:30am EDT
Graphical models from an algebraic perspective - Elina Robeva, MIT
11th Floor Lecture Hall
11:30 - 1:00pm EDT
Break for Lunch
1:00 - 2:00pm EDT
Q&A
11th Floor Lecture Hall
2:00 - 3:00pm EDT
Group or Individual Work
3:00 - 3:30pm EDT
Coffee/Tea Break
11th Floor Collaborative Space
3:30 - 5:00pm EDT
Group or Individual Work
Wednesday, September 12, 2018
Time
Event
Location
Materials
10:00 - 10:30am EDT
Q&A
11th Floor Lecture Hall
10:30 - 12:00pm EDT
Group or Individual Work
12:00 - 1:30pm EDT
Break for Lunch/Free Time
1:30 - 2:30pm EDT
Solutions from Groups and Other Discussion
11th Floor Lecture Hall
2:30 - 3:00pm EDT
Coffee/Tea Break
11th Floor Collaborative Space
3:00 - 4:00pm EDT
Solutions from Groups and Other Discussion
11th Floor Lecture Hall
Bootcamp Problems, Files & Materials
IT Documentation

Day 1 - September 5th

Day 2 - September 6th

Day 3 - September 10th

Day 4 - September 11th
Associated Semester Workshops