Abstract
The Illustrating Mathematics program brings together mathematicians, makers, and artists who share a common interest in illustrating mathematical ideas via computational tools.
The goals of the program are to:
introduce mathematicians to new computational illustration tools to guide and inform their research;
spark collaborations among and between mathematicians, makers and artists;
find ways to communicate research mathematics to as wide an audience as possible.
The program includes week-long workshops in Geometry and Topology, Algebra and Number Theory, and Dynamics and Probability, as well as master courses, seminars, and an art exhibition.
Mathematical topics include: moduli spaces of geometric structures, hyperbolic geometry, configuration spaces, sphere eversions, apollonian packings, kleinian groups, sandpiles and tropical geometry, analytic number theory, supercharacters, complex dynamics, billiards, random walks, and Schramm–Loewner evolution.
Illustration media include: animation, interactive visualization, virtual and augmented reality, games, 3D printing, laser cutting, CNC routing, and textile arts. In addition, we welcome mathematical journalists, writers, and videographers interested in communicating and illustrating mathematics.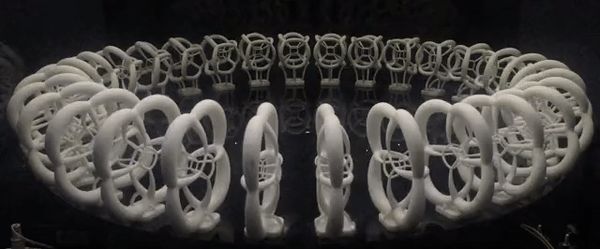 Confirmed Speakers & Participants
Jayadev Athreya

University of Washington

Nov 11-15, 2019

David Bachman

Pitzer College

Sep 4-Dec 6, 2019

Matt Brand

Zintaglio

Sep 16-20, 2019

Ben Burton

University of Queensland

Sep 4-Dec 6, 2019

Danny Calegari

University of Chicago

Sep 16-20, 2019

Arnaud Chéritat

Institut de Mathématiques de Toulouse

Sep 4-Dec 6, 2019

Rémi Coulon

CNRS / Université de Rennes 1

Sep 4-Dec 6, 2019

Keenan Crane

Carnegie Mellon University

Sep 16-20, 2019

Kelly Delp

Cornell

Sep 4-Dec 6, 2019

Elizabeth Denne

Washington & Lee University

Sep 16-20, 2019

David Dumas

University of Illinois at Chicago

Sep 3-Dec 6, 2019

Nathan Dunfield

University of Illinois, Urbana-Champaign

Sep 16-20, 2019

Ellen Eischen

The University of Oregon

Oct 21-25, 2019

Frank Farris

Santa Clara University

Sep 4-Dec 6, 2019

Stephan Garcia

Pomona College

Oct 21-25, 2019

Brady Haran

Independent (Youtube channels: Numberphile, Periodic Videos with University of Nottingham; Podcast Hello Internet)

Sep 4-Dec 6, 2019

Edmund Harriss

University of Arkansas

Sep 4-Dec 6, 2019

Sachi Hashimoto

Boston University

Sep 4-Nov 4, 2019

Yan He

University of Chicago

Nov 11-15, 2019

Judy Holdener

Kenyon College

Sep 4-Dec 6, 2019

Alexander Holroyd

Churchill College and Statistical Laboratory at University of Cambridge

Nov 11-15, 2019

Pat Hooper

City College of New York

Sep 4-Dec 6, 2019

Niles Johnson

The Ohio State University

Sep 16-20, 2019

Joel Kamnitzer

University of Toronto

Oct 21-25, 2019

Sarah Koch

University of Michigan, Ann Arbor

Sep 4-Dec 6, 2019; Nov 11-15, 2019

Alex Kontorovich

Rutgers University

Oct 21-25, 2019

Oliver Labs

MO-labs

Sep 4-Dec 6, 2019

Lionel Levine

Cornell University

Nov 11-15, 2019

Kathryn Lindsey

Boston College

Nov 11-15, 2019

Jason Manning

Cornell University

Sep 4-Dec 6, 2019

Sabetta Matsumoto

Georgia Institute of Technology

Sep 16-20, 2019

Curtis McMullen

Harvard University

Sep 16-20, 2019

Roice Nelson

GE Aviation

Sep 16-20, 2019

Wesley Pegden

Carnegie Mellon University

Nov 11-15, 2019

Ulrich Pinkall

Technische Universität Berlin

Sep 16-20, 2019

David Rainford

Unknown

Oct 21-25, 2019

Dan Romik

University of California, Davis

Nov 11-15, 2019

Jessica Rosenkrantz

Nervous System

Sep 16-20, 2019

Saul Schleimer

University of Warwick

Sep 4-Dec 6, 2019

Richard Schwartz

Brown University

Sep 4-Dec 6, 2019

Henry Segerman

Oklahoma State University

Sep 4-Dec 6, 2019

Tashrika Sharma

University of Vienna

Sep 4-Dec 6, 2019

Katherine Stange

University of Colorado

Oct 21-25, 2019

John Sullivan

Technische Universitat Berlin

Sep 4-Dec 6, 2019

Laura Taalman

James Madison University

Sep 4-Dec 6, 2019

Jeff Weeks

Geometry Games

Sep 16-20, 2019

Elias Wegert

Freiberg University of Mining and Technology

Oct 21-25, 2019

Marty Weissman

University of California, Santa Cruz

Oct 21-25, 2019

Carolyn Yackel

Mercer University

Sep 4-Dec 6, 2019
Visit dates listed on the participant list may be tentative and subject to change without notice.
Application Information
ICERM welcomes applications from faculty, postdocs, graduate students, industry scientists, and other researchers who wish to participate in one of our semester-long programs. Some funding may be available for travel and lodging. Applications will be accepted up until the start of the semester program and will be considered as long as funds and space are available.
Any graduate student who applies should have research interests that relate to the program topic; a statement of support from the advisor is required. In addition, graduate students will only be considered if they can remain in-residence for a minimum of six weeks.
Postdoctoral Fellowships
Interested in applying for a salaried postdoc position for this program? Applications are accepted via Mathjobs.org (search under "B" for Brown University/ICERM) between June and December in the year prior to the program's start date.
Your Visit to ICERM
ICERM Facilities

ICERM is located on the 10th & 11th floors of 121 South Main Street in Providence, Rhode Island. ICERM's business hours are 8:30am - 5:00pm during this event. See our facilities page for more info about ICERM and Brown's available facilities.

Traveling to ICERM

ICERM is located at Brown University in Providence, Rhode Island. Providence's T.F. Green Airport (15 minutes south) and Boston's Logan Airport (1 hour north) are the closest airports. Providence is also on Amtrak's Northeast Corridor. In-depth directions and transportation information are available on our travel page.

Lodging/Housing

Visiting ICERM for longer than a week-long workshop? ICERM staff works with participants to locate accommodations that fit their needs. Since short-term furnished housing is in very high demand, take advantage of the housing options ICERM may recommend. Contact housing@icerm.brown.edu for more details.

Childcare/Schools

Those traveling with family who are interested in information about childcare and/or schools should contact housing@icerm.brown.edu.

Family Support

With a recent gift from Microsoft Research, we are pleased to announce that there are fellowships available to assist in defraying dependent care costs. A separate application for this fellowship will be provided to those that have accepted an invitation to participate in an NSF-funded research program. Fellowship decisions will be made based on the justification and the availability of funds.

Technology Resources

Wireless internet access and wireless printing is available for all ICERM visitors. Eduroam is available for members of participating institutions. Thin clients in all offices and common areas provide open access to a web browser, SSH terminal, and printing capability. See our Technology Resources page for setup instructions and to learn about all available technology.

Discrimination and Harassment Policy

ICERM is committed to creating a safe, professional, and welcoming environment that benefits from the diversity and experiences of all its participants. The Brown University "Discrimination and Workplace Harassment Policy" applies to all ICERM participants and staff. Participants with concerns or requests for assistance on a discrimination or harassment issue should contact the ICERM Director, who is the responsible employee at ICERM under this policy.

Exploring Providence

Providence's world-renowned culinary scene provides ample options for lunch and dinner. Neighborhoods near campus, including College Hill Historic District, have many local attractions. Check out the map on our Explore Providence page to see what's near ICERM.
Visa Information
Contact visa@icerm.brown.edu for assistance.
Need a US Visa?

J-1 visa requested via ICERM staff

Reimbursable

B-1 or Visa Waiver Business (WB) –if you already have either visa – contact ICERM staff for a visa specific invitation letter.

Not Reimbursable

B-2 or Visa Waiver Tourist (WT)

Already in the US?

F-1 and J-1 not sponsored by ICERM: obtain a letter approving reimbursement from the International Office of your home institution PRIOR to travel.

H-1B holders do not need letter of approval.

All other visas: alert ICERM staff immediately about your situation.
Financial Support
Acceptable Costs

1 roundtrip between your home institute and ICERM
Flights on U.S. or E.U. airlines – economy class to either Providence airport (PVD) or Boston airport (BOS)
Ground Transportation to and from airports and ICERM.

Unacceptable Costs

Flights on non-U.S. or non-E.U. airlines
Seats in economy plus, business class, or first class
Change ticket fees of any kind
Multi-use bus passes
Meals or incidentals

Advance Approval Required

Personal car travel to ICERM from outside New England
Multiple-destination plane ticket; does not include layovers to reach ICERM
Arriving or departing from ICERM more than a day before or day after the program
Multiple trips to ICERM
Rental car to/from ICERM
Flights on a Swiss, Japanese, or Australian airlines
Arriving or departing from airport other than PVD/BOS or home institution's local airport
2 one-way plane tickets to create a roundtrip (often purchased from Expedia, Orbitz, etc.)

Reimbursement Request Form

https://icerm.brown.edu/money/

Refer to the back of your ID badge for more information. Checklists are available at the front desk.

Reimbursement Tips

Scanned original receipts are required for all expenses
Airfare receipt must show full itinerary and payment
ICERM does not offer per diem or meal reimbursement
Allowable mileage is reimbursed at prevailing IRS Business Rate and trip documented via pdf of Google Maps result
Keep all documentation until you receive your reimbursement!

Reimbursement Timing

6 - 8 weeks after all documentation is sent to ICERM. All reimbursement requests are reviewed by numerous central offices at Brown who may request additional documentation.

Reimbursement Deadline

Submissions must be received within 30 days of ICERM departure to avoid applicable taxes. Submissions after thirty days will incur applicable taxes. No submissions are accepted more than six months after the program end.
Associated Semester Workshops