Abstract
Cracking the neural code is one of the longstanding questions in neuroscience. How does the activity of populations of neurons represent stimuli and perform neural computations? Decades of theoretical and experimental work have provided valuable clues about the principles of neural coding, as well as descriptive understandings of various neural codes. This raises a number of mathematical questions touching on algebra, combinatorics, probability, and geometry. This workshop will explore questions that arise from sensory perception and processing in olfactory, auditory, and visual coding, as well as properties of place field codes and grid cell codes, mechanisms for decoding population activity, and the role of noise and correlations. These questions may be tackled with techniques from information theory, mathematical coding theory, combinatorial commutative algebra, hyperplane arrangements, oriented matroids, convex geometry, statistical mechanics, and more.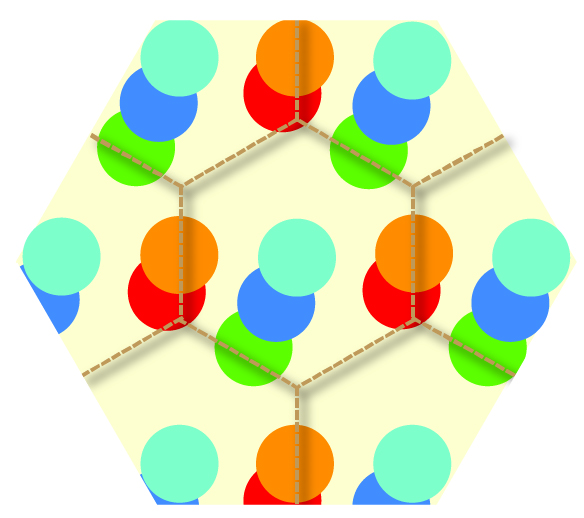 Confirmed Speakers & Participants
Talks will be presented virtually or in-person as indicated in the schedule below.
Speaker
Poster Presenter
Attendee
Virtual Attendee
Arman Afrasiyabi

Yale University

Daniele Avitabile

Vrije Universiteit Amsterdam

Andrea Barreiro

Southern Methodist University

Amitabha Bose

New Jersey Institute of Technology

Robyn Brooks

University of Utah

Thomas Burns

ICERM

Carlos Castañeda Castro

Brown University

Hannah Choi

Georgia Institute of Technology

Giovanna Citti

university of Bologna

Natasha Crepeau

University of Washington

Carina Curto

The Pennsylvania State University

Rava da Silveira

Institute of Molecular and Clinical Ophthalmology Basel

Maria Dascalu

University of Massachusetts Amherst

Darcy Diesburg

Brown University

Julia E Grigsby

Boston College

Ahmed elhady

Konstanz Center for Advanced Study of Collective Behavior

Aysel Erey

Utah State University

Michael Frank

Brown University

Marcio Gameiro

Rutgers University

Tomas Gedeon

Montana State University

Maria Geffen

University of Pennsylvania

Tim Gentner

University of California, San Diego

Juliann Geraci

University of Nebraska- Lincoln

Chad Giusti

University of Delaware

Betty Hong

California Institute of Technology

Vladimir Itskov

The Pennsylvania State University

Shabnam Kadir

University of Hertfordshire

Sameer Kailasa

University of Michigan Ann Arbor

Selvi Kara

University of Utah

Roozbeh Kiani

New York University

Maxwell Kreider

Case Western Reserve University

Zelong Li

Penn State University

Yao Li

University of Massachusetts Amherst

Caitlin Lienkaemper

Boston University

Kathryn Lindsey

Boston College

Justin Lines

Columbia University

Vasiliki Liontou

ICERM

Sijing Liu

Brown University

Juliana Londono Alvarez

Penn State

Christian Machens

Champalimaud Foundation

Marissa Masden

ICERM

Sarah Mason

Wake Forest University

Leenoy Meshulam

University of Washington

Nikola Milicevic

Pennsylvania State University

Federica Milinanni

KTH - Royal Institute of Technology

Katie Morrison

University of Northern Colorado

matt nassar

Brown University

Ilya Nemenman

Emory University

Gabe Ocker

Boston University

Caitlyn Parmelee

Keene State College

Cengiz Pehlevan

Harvard University

Isabella Penido

Brown University

Jose Perea

Northeastern University

Rebecca R.G.

George Mason University

Niloufar Razmi

Brown University

Antonio Rieser

Centro de Investigación en Matemáticas

Jason Ritt

Brown University

Horacio Rotstein

New Jersey Institute of Technology

Safaan Sadiq

Pennsylvania State University

Nicole Sanderson

Penn State University

Hannah Santa Cruz

Penn State

Cristina Savin

NYU

Nikolas Schonsheck

University of Delaware

David Schwab

City University of New York

Daniel Scott

Brown University

Thomas Serre

Brown University

Thibaud Taillefumier

UT Austin

Gaia Tavoni

Washington University in St. Louis

Peter Thomas

Case Western Reserve University

Nicholas Tolley

Brown University

Taro Toyoizumi

Riken Center for Brain Science

Wilson Truccolo

Brown University

Ka Nap Tse

University of Pittsburgh

Misha Tsodyks

Weizmann Institute

Yuki Tsukada

Keio University

Qingsong Wang

University of Utah

Iris Yoon

Wesleyan University

Nora Youngs

Colby College

Zhuojun Yu

Case Western Reserve University

Ling Zhou

ICERM

Robert Zielinski

Brown University
Application Information
ICERM welcomes applications from faculty, postdocs, graduate students, industry scientists, and other researchers who wish to participate. Some funding may be available for travel and lodging. Graduate students who apply must have their advisor submit a statement of support in order to be considered.
Your Visit to ICERM
ICERM Facilities

Traveling to ICERM

Lodging

Childcare/Schools

Technology Resources

Accessibility

Discrimination and Harassment Policy

Fundamental Research

Exploring Providence
Visa Information
Contact visa@icerm.brown.edu for assistance.
Eligible to be reimbursed

B-1 or Visa Waiver Business (WB)

Ineligible to be reimbursed

B-2 or Visa Waiver Tourist (WT)

Already in the US?

F-1 and J-1 not sponsored by ICERM: need to obtain a letter approving reimbursement from the International Office of your home institution PRIOR to travel.

H-1B holders do not need letter of approval.

All other visas: alert ICERM staff immediately about your situation.

ICERM does not reimburse visa fees. This chart is to inform visitors whether the visa they enter the US on allows them to receive reimbursement for the items outlined in their invitation letter.
Financial Support
This section is for general purposes only and does not indicate that all attendees receive funding. Please refer to your personalized invitation to review your offer.
ORCID iD

As this program is funded by the National Science Foundation (NSF), ICERM is required to collect your ORCID iD if you are receiving funding to attend this program. Be sure to add your ORCID iD to your Cube profile as soon as possible to avoid delaying your reimbursement.

Acceptable Costs

1 roundtrip between your home institute and ICERM
Flights on U.S. or E.U. airlines – economy class to either Providence airport (PVD) or Boston airport (BOS)
Ground Transportation to and from airports and ICERM.

Unacceptable Costs

Flights on non-U.S. or non-E.U. airlines
Flights on U.K. airlines
Seats in economy plus, business class, or first class
Change ticket fees of any kind
Multi-use bus passes
Meals or incidentals

Advance Approval Required

Personal car travel to ICERM from outside New England
Multiple-destination plane ticket; does not include layovers to reach ICERM
Arriving or departing from ICERM more than a day before or day after the program
Multiple trips to ICERM
Rental car to/from ICERM
Flights on a Swiss, Japanese, or Australian airlines
Arriving or departing from airport other than PVD/BOS or home institution's local airport
2 one-way plane tickets to create a roundtrip (often purchased from Expedia, Orbitz, etc.)

Travel Maximum Contributions

New England: $350
Other contiguous US: $850
Asia & Oceania: $2,000
All other locations: $1,500
Note these rates were updated in Spring 2023 and superseded any prior invitation rates. Any invitations without travel support will still not receive travel support.

Reimbursement Requests

Request Reimbursement with Cube

Refer to the back of your ID badge for more information. Checklists are available at the front desk and in the Reimbursement section of Cube.

Reimbursement Tips

Scanned original receipts are required for all expenses
Airfare receipt must show full itinerary and payment
ICERM does not offer per diem or meal reimbursement
Allowable mileage is reimbursed at prevailing IRS Business Rate and trip documented via pdf of Google Maps result
Keep all documentation until you receive your reimbursement!

Reimbursement Timing

6 - 8 weeks after all documentation is sent to ICERM. All reimbursement requests are reviewed by numerous central offices at Brown who may request additional documentation.

Reimbursement Deadline

Submissions must be received within 30 days of ICERM departure to avoid applicable taxes. Submissions after thirty days will incur applicable taxes. No submissions are accepted more than six months after the program end.