Abstract
Schubert calculus is the modern approach to classical problems in enumerative algebraic geometry, specifically on flag varieties and their many generalizations. Crystals are combinatorial tools based on quantum groups which arise in the study of representations of Lie algebras. Whittaker functions are special functions on Lie groups or p-adic groups, for example GL(n,F) where F might be the real or complex numbers, or a p-adic field.
The area of intersection between these three topics is combinatorial representation theory. Common tools such as Demazure operators, the Bruhat partial order, and Macdonald polynomials appear in all three areas. Some connections between these three areas are quite new. This workshop will explore these connections.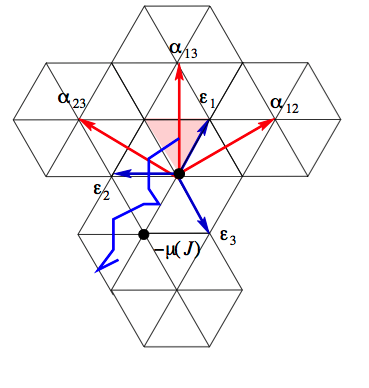 Confirmed Speakers & Participants
Talks will be presented virtually or in-person as indicated in the schedule below.
Speaker
Poster Presenter
Attendee
Virtual Attendee
Tutorial Week Schedule
Monday, February 25, 2013
Time
Event
Location
Materials
10:15 - 11:15am EST
Hunting for interesting WMDS via Dynkin diagram heuristics - Jeffrey Hoffstein, Brown University
11th Floor Lecture Hall
11:30 - 12:30pm EST
Combinatorial Representation Theory: Alcove-path models and Macdonald polynomials - Arun Ram, University of Melbourne
11th Floor Lecture Hall
1:00 - 2:20pm EST
Representations of affine Kac-Moody groups over local and global fields (ongoing semester course) - Alexander Braverman, Brown University
11th Floor Lecture Hall
3:30 - 4:00pm EST
Coffee/Tea Break
11th Floor Collaborative Space
Tuesday, February 26, 2013
Time
Event
Location
Materials
9:00 - 10:00am EST
Professional Development Seminar: Ethics in research I
11th Floor Lecture Hall
1:15 - 2:30pm EST
Postdoc & Grad Student Seminar I
11th Floor Lecture Hall
2:30 - 3:30pm EST
Hecke algebras, Kazhdan-Lusztig polynomials, and Soergel Bimodules - Anthony Licata, Australian National University
11th Floor Lecture Hall
3:30 - 4:00pm EST
Coffee/Tea Break
11th Floor Collaborative Space
Wednesday, February 27, 2013
Time
Event
Location
Materials
10:15 - 11:15am EST
Schubert varieties and Schubert calculus - Sara Billey, University of Washington
11th Floor Lecture Hall
11:30 - 12:30pm EST
Combinatorial Representation Theory: Alcove-path models and Macdonald polynomials Part 1 - Cristian Lenart, University at Albany, SUNY
11th Floor Lecture Hall
1:00 - 2:20pm EST
Representations of affine Kac-Moody groups over local and global fields (ongoing semester course) - Alexander Braverman, Brown University
11th Floor Lecture Hall
3:30 - 4:00pm EST
Coffee/Tea Break
11th Floor Collaborative Space
4:00 - 5:00pm EST
Postdoc & Grad Student Seminar II
10th Floor Classroom
Thursday, February 28, 2013
Time
Event
Location
Materials
3:30 - 4:00pm EST
Coffee/Tea Break
11th Floor Collaborative Space
Friday, March 1, 2013
Time
Event
Location
Materials
10:15 - 11:15am EST
Schubert varieties and Schubert calculus - Arun Ram, University of Melbourne
11th Floor Lecture Hall
11:30 - 12:30pm EST
Combinatorial Representation Theory: Alcove-path models and Macdonald polynomials Part 2 - Cristian Lenart, University at Albany, SUNY
11th Floor Lecture Hall
3:30 - 4:00pm EST
Coffee/Tea Break
11th Floor Collaborative Space
4:00 - 5:00pm EST
Sage coding sprint and help desk