Abstract
The densest packing of unit disks in the plane is easily seen to be highly symmetric. This is exploited in statistical mechanics in arguing that as the density parameter is decreased from its optimum most packings at fixed density remain quite orderly ('solid'), changing only gradually until at a specific density they suddenly begin to 'melt' into the disordered ('fluid') packings of low density. This workshop will explore two variants of this fundamental phenomenon. One variant concerns packings of special shapes, such as the Penrose kites and darts of the accompanying figure, whose densest packings are aperiodic tilings. The other concerns complex networks for which the optima are certain extremal graphs. These optimization problems, and especially their associated solid phases and solid/fluid phase transitions, are the subject of the workshop.
In summary, our workshop will explore two optimization problems on which there is active mathematical research. It will then focus on their associated solid phases and solid/fluid phase transitions which, on the contrary, are in dire need of mathematical clarification/understanding. It is hoped that progress can be made by pooling the expertise of researchers interested in various versions of this phenomenon. To promote cross-disciplinary information flow between the participants, the workshop format will have long tutorial/discussion sessions in the mornings, and short, more specialized talks in the afternoons.
The following tutorial/discussion sessions have been arranged so far:
Densest packings by Noam Elkies (Harvard)
Aperiodic tilings by Boris Solomyak (Washington)
Phases from hard spheres by Veit Elser (Cornell)
Extremal graphs by Alexander Razborov (Chicago)
Multipodal phases in graphs by Lorenzo Sadun (Austin)
Nonequilibrium solids by Giulio Biroli (CEA-Saclay)
Other transitions by Remi Monasson (ENS-Paris)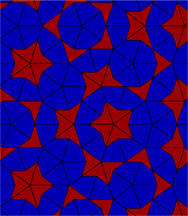 Confirmed Speakers & Participants
Talks will be presented virtually or in-person as indicated in the schedule below.
Speaker
Poster Presenter
Attendee
Virtual Attendee
Associated Semester Workshops
Statistical Mechanics and Combinatorics (ongoing semester course)