Abstract
Since the days of Boltzmann, it has been well accepted that natural phenomena, when described using tools of statistical mechanics, are governed by various "laws of large numbers." For practitioners of the field this usually means that certain empirical means converge to constants when the limit of a large system is taken. However, evidence has been amassed that such laws apply also to geometric features of these systems and, in particular, to many naturally-defined shapes. Earlier examples where such convergence could be proved include certain interacting particle systems, invasion percolation models and spin systems in equilibrium statistical mechanics.
The last decade has seen a true explosion of "limit-shape" results. New tools of combinatorics, random matrices and representation theory have given us new models for which limit shapes can be determined and further studied: dimer models, polymer models, sorting networks, ASEP (asymmetric exclusion processes), sandpile models, bootstrap percolation models, polynuclear growth models, etc. The goal of the workshop is to attempt to confront this "ZOO" of combinatorial examples with older foundational work and develop a better understanding of the general limit shape phenomenon.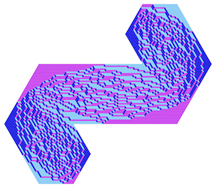 Confirmed Speakers & Participants
Talks will be presented virtually or in-person as indicated in the schedule below.
Speaker
Poster Presenter
Attendee
Virtual Attendee
Associated Semester Workshops
Statistical Mechanics and Combinatorics (ongoing semester course)