Abstract
Today's computational and experimental paradigms feature complex models along with disparate and, frequently, enormous data sets. This necessitates the development of theoretical and computational strategies for efficient and robust numerical algorithms that effectively resolve the important features and characteristics of these complex computational models. The desiderata for resolving the underlying model features is often application-specific and combines mathematical tasks like approximation, prediction, calibration, design, and optimization. Running simulations that fully account for the variability of the complexities of modern scientific models can be infeasible due to the curse of dimensionality, chaotic behavior or dynamics, and/or overwhelming streams of informative data.
This semester program focuses on both theoretical investigation and practical algorithm development for reduction in the complexity - the dimension, the degrees of freedom, the data - arising in these models. The four broad thrusts of the program are (1) Mathematics of reduced order models, (2) Algorithms for approximation and complexity reduction, (3) Computational statistics and data-driven techniques, and (4) Application-specific design. The particular topics include classical strategies such as parametric sensitivity analysis and best approximations, mature but active topics like principal component analysis and information-based complexity, and promising nascent topics such as layered neural networks and high-dimensional statistics.
This program will integrate diverse fields of mathematical analysis, statistical sciences, data and computer science, and specifically attract researchers working on model order reduction, data-driven model calibration and simplification, computations and approximations in high dimensions, and data-intensive uncertainty quantification. Various workshops will be designed to stimulate interaction between these research areas and establish cross-disciplinary collaboration. Investigation and assimilation of complementary approaches through other program events will achieve cross-fertilization and serve as a nexus for multiple research communities.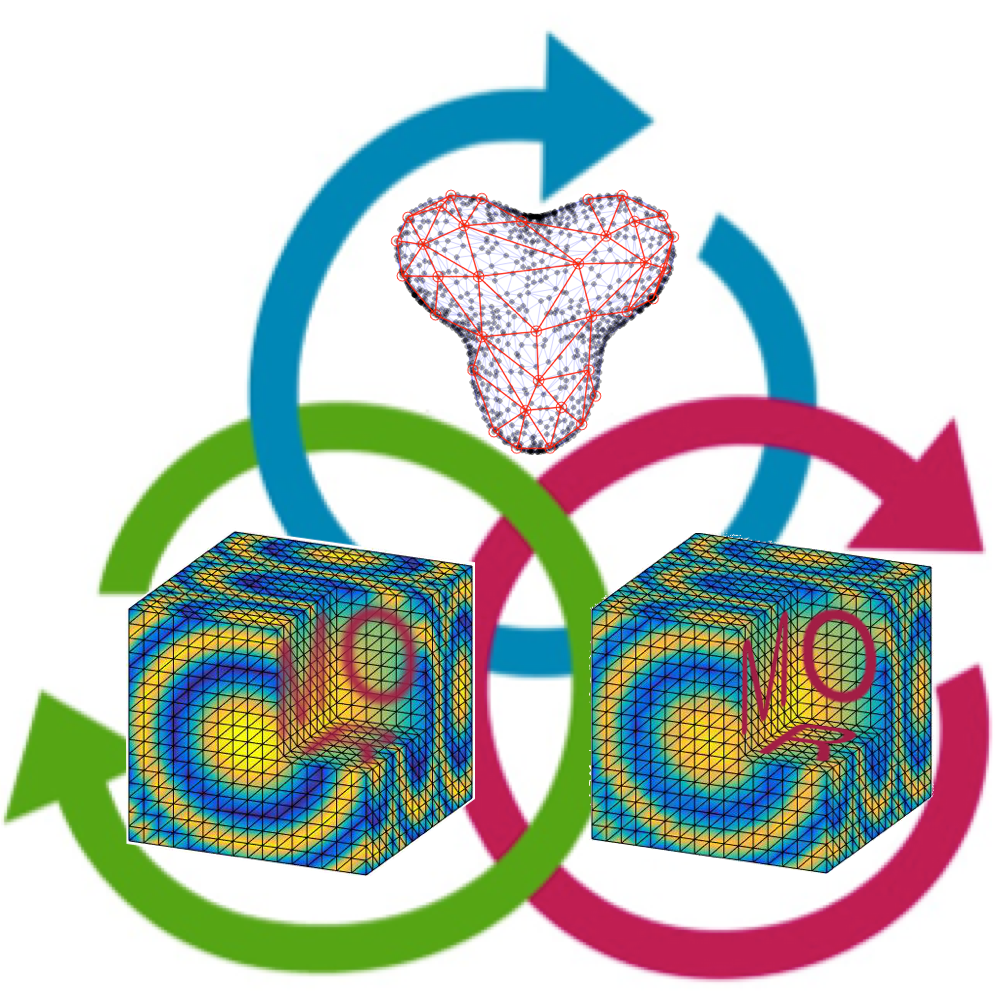 Confirmed Speakers & Participants
Brian Avants

UPenn

Jan 27-May 1, 2020

Christopher Beattie

Virginia Tech

Jan 27-May 1, 2020

Peter Benner

Max Planck Institute for Dynamics of Complex Technical Systems, Magdeburg

Jan 27-May 1, 2020

Yanlai Chen

University of Massachusetts, Dartmouth

Jan 27-May 1, 2020

Francisco Chinesta

ENSAM

Jan 27-May 1, 2020

Paul Constantine

Colorado School of Mines

Jan 27-May 1, 2020

Ronald DeVore

Texas A&M University

Jan 27-May 1, 2020

Vladimir Druskin

Druskin Algorithms

Jan 27-May 1, 2020

Virginie Ehrlacker

CERMICS – ENPC

Jan 27-May 1, 2020

Serkan Gugercin

Virginia Tech

Jan 27-May 1, 2020

Xiaozhe Hu

Tufts University

Jan 27-May 1, 2020

Eurika Kaiser

University of Washington

Jan 27-May 1, 2020

Misha Kilmer

Tufts University

Jan 27-May 1, 2020

Fengyan Li

Rensselaer Polytechinic Institute

Jan 27-May 1, 2020

Youssef Marzouk

Massachusetts Institute of Technology

Jan 27-May 1, 2020

Olga Mula

Paris Dauphine University

Jan 27-May 1, 2020

Akil Narayan

University of Utah

Jan 27-May 1, 2020

Benjamin Peherstorfer

New York University

Jan 27-May 1, 2020

Rosemary Renaut

Arizona State University

Jan 27-May 1, 2020

Abel Rodriguez

University of California, Santa Cruz

Jan 27-May 1, 2020

Gianluigi Rozza

SISSA – International School for Advanced Studies

Jan 27-May 1, 2020

Benjamin Stamm

RWTH Aachen University

Jan 27-May 1, 2020

Daniel Tartakovsky

Stanford University

Jan 27-May 1, 2020

Daniele Venturi

University of California, Santa Cruz

Jan 27-May 1, 2020

Zhu Wang

University of South Carolina

Jan 27-May 1, 2020
Visit dates listed on the participant list may be tentative and subject to change without notice.
Application Information
ICERM welcomes applications from faculty, postdocs, graduate students, industry scientists, and other researchers who wish to participate in one of our semester-long programs. Some funding may be available for travel and lodging. Applications will be accepted up until the start of the semester program and will be considered as long as funds and space are available.
Any graduate student who applies should have research interests that relate to the program topic; a statement of support from the advisor is required. In addition, graduate students will only be considered if they can remain in-residence for a minimum of six weeks.
Postdoctoral Fellowships
Interested in applying for a salaried postdoc position for this program? Applications are accepted via Mathjobs.org (search under "B" for Brown University/ICERM) between June and December in the year prior to the program's start date.
Your Visit to ICERM
ICERM Facilities

ICERM is located on the 10th & 11th floors of 121 South Main Street in Providence, Rhode Island. ICERM's business hours are 8:30am - 5:00pm during this event. See our facilities page for more info about ICERM and Brown's available facilities.

Traveling to ICERM

ICERM is located at Brown University in Providence, Rhode Island. Providence's T.F. Green Airport (15 minutes south) and Boston's Logan Airport (1 hour north) are the closest airports. Providence is also on Amtrak's Northeast Corridor. In-depth directions and transportation information are available on our travel page.

Lodging/Housing

Visiting ICERM for longer than a week-long workshop? ICERM staff works with participants to locate accommodations that fit their needs. Since short-term furnished housing is in very high demand, take advantage of the housing options ICERM may recommend. Contact housing@icerm.brown.edu for more details.

Childcare/Schools

Those traveling with family who are interested in information about childcare and/or schools should contact housing@icerm.brown.edu.

Family Support

With a recent gift from Microsoft Research, we are pleased to announce that there are fellowships available to assist in defraying dependent care costs. A separate application for this fellowship will be provided to those that have accepted an invitation to participate in an NSF-funded research program. Fellowship decisions will be made based on the justification and the availability of funds.

Technology Resources

Wireless internet access and wireless printing is available for all ICERM visitors. Eduroam is available for members of participating institutions. Thin clients in all offices and common areas provide open access to a web browser, SSH terminal, and printing capability. See our Technology Resources page for setup instructions and to learn about all available technology.

Discrimination and Harassment Policy

ICERM is committed to creating a safe, professional, and welcoming environment that benefits from the diversity and experiences of all its participants. The Brown University "Discrimination and Workplace Harassment Policy" applies to all ICERM participants and staff. Participants with concerns or requests for assistance on a discrimination or harassment issue should contact the ICERM Director, who is the responsible employee at ICERM under this policy.

Exploring Providence

Providence's world-renowned culinary scene provides ample options for lunch and dinner. Neighborhoods near campus, including College Hill Historic District, have many local attractions. Check out the map on our Explore Providence page to see what's near ICERM.
Visa Information
Contact visa@icerm.brown.edu for assistance.
Need a US Visa?

J-1 visa requested via ICERM staff

Reimbursable

B-1 or Visa Waiver Business (WB) –if you already have either visa – contact ICERM staff for a visa specific invitation letter.

Not Reimbursable

B-2 or Visa Waiver Tourist (WT)

Already in the US?

F-1 and J-1 not sponsored by ICERM: obtain a letter approving reimbursement from the International Office of your home institution PRIOR to travel.

H-1B holders do not need letter of approval.

All other visas: alert ICERM staff immediately about your situation.
Financial Support
Acceptable Costs

1 roundtrip between your home institute and ICERM
Flights on U.S. or E.U. airlines – economy class to either Providence airport (PVD) or Boston airport (BOS)
Ground Transportation to and from airports and ICERM.

Unacceptable Costs

Flights on non-U.S. or non-E.U. airlines
Seats in economy plus, business class, or first class
Change ticket fees of any kind
Multi-use bus passes
Meals or incidentals

Advance Approval Required

Personal car travel to ICERM from outside New England
Multiple-destination plane ticket; does not include layovers to reach ICERM
Arriving or departing from ICERM more than a day before or day after the program
Multiple trips to ICERM
Rental car to/from ICERM
Flights on a Swiss, Japanese, or Australian airlines
Arriving or departing from airport other than PVD/BOS or home institution's local airport
2 one-way plane tickets to create a roundtrip (often purchased from Expedia, Orbitz, etc.)

Reimbursement Request Form

https://icerm.brown.edu/money/

Refer to the back of your ID badge for more information. Checklists are available at the front desk.

Reimbursement Tips

Scanned original receipts are required for all expenses
Airfare receipt must show full itinerary and payment
ICERM does not offer per diem or meal reimbursement
Allowable mileage is reimbursed at prevailing IRS Business Rate and trip documented via pdf of Google Maps result
Keep all documentation until you receive your reimbursement!

Reimbursement Timing

6 - 8 weeks after all documentation is sent to ICERM. All reimbursement requests are reviewed by numerous central offices at Brown who may request additional documentation.

Reimbursement Deadline

Submissions must be received within 30 days of ICERM departure to avoid applicable taxes. Submissions after thirty days will incur applicable taxes. No submissions are accepted more than six months after the program end.