Abstract
Discrete optimization is a vibrant area of computational mathematics devoted to efficiently finding optimal solutions among a finite or countable set of possible feasible solutions.
A famous and classical example of a problem in discrete optimization is the traveling salesperson problem: For given cities and distances of traveling from one city to another, we seek to find the shortest route that visits each city once and returns to the starting city. Discrete optimization problems naturally arise in many kinds of applications including bioinformatics, telecommunications network design, airline scheduling, circuit design, and efficient resource allocation. The field also connects to a variety of areas in mathematics, computer science, and data analytics including approximation algorithms, convex and tropical geometry, number theory, real algebraic geometry, parameterized complexity theory, quantum computing, machine learning, and mathematical logic.
The semester program will explore links between mathematical tools and unsolved fundamental questions in these areas. We plan to explore computational techniques from discrete optimization to experimentally attack classical problems in combinatorics and other areas of pure mathematics. We will also continue the tradition of designing new algorithms for applied and industrial problems which has been part of the subject since its inception. By bringing together a diverse group of researchers, we anticipate making new connections and collaborations as well as deepening existing ones.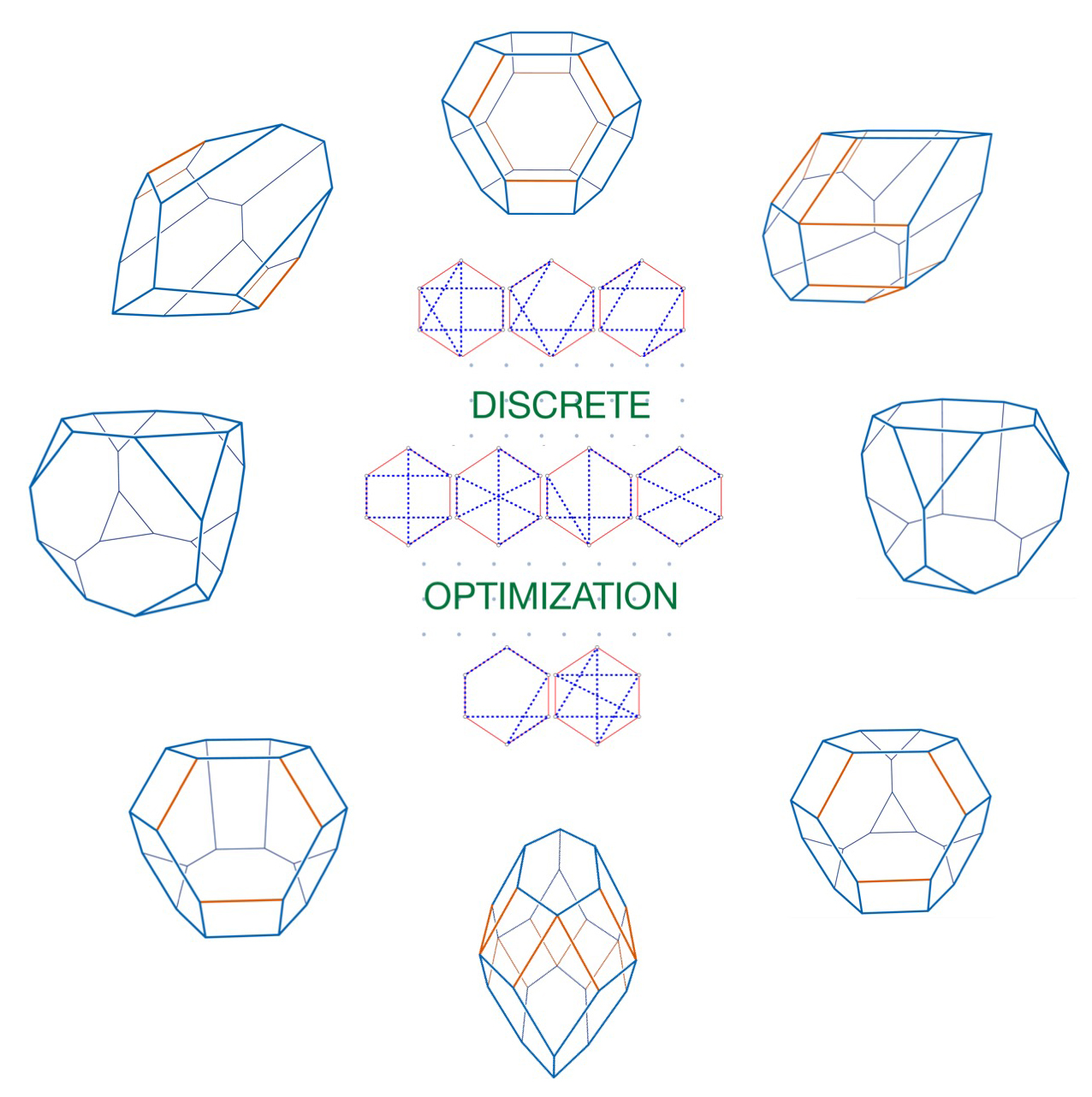 Confirmed Speakers & Participants
Talks will be presented virtually or in-person as indicated in the schedule below.
Speaker
Poster Presenter
Attendee
Virtual Attendee
Kurt Anstreicher

University of Iowa

Jan 30-May 5, 2023

Pietro Belotti

Politecnico di Milano

Jan 30-May 5, 2023

Claudia D'Ambrosio

LIX - Ecole Polytechnique

Jan 30-May 5, 2023

Jesús De Loera

University of California, Davis

Jan 30-May 5, 2023

Yuri Faenza

Columbia Universiry

Jan 30-May 5, 2023

Michel Goemans

Massachusetts Institute of Technology

Jan 30-May 5, 2023

Volker Kaibel

Otto-von-Guericke Universität Magdeburg

Jan 30-May 5, 2023

Jon Lee

University of Michigan

Jan 30-May 5, 2023

Sven Leyffer

Argonne National Laboratory

Jan 30-May 5, 2023

Leo Liberti

Ecole Polytechnique

Jan 30-May 5, 2023

Andrea Lodi

Cornell Tech

Jan 30-May 5, 2023

Frédéric Meunier

École Nationale des Ponts et Chaussées, CERMICS

Apr 5-May 5, 2023

Shmuel Onn

Technion - Israel Institute of Technology

Jan 30-May 5, 2023

Britta Peis

RWTH Aachen University

Jan 30-May 5, 2023

Lionel Pournin

University of Paris 13

Jan 30-May 5, 2023

Nick Sahinidis

Georgia Institute of Technology

Jan 30-May 5, 2023

Stefan Weltge

Technical University of Munich

Jan 30-May 5, 2023

Yuan Zhou

University of Kentucky

Jan 30-May 5, 2023
Visit dates listed on the participant list may be tentative and subject to change without notice.
Application Information
ICERM welcomes applications from faculty, postdocs, graduate students, industry scientists, and other researchers who wish to participate in one of our semester-long programs. Some funding may be available for travel and lodging. Applications will be accepted up until the start of the semester program and will be considered as long as funds and space are available.
Any graduate student who applies should have research interests that relate to the program topic; a statement of support from the advisor is required. In addition, graduate students will only be considered if they can remain in-residence for a minimum of six weeks.
Applications are not currently open. Please check back at a later date.
Postdoctoral Fellowships
Interested in applying for a salaried postdoc position for this program? Applications are accepted via Mathjobs.org (search under "B" for Brown University/ICERM) between June and December in the year prior to the program's start date.
Your Visit to ICERM
ICERM Facilities

Traveling to ICERM

Lodging/Housing

Childcare/Schools

Technology Resources

Accessibility

Discrimination and Harassment Policy

Exploring Providence
Visa Information
Contact visa@icerm.brown.edu for assistance.
Need a US Visa?

J-1 visa requested via ICERM staff

Eligible to be reimbursed

B-1 or Visa Waiver Business (WB) –if you already have either visa – contact ICERM staff for a visa specific invitation letter.

Ineligible to be reimbursed

B-2 or Visa Waiver Tourist (WT)

Already in the US?

F-1 and J-1 not sponsored by ICERM: obtain a letter approving reimbursement from the International Office of your home institution PRIOR to travel.

H-1B holders do not need letter of approval.

All other visas: alert ICERM staff immediately about your situation.

ICERM does not reimburse visa fees. This chart is to inform visitors whether the visa they enter the US on allows them to receive reimbursement for the items outlined in their invitation letter.
Financial Support
ORCID iD

As this program is funded by the National Science Foundation (NSF), ICERM is required to collect your ORCID iD if you are receiving funding to attend this program. Be sure to add your ORCID iD to your Cube profile as soon as possible to avoid delaying your reimbursement.

Acceptable Costs

1 roundtrip between your home institute and ICERM
Flights on U.S. or E.U. airlines – economy class to either Providence airport (PVD) or Boston airport (BOS)
Ground Transportation to and from airports and ICERM.

Unacceptable Costs

Flights on non-U.S. or non-E.U. airlines
Flights on U.K. airlines
Seats in economy plus, business class, or first class
Change ticket fees of any kind
Multi-use bus passes
Meals or incidentals

Advance Approval Required

Personal car travel to ICERM from outside New England
Multiple-destination plane ticket; does not include layovers to reach ICERM
Arriving or departing from ICERM more than a day before or day after the program
Multiple trips to ICERM
Rental car to/from ICERM
Flights on a Swiss, Japanese, or Australian airlines
Arriving or departing from airport other than PVD/BOS or home institution's local airport
2 one-way plane tickets to create a roundtrip (often purchased from Expedia, Orbitz, etc.)

Reimbursement Requests

Request Reimbursement with Cube

Refer to the back of your ID badge for more information. Checklists are available at the front desk and in the Reimbursement section of Cube.

Reimbursement Tips

Scanned original receipts are required for all expenses
Airfare receipt must show full itinerary and payment
ICERM does not offer per diem or meal reimbursement
Allowable mileage is reimbursed at prevailing IRS Business Rate and trip documented via pdf of Google Maps result
Keep all documentation until you receive your reimbursement!

Reimbursement Timing

6 - 8 weeks after all documentation is sent to ICERM. All reimbursement requests are reviewed by numerous central offices at Brown who may request additional documentation.

Reimbursement Deadline

Submissions must be received within 30 days of ICERM departure to avoid applicable taxes. Submissions after thirty days will incur applicable taxes. No submissions are accepted more than six months after the program end.
Associated Semester Workshops
Linear and Non-Linear Mixed Integer Optimization: Algorithms and Industrial...
Combinatorics and Optimization
Trends in Computational Discrete Optimization