Abstract
This semester program will bring together both leading experts and junior researchers to discuss the current state-of-the-art and emerging trends in computational PDEs. While there are scores of numerical methodologies designed for a wide variety of PDEs, the program will be designed around three workshops each centered around a specific theme: PDEs and Geometry, Nonlocal PDEs, and Numerical Analysis of Multiphysics problems. This grouping of topics embodies a broad representation of computational mathematics with each set possessing their own skill set of mathematical tools and viewpoints. Nonetheless, all workshops will have the common theme of using rigorous mathematical theory to develop and analyze the convergence and efficiency of numerical methods. The diversity of the workshop topics will bring together historically distinct groups of mathematicians to interact and facilitate new ideas and breakthroughs.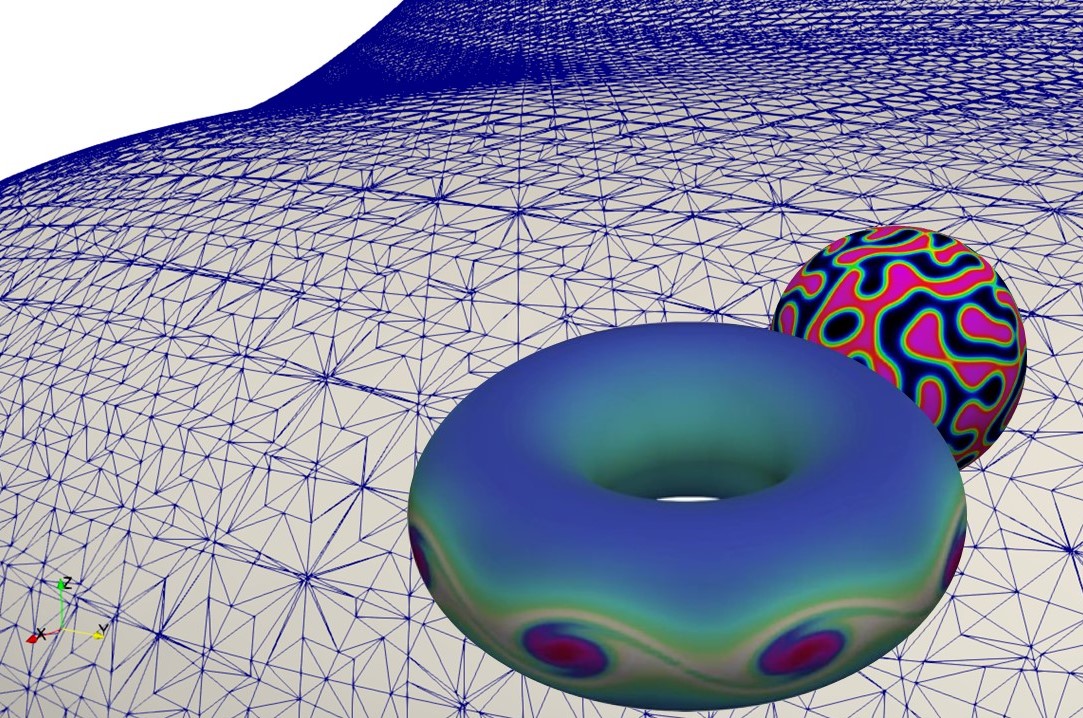 Confirmed Speakers & Participants
Talks will be presented virtually or in-person as indicated in the schedule below.
Speaker
Poster Presenter
Attendee
Virtual Attendee
Soeren Bartels

University of Freiburg

Jan 29-May 4, 2024

Susanne Brenner

Louisiana State University

Jan 29-May 4, 2024

Annalisa Buffa

École Polytechnique Fédérale de Lausanne

Jan 29-May 4, 2024

Martina Bukač

E77D3Q

Jan 29-May 4, 2024

Erik Burman

University College London

Jan 29-May 4, 2024

Marta D'Elia

Pasteur Labs. and Stanford University

Jan 29-May 4, 2024

Charlie Elliott

University of Warwick

Jan 29-May 4, 2024

Patrick Farrell

University of Oxford

Feb 6-10, 2024

Jay Gopalakrishnan

Portland State University

Jan 29-May 3, 2024

Johnny Guzman

Brown University

Jan 29-May 4, 2024

Brittany Hamfeldt

New Jersey Institute of Technology

Jan 29-May 4, 2024

Xingjie Li

University of North Carolina at Charlotte

Jan 29-May 4, 2024

Sijing Liu

University of Connecticut

Sep 1, 2023-May 31, 2024

Kent-Andre Mardal

University of Oslo

Jan 29-May 4, 2024

Michael Neilan

University of Pittsburgh

Jan 29-May 4, 2024

Ricardo Nochetto

University of Maryland

Jan 29-May 4, 2024

Maxim Olshanskii

University of Houston

Jan 29-May 4, 2024

Sara Pollock

University of Florida

Jan 29-May 4, 2024

Leo Rebholz

Clemson University

Jan 29-May 4, 2024

Arnold Reusken

Aachen University

Jan 29-May 4, 2024

Beatrice Riviere

Rice University

Jan 29-May 4, 2024

Marie Rognes

Simula Research Laboratory

Jan 29-May 4, 2024

Riccardo Sacco

Politecnico di Milano

Jan 29-May 4, 2024

Abner Salgado

University of Tennessee

Jan 29-May 4, 2024

Ridgway Scott

University of Chicago

Jan 29-May 4, 2024

Pablo Seleson

Oak Ridge National Laboratory (ORNL)

Apr 10-20, 2024

Valeria Simoncini

Università di Bologna

Jan 29-May 4, 2024

Xiaochuan Tian

University of California-San Diego

Jan 29-May 4, 2024

Alex Townsend

Cornell University

Jan 29-May 4, 2024

Richard Tsai

University of Texas

Jan 29-May 4, 2024

Noel Walkington

Carnegie Mellon University

Jan 29-May 4, 2024

David Williams

Penn State University

Jan 29-May 4, 2024
Visit dates listed on the participant list may be tentative and subject to change without notice.
Application Information
ICERM welcomes applications from faculty, postdocs, graduate students, industry scientists, and other researchers who wish to participate. Some funding may be available for travel and lodging. Graduate students who apply must have their advisor submit a statement of support in order to be considered.
Your Visit to ICERM
ICERM Facilities

Traveling to ICERM

Lodging/Housing

Childcare/Schools

Technology Resources

Accessibility

Discrimination and Harassment Policy

Fundamental Research

Exploring Providence
Visa Information
Contact visa@icerm.brown.edu for assistance.
Need a US Visa?

J-1 visa requested via ICERM staff

Eligible to be reimbursed

B-1 or Visa Waiver Business (WB) –if you already have either visa – contact ICERM staff for a visa specific invitation letter.

Ineligible to be reimbursed

B-2 or Visa Waiver Tourist (WT)

Already in the US?

F-1 and J-1 not sponsored by ICERM: obtain a letter approving reimbursement from the International Office of your home institution PRIOR to travel.

H-1B holders do not need letter of approval.

All other visas: alert ICERM staff immediately about your situation.

ICERM does not reimburse visa fees. This chart is to inform visitors whether the visa they enter the US on allows them to receive reimbursement for the items outlined in their invitation letter.
Financial Support
This section is for general purposes only and does not indicate that all attendees receive funding. Please refer to your personalized invitation to review your offer.
ORCID iD

As this program is funded by the National Science Foundation (NSF), ICERM is required to collect your ORCID iD if you are receiving funding to attend this program. Be sure to add your ORCID iD to your Cube profile as soon as possible to avoid delaying your reimbursement.

Acceptable Costs

1 roundtrip between your home institute and ICERM
Flights on U.S. or E.U. airlines – economy class to either Providence airport (PVD) or Boston airport (BOS)
Ground Transportation to and from airports and ICERM.

Unacceptable Costs

Flights on non-U.S. or non-E.U. airlines
Flights on U.K. airlines
Seats in economy plus, business class, or first class
Change ticket fees of any kind
Multi-use bus passes
Meals or incidentals

Advance Approval Required

Personal car travel to ICERM from outside New England
Multiple-destination plane ticket; does not include layovers to reach ICERM
Arriving or departing from ICERM more than a day before or day after the program
Multiple trips to ICERM
Rental car to/from ICERM
Flights on a Swiss, Japanese, or Australian airlines
Arriving or departing from airport other than PVD/BOS or home institution's local airport
2 one-way plane tickets to create a roundtrip (often purchased from Expedia, Orbitz, etc.)

Travel Maximum Contributions

New England: $250
Other contiguous US: $750
Asia & Oceania: $2,000
All other locations: $1,500
Note these rates were updated in Spring 2022 and superseded any prior invitation rates. Any invitations without travel support will still not receive travel support.

Reimbursement Requests

Request Reimbursement with Cube

Refer to the back of your ID badge for more information. Checklists are available at the front desk and in the Reimbursement section of Cube.

Reimbursement Tips

Scanned original receipts are required for all expenses
Airfare receipt must show full itinerary and payment
ICERM does not offer per diem or meal reimbursement
Allowable mileage is reimbursed at prevailing IRS Business Rate and trip documented via pdf of Google Maps result
Keep all documentation until you receive your reimbursement!

Reimbursement Timing

6 - 8 weeks after all documentation is sent to ICERM. All reimbursement requests are reviewed by numerous central offices at Brown who may request additional documentation.

Reimbursement Deadline

Submissions must be received within 30 days of ICERM departure to avoid applicable taxes. Submissions after thirty days will incur applicable taxes. No submissions are accepted more than six months after the program end.
Associated Semester Workshops
Numerical Analysis of Multiphysics Problems
PDEs and Geometry: Numerical Aspects
Nonlocality: Challenges in Modeling and Simulation