Abstract
Given an incidence structure, one may model a variety of geometric problems. This Semester Program will revolve around two fundamental examples and their applications to modern challenges in the study, analysis, and design of materials. (1) Packings and patterns of circles where the underlying combinatorics are mixed with advanced geometric concepts and strong links are made to discrete differential geometry. (2) The rigidity and flexibility of bar-joint structures where real algebraic geometry is intertwined with sparse graph theory and matroidal techniques. A prime objective of the program is to advance the applicability of these topics to fundamental applications, most notably in statistical physics and materials science.
The program will integrate diverse fields of discrete mathematics, geometry, theoretical computer science, mathematical biology, and statistical and soft matter physics. Various workshops will be designed to attract both theoretical and applied practitioners and to stimulate the cross-fertilization of ideas between these disparate communities.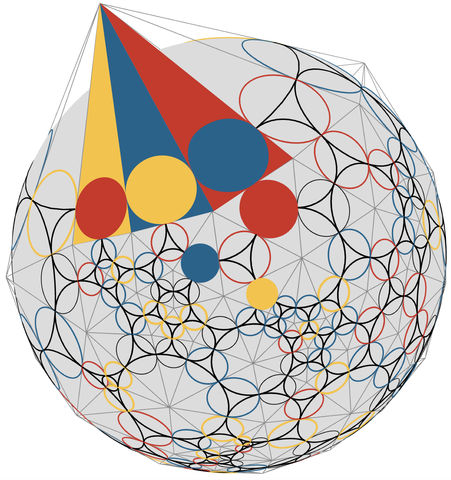 Confirmed Speakers & Participants
Talks will be presented virtually or in-person as indicated in the schedule below.
Speaker
Poster Presenter
Attendee
Virtual Attendee
Daniel Bernstein

Tulane University

Jan 29-May 2, 2025

Alexander Bobenko

Technische Universität Berlin

Jan 29-May 2, 2025

John Bowers

James Madison University

Jan 29-May 2, 2025

Philip Bowers

The Florida State University

Jan 29-May 2, 2025

Robert Connelly

Cornell University

Jan 29-May 2, 2025

William Floyd

Virginia Tech

Jan 29-May 2, 2025

Elizabeth Gross

University of Hawai'i at Mānoa

Jan 29-May 2, 2025

Miranda Holmes-Cerfon

University of British Columbia

Jan 29-May 2, 2025

Bill Jackson

Queen Mary University of London

Jan 29-May 2, 2025

Tibor Jordán

Eötvös Loránd University

Jan 29-May 2, 2025

Matthew Kahle

Ohio State University

Jan 29-May 2, 2025

Wai Yeung Lam

Université du Luxembourg

Jan 29-May 2, 2025

Feng Luo

Rutgers University

Jan 29-May 2, 2025

Anthony Nixon

Lancaster University

Jan 29-May 2, 2025

Corey O'Hern

Yale University

Jan 29-May 2, 2025

Christian Santangelo

Syracuse University

Jan 29-May 2, 2025

Jean-Marc Schlenker

University of Luxembourg

Jan 29-May 2, 2025

Brigitte Servatius

Worcester Polytechnic Institute

Jan 29-May 2, 2025

Jessica Sidman

Mount Holyoke College

Jan 29-May 2, 2025

Meera Sitharam

University of Florida

Jan 29-May 2, 2025

Ileana Streinu

Smith College

Jan 29-May 2, 2025

Shin-ichi Tanigawa

University of Tokyo

Jan 29-May 2, 2025

Louis Theran

University of St Andrews

Jan 29-May 2, 2025
Visit dates listed on the participant list may be tentative and subject to change without notice.
Application Information
ICERM welcomes applications from faculty, postdocs, graduate students, industry scientists, and other researchers who wish to participate. Some funding may be available for travel and lodging. Graduate students who apply must have their advisor submit a statement of support in order to be considered.
ICERM Funding for Fellowships
ICERM has funding available for fellowships to support faculty who attend one of our semester programs. These are often used to cover teaching buyouts so that participants can be in residence throughout a semester program. We welcome requests from those not based at R1 research universities and those based at minority-serving institutions, including HBCUs, HSIs, TCUs, and AAPISIs. The standard amount for a full semester is $25,000. Email ICERM's Director for more information.
Your Visit to ICERM
ICERM Facilities

Traveling to ICERM

Lodging/Housing

Childcare/Schools

Technology Resources

Accessibility

Discrimination and Harassment Policy

Fundamental Research

Exploring Providence
Visa Information
Contact visa@icerm.brown.edu for assistance.
Need a US Visa?

J-1 visa requested via ICERM staff

Eligible to be reimbursed

B-1 or Visa Waiver Business (WB) –if you already have either visa – contact ICERM staff for a visa specific invitation letter.

Ineligible to be reimbursed

B-2 or Visa Waiver Tourist (WT)

Already in the US?

F-1 and J-1 not sponsored by ICERM: obtain a letter approving reimbursement from the International Office of your home institution PRIOR to travel.

H-1B holders do not need letter of approval.

All other visas: alert ICERM staff immediately about your situation.

ICERM does not reimburse visa fees. This chart is to inform visitors whether the visa they enter the US on allows them to receive reimbursement for the items outlined in their invitation letter.
Financial Support
This section is for general purposes only and does not indicate that all attendees receive funding. Please refer to your personalized invitation to review your offer.
ORCID iD

As this program is funded by the National Science Foundation (NSF), ICERM is required to collect your ORCID iD if you are receiving funding to attend this program. Be sure to add your ORCID iD to your Cube profile as soon as possible to avoid delaying your reimbursement.

Acceptable Costs

1 roundtrip between your home institute and ICERM
Flights on U.S. or E.U. airlines – economy class to either Providence airport (PVD) or Boston airport (BOS)
Ground Transportation to and from airports and ICERM.

Unacceptable Costs

Flights on non-U.S. or non-E.U. airlines
Flights on U.K. airlines
Seats in economy plus, business class, or first class
Change ticket fees of any kind
Multi-use bus passes
Meals or incidentals

Advance Approval Required

Personal car travel to ICERM from outside New England
Multiple-destination plane ticket; does not include layovers to reach ICERM
Arriving or departing from ICERM more than a day before or day after the program
Multiple trips to ICERM
Rental car to/from ICERM
Flights on a Swiss, Japanese, or Australian airlines
Arriving or departing from airport other than PVD/BOS or home institution's local airport
2 one-way plane tickets to create a roundtrip (often purchased from Expedia, Orbitz, etc.)

Travel Maximum Contributions

New England: $350
Other contiguous US: $850
Asia & Oceania: $2,000
All other locations: $1,500
Note these rates were updated in Spring 2023 and superseded any prior invitation rates. Any invitations without travel support will still not receive travel support.

Reimbursement Requests

Request Reimbursement with Cube

Refer to the back of your ID badge for more information. Checklists are available at the front desk and in the Reimbursement section of Cube.

Reimbursement Tips

Scanned original receipts are required for all expenses
Airfare receipt must show full itinerary and payment
ICERM does not offer per diem or meal reimbursement
Allowable mileage is reimbursed at prevailing IRS Business Rate and trip documented via pdf of Google Maps result
Keep all documentation until you receive your reimbursement!

Reimbursement Timing

6 - 8 weeks after all documentation is sent to ICERM. All reimbursement requests are reviewed by numerous central offices at Brown who may request additional documentation.

Reimbursement Deadline

Submissions must be received within 30 days of ICERM departure to avoid applicable taxes. Submissions after thirty days will incur applicable taxes. No submissions are accepted more than six months after the program end.