Abstract
Imagine spending eight-weeks on the beautiful Brown University campus in historic Providence, RI, working in a small team setting to solve mathematical research problems developed by faculty experts in their fields.
Imagine creating career-building connections between peers, near peers (graduate students and postdocs), and academic professionals.
Imagine spending your summer in a fun, memorable, and intellectually stimulating environment.
Now, imagine having this experience with support for travel within the U.S., room and board paid, plus a $3,000 stipend*.
The 2017 Summer@ICERM program is designed for a select group of 16-20 undergraduate scholars. The program will give undergraduates an opportunity for exposure and research in the methods of "Applied Topology" in the study of complex data sets.
The program will offer mini-courses for students at the beginning of the program. The faculty advisors will then present several research projects that are highly interdisciplinary and represent areas where topological data analysis stands to have a deep and meaningful impact. Tackling these projects will require a combination of analytical and computational approaches, and students will be expected to gain intuition into some of these problems via analysis, computer experimentation, and visualization.
Throughout the eight-week program, students will work on their assigned projects in groups of two to four, supervised by faculty advisors and aided by teaching assistants. Students will meet daily, attend mini-courses, learn how to write reports in LaTeX, give weekly team talks about their findings, attend professional development seminars, and write up their research into a poster and/or paper by the end of the program.
ICERM provides an excellent research environment, and the students and their faculty and TA mentors will have access to shared offices and collaborative space throughout the institute. They also will have access to ICERM's computer facilities and specialized software. ICERM staff will provide logistical support for students and will help build community through fun activities and events.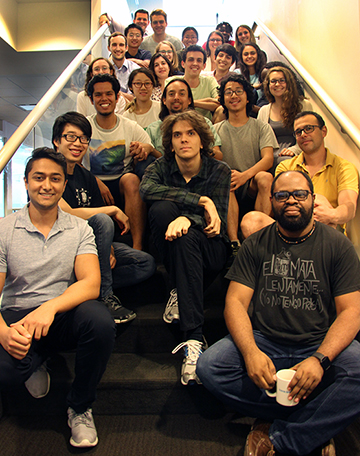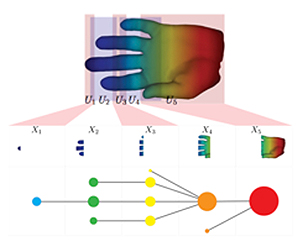 The Data Science Initiative, a hub at Brown University for research and education in the foundational methodologies, domain applications, and societal impacts of data science, is pleased to support this Summer@ICERM program through faculty and postdoctoral mentorship, and undergraduate support.
Program Details
2017 Research Project Topics

Shape Classification
Action Recognition
Feature Recognition from Persistent Diagrams
Local Persistence Diagrams
Configuration Spaces
Künneth Formula for Persistent Homology
Classification of Music Data Streams: Music Information Retrieval and
Analysis of Hippocampal Networks.
Downloadable PDF of Project Descriptions

Mini-Courses

Mini-Course 1: Theoretical Aspects of Computational Topology

Lecturer: Sara Kališnik Verovšek

Description: This course is devoted to theoretical foundations of computational topology. We will start with a short overview of the field and show some applications that students will learn more about by the end of the class. We will define simplicial complexes, homology groups, discuss triangulations of point clouds and learn the theory behind one of the most popular tools in applied topology, persistent homology.

Mini-Course 2: Computational Topology

Lecturer: Henry Adams

Description: This course is an introduction to computational topology, and we motivate the course topics with recent applications of topology. The rst application is to data analysis: the shape of a dataset often re ects important patterns within. Two such datasets with interesting shapes are a space of 3x3 pixel patches from optical images, which can be well-modeled by a Klein bottle, and the conformation space of the cyclo-octane molecule, which is a Klein bottle glued to a 2-sphere along two circles of singularities. We introduce homology as a way to measure the number of holes in a topological space, and persistent homology as a way to measure the number of holes in a dataset.

Mini-Course 3: Distances Between Metric Spaces and Applications

Lecturer: Facundo Mémoli

Description: This course is an introduction to Metric Geometry and applications. Of particular importance will be the definition and properties of the so called Gromov-Hausdorff distance between metric spaces and applications to shape and data analysis and matching. We'll also look into the setting of directed/asymmetric networks.

Mini-Course 4: Topological Time Series Analysis

Lecturer: Jose Perea

Description: Time varying observations are ubiquitous in today's data rich world; examples include real- valued time series (like sounds and temperature measurements), video data (thought of as ordered sequences of image frames) and dynamic networks (again, ordered sequences of graphs).

Funding Includes

$3,000 stipend
Dormitory housing
Meal plan
Travel support within U.S.
Fun events
Accepted Brown University students will receive Brown University's I-Team UTRA grant in lieu of the Summer@ICERM funding package.
Confirmed Speakers & Participants
Talks will be presented virtually or in-person as indicated in the schedule below.
Speaker
Poster Presenter
Attendee
Virtual Attendee
Henry Adams

Colorado State University

Alice Antia

Carleton College

Leo Betthauser

Florida State University

Jeffrey Brock

Brown University

Erin Bugbee

Brown University

Samir Chowdhury

The Ohio State University

Nathaniel Clause

Vanderbilt University

Peter Eastwood

Brown University

Anna Ellison

MIT

Gabrielle Ferra

Brown University

Greg Henselman

University of Pennsylvania

Adam Jaffe

Stanford University

Katherine Kinnaird

Brown University

Tequania Lake

King University

Michael Lin

Princeton University

Daniel Lopez

UC Berkeley

Melissa McGuirl

Brown University

Facundo Memoli

The Ohio State University

Biraj Pandey

University of Texas at Austin

Jose Perea

Michigan State University

Jose Angel Sanchez

University of Guanajuato

Claire Savard

University of Michigan

Bonginkosi Sibanda

Brown University

Elchanan Solomon

Brown University

Timothy Sudijono

Brown University

Christopher Tralie

Duke University

Jonathan Weisskoff

Brown University

Zoe Wellner

Cornell University

Yang Xiao

Brown University

Boyan Xu

University of Illinois at Urbana- Champaign

Yuwei Xu

Wellesley College

Yixuan Zhang

Smith College
Summer Schedule
Monday, June 19, 2017
Time
Event
Location
Materials
9:00 - 10:00am EDT
Welcome / Meet and Greet
121 South Main Street, 10th Floor
10:00 - 11:45am EDT
Scavenger Hunt
Brown Campus
12:00 - 1:30pm EDT
Welcome Lunch
10th Floor Collaborative Space
1:30 - 3:00pm EDT
Project Orientation
10th Floor Classroom
3:00 - 3:30pm EDT
Coffee/Tea Break
10th Floor Collaborative Space
3:30 - 4:30pm EDT
Project Orientation
10th Floor Classroom
Tuesday, June 20, 2017
Time
Event
Location
Materials
9:00 - 10:30am EDT
Theoretical Aspects of Computational Topology - Sara Kalisnik Verovsek, Brown University
10th Floor Classroom
10:30 - 11:00am EDT
Coffee/ Tea Break
11:00 - 12:30pm EDT
Theoretical Aspects of Computational Topology - Sara Kalisnik Verovsek, Brown University
10th Floor Classroom
2:00 - 3:00pm EDT
Mini-course on Computational Topology - Henry Adams, Colorado State University
10th Floor Classroom
3:00 - 3:30pm EDT
Coffee/ Tea Break
3:30 - 5:00pm EDT
Mini-course on Computational Topology - Henry Adams, Colorado State University
10th Floor Classroom
Wednesday, June 21, 2017
Time
Event
Location
Materials
9:00 - 10:30am EDT
Theoretical Aspects of Computational Topology - Sara Kalisnik Verovsek, Brown University
10th Floor Classroom
10:30 - 11:00am EDT
Coffee/ Tea Break
11:00 - 12:30pm EDT
Theoretical Aspects of Computational Topology - Sara Kalisnik Verovsek, Brown University
10th Floor Classroom
2:00 - 3:00pm EDT
Mini-course on Computational Topology - Henry Adams, Colorado State University
10th Floor Classroom
3:00 - 3:30pm EDT
Coffee/ Tea Break
3:30 - 5:00pm EDT
Mini-course on Computational Topology - Henry Adams, Colorado State University
10th Floor Classroom
7:00 - 9:00pm EDT
Game Night
10th Floor Collaborate Space
Thursday, June 22, 2017
Time
Event
Location
Materials
9:00 - 10:30am EDT
Theoretical Aspects of Computational Topology - Sara Kalisnik Verovsek, Brown University
10th Floor Classroom
10:30 - 11:00am EDT
Coffee/ Tea Break
11:00 - 12:30pm EDT
Theoretical Aspects of Computational Topology - Sara Kalisnik Verovsek, Brown University
10th Floor Classroom
2:00 - 3:00pm EDT
Mini-course on Computational Topology - Henry Adams, Colorado State University
10th Floor Classroom
3:00 - 3:30pm EDT
Coffee/ Tea Break
3:30 - 5:00pm EDT
Mini-course on Computational Topology - Henry Adams, Colorado State University
10th Floor Classroom
5:00 - 7:00pm EDT
TA Meeting
10th Floor Classroom
Friday, June 23, 2017
Time
Event
Location
Materials
9:00 - 10:30am EDT
Theoretical Aspects of Computational Topology - Sara Kalisnik Verovsek, Brown University
10th Floor Classroom
10:30 - 11:00am EDT
Coffee/ Tea Break
11:00 - 12:30pm EDT
Theoretical Aspects of Computational Topology - Sara Kalisnik Verovsek, Brown University
10th Floor Classroom
2:00 - 3:00pm EDT
Mini-course on Computational Topology - Henry Adams, Colorado State University
10th Floor Classroom
3:00 - 3:30pm EDT
Coffee/ Tea Break
3:30 - 5:00pm EDT
Mini-course on Computational Topology - Henry Adams, Colorado State University
10th Floor Classroom
Monday, June 26, 2017
Time
Event
Location
Materials
9:00 - 10:30am EDT
Distances Between Metric Spaces and Applications - Facundo Memoli
10th Floor Classroom
10:30 - 11:00am EDT
Coffee/ Tea Break
11:00 - 12:00pm EDT
Distances Between Metric Spaces and Applications - Facundo Memoli
10th Floor Classroom
2:00 - 3:00pm EDT
Distances between metric spaces and applications - Facundo Memoli, Ohio State University
10th Floor Classroom
3:00 - 3:30pm EDT
Coffee/ Tea Break
3:30 - 5:00pm EDT
Distances between metric spaces and applications - Facundo Memoli, Ohio State University
10th Floor Classroom
Tuesday, June 27, 2017
Time
Event
Location
Materials
9:00 - 10:30am EDT
Distances Between Metric Spaces and Applications - Facundo Memoli
10th Floor Classroom
10:30 - 11:00am EDT
Coffee/ Tea Break
11:00 - 12:00pm EDT
Distances Between Metric Spaces and Applications - Facundo Memoli
10th Floor Classroom
2:00 - 3:00pm EDT
Distances between metric spaces and applications - Facundo Memoli, Ohio State University
10th Floor Classroom
3:00 - 3:30pm EDT
Coffee/ Tea Break
3:30 - 5:00pm EDT
Distances between metric spaces and applications - Facundo Memoli, Ohio State University
10th Floor Classroom
Wednesday, June 28, 2017
Time
Event
Location
Materials
9:00 - 10:30am EDT
Distances Between Metric Spaces and Applications - Facundo Memoli
10th Floor Classroom
10:30 - 11:00am EDT
Coffee/ Tea Break
11:00 - 12:00pm EDT
Distances Between Metric Spaces and Applications - Facundo Memoli
10th Floor Classroom
2:00 - 3:00pm EDT
Distances between metric spaces and applications - Facundo Memoli, Ohio State University
10th Floor Classroom
3:00 - 3:30pm EDT
Coffee/ Tea Break
3:30 - 5:00pm EDT
Distances between metric spaces and applications - Facundo Memoli, Ohio State University
10th Floor Classroom
Thursday, June 29, 2017
Time
Event
Location
Materials
9:00 - 10:30am EDT
Distances Between Metric Spaces and Applications - Facundo Memoli
10th Floor Classroom
10:30 - 11:00am EDT
Coffee/ Tea Break
11:00 - 12:00pm EDT
Distances Between Metric Spaces and Applications - Facundo Memoli
10th Floor Classroom
2:00 - 3:00pm EDT
Distances between metric spaces and applications - Facundo Memoli, Ohio State University
10th Floor Classroom
3:00 - 3:30pm EDT
Coffee/ Tea Break
3:30 - 5:00pm EDT
Distances between metric spaces and applications - Facundo Memoli, Ohio State University
10th Floor Classroom
5:30 - 6:30pm EDT
(REU)^2F Conversation
11th Floor Lecture Hall
Friday, June 30, 2017
Time
Event
Location
Materials
9:00 - 10:30am EDT
Distances Between Metric Spaces and Applications - Facundo Memoli
10th Floor Classroom
10:30 - 11:00am EDT
Coffee/ Tea Break
11:00 - 12:00pm EDT
Distances Between Metric Spaces and Applications - Facundo Memoli
10th Floor Classroom
2:00 - 3:00pm EDT
Distances between metric spaces and applications - Facundo Memoli, Ohio State University
10th Floor Classroom
3:00 - 3:30pm EDT
Coffee/ Tea Break
3:30 - 5:00pm EDT
Distances between metric spaces and applications - Facundo Memoli, Ohio State University
10th Floor Classroom
Monday, July 3, 2017
Time
Event
Location
Materials
3:00 - 3:30pm EDT
Coffee/ Tea Break
Tuesday, July 4, 2017
Time
Event
Location
Materials
3:00 - 3:30pm EDT
Coffee/ Tea Break
Wednesday, July 5, 2017
Time
Event
Location
Materials
9:00 - 11:00am EDT
Comparing Songs: From math, statistics, and computer science to music and back again - Katherine Kinnaird, Brown University
11th Floor Lecture Hall
2:00 - 3:00pm EDT
Summer@ICERM Ethics Training I
3:00 - 3:30pm EDT
Coffee/ Tea Break
7:00 - 9:00pm EDT
Movie Night
11th Floor Lecture Hall
Thursday, July 6, 2017
Time
Event
Location
Materials
9:00 - 11:00am EDT
Large scale geometry of metric spaces - Jeff Brock, Brown University
11th Floor Lecture Hall
2:00 - 3:00pm EDT
Summer@ICERM Ethics Training II
3:00 - 3:30pm EDT
Coffee/ Tea Break
4:00 - 6:00pm EDT
TA Meeting
10th Floor Classroom
Friday, July 7, 2017
Time
Event
Location
Materials
9:00 - 12:00pm EDT
Linear Algebra Boot Camp - Isaac Solomon
11th Floor Lecture Hall
2:00 - 3:00pm EDT
Topology Boot Camp - Melissa McGuirl
11th Floor Lecture Hall
3:00 - 3:30pm EDT
Coffee/ Tea Break
3:30 - 5:00pm EDT
Topology Boot Camp - Melissa McGuirl
11th Floor Lecture Hall
Monday, July 10, 2017
Time
Event
Location
Materials
9:00 - 10:00am EDT
Mini-course on Topological Time Series Analysis - Jose Perea, Michigan State University
10th Floor Classroom
10:00 - 10:30am EDT
Coffee/ Tea Break
10:30 - 12:00pm EDT
Mini-course on Topological Time Series Analysis - Jose Perea, Michigan State University
10th Floor Classroom
2:00 - 3:00pm EDT
Mini-course on Topological Time Series Analysis - Jose Perea, Michigan Stae University
10th Floor Classroom
3:00 - 3:30pm EDT
Coffee/ Tea Break
3:30 - 5:00pm EDT
Mini-course on Topological Time Series Analysis - Jose Perea, Michigan State University
10th Floor Classroom
Tuesday, July 11, 2017
Time
Event
Location
Materials
9:00 - 10:00am EDT
Mini-course on Topological Time Series Analysis - Jose Perea, Michigan State University
10th Floor Classroom
10:00 - 10:30am EDT
Coffee/ Tea Break
10:30 - 12:00pm EDT
Mini-course on Topological Time Series Analysis - Jose Perea, Michigan State University
10th Floor Classroom
2:00 - 3:00pm EDT
Mini-course on Topological Time Series Analysis - Jose Perea, Michigan State University
10th Floor Classroom
3:00 - 3:30pm EDT
Coffee/ Tea Break
3:30 - 5:00pm EDT
Mini-course on Topological Time Series Analysis - Jose Perea, Michigan State University
10th Floor Classroom
Wednesday, July 12, 2017
Time
Event
Location
Materials
9:00 - 10:00am EDT
Mini-course on Topological Time Series Analysis - Jose Perea, Michigan State University
10th Floor Classroom
10:00 - 10:30am EDT
Coffee/ Tea Break
10:30 - 12:00pm EDT
Mini-course on Topological Time Series Analysis - Jose Perea, Michigan State University
10th Floor Classroom
2:00 - 3:00pm EDT
Mini-course on Topological Time Series Analysis - Jose Perea, Michigan State University
10th Floor Classroom
3:00 - 3:30pm EDT
Coffee/ Tea Break
3:30 - 5:00pm EDT
Mini-course on Topological Time Series Analysis - Jose Perea, Michigan State University
10th Floor Classroom
Thursday, July 13, 2017
Time
Event
Location
Materials
9:00 - 10:00am EDT
Mini-course on Topological Time Series Analysis - Jose Perea, Michigan State University
10th Floor Classroom
10:00 - 10:30am EDT
Coffee/ Tea Break
10:30 - 12:00pm EDT
Mini-course on Topological Time Series Analysis - Jose Perea, Michigan State University
10th Floor Classroom
2:00 - 3:00pm EDT
Mini-course on Topological Time Series Analysis - Jose Perea, Michigan State University
10th Floor Classroom
3:00 - 3:30pm EDT
Coffee/ Tea Break
3:30 - 5:00pm EDT
Mini-course on Topological Time Series Analysis - Jose Perea, Michigan State University
10th Floor Classroom
Friday, July 14, 2017
Time
Event
Location
Materials
9:00 - 10:00am EDT
Mini-course on Topological Time Series Analysis - Jose Perea, Michigan State University
10th Floor Classroom
10:00 - 10:30am EDT
Coffee/ Tea Break
10:30 - 12:00pm EDT
Mini-course on Topological Time Series Analysis - Jose Perea, Michigan State University
10th Floor Classroom
2:00 - 3:00pm EDT
Mini-course on Topological Time Series Analysis - Jose Perea, Michigan State University
10th Floor Classroom
3:00 - 3:30pm EDT
Coffee/ Tea Break
3:30 - 5:00pm EDT
Mini-course on Topological Time Series Analysis - Jose Perea, Michigan State University
10th Floor Classroom
Monday, July 17, 2017
Time
Event
Location
Materials
10:00 - 10:30am EDT
Coffee/ Tea Break
3:00 - 3:30pm EDT
Coffee/ Tea Break
Tuesday, July 18, 2017
Time
Event
Location
Materials
10:00 - 10:30am EDT
Coffee/ Tea Break
3:00 - 3:30pm EDT
Coffee/ Tea Break
Wednesday, July 19, 2017
Time
Event
Location
Materials
10:00 - 10:30am EDT
Coffee/ Tea Break
3:00 - 3:30pm EDT
Coffee/ Tea Break
Thursday, July 20, 2017
Time
Event
Location
Materials
10:00 - 10:30am EDT
Coffee/ Tea Break
3:00 - 3:30pm EDT
Coffee/ Tea Break
4:00 - 5:00pm EDT
EIRENE demo - Greg Henselman, University of Pennsylvania
10th Floor Classroom
6:30 - 7:30pm EDT
WiSDM Panel for Summer@ICERM
11th Floor Lecture Hall
Friday, July 21, 2017
Time
Event
Location
Materials
10:00 - 10:30am EDT
Coffee/ Tea Break
2:30 - 3:00pm EDT
Coffee/ Tea Break
11th Floor Collaborative Space
3:00 - 4:00pm EDT
TDA Persistence Explorer - Rachel Levanger, Rutgers University
10th Floor Classroom
4:00 - 5:00pm EDT
A linear Algebra primer (from a combinatorial point of view) - Greg Henselman, University of Pennsylvania
10th Floor Classroom
Monday, July 24, 2017
Time
Event
Location
Materials
3:00 - 4:00pm EDT
Lesson 1: The LU decomposition - Greg Henselman, University of Pennsylvania
10th Floor Classroom
Tuesday, July 25, 2017
Time
Event
Location
Materials
3:00 - 4:00pm EDT
Lesson 3: Jordan Canonical Form - Greg Henselman, University of Pennsylvania
10th Floor Classroom
Wednesday, July 26, 2017
Time
Event
Location
Materials
2:30 - 3:00pm EDT
Coffee/ Tea Break
3:00 - 4:00pm EDT
Lesson 2: Gauss, Jordan, and Gabriel - Greg Henselman, University of Pennsylvania
10th Floor Classroom
Thursday, July 27, 2017
Time
Event
Location
Materials
2:30 - 3:00pm EDT
Coffee/ Tea Break
3:00 - 4:00pm EDT
Lesson 4: Gauss-Jordan Elimination - Greg Henselman, University of Pennsylvania
10th Floor Classroom
6:30 - 8:00pm EDT
HUG Panel
11th Floor Lecture Hall
Friday, July 28, 2017
Time
Event
Location
Materials
2:30 - 3:00pm EDT
Coffee/ Tea Break
3:00 - 3:30pm EDT
Lesson 5a: Möbius Inversion - Greg Henselman, University of Pennsylvania
10th Floor Classroom
3:30 - 4:00pm EDT
Lesson 5b: Synthesis - Greg Henselman, University of Pennsylvania
10th Floor Classroom
Monday, July 31, 2017
Time
Event
Location
Materials
2:30 - 3:00pm EDT
Coffee/ Tea Break
Tuesday, August 1, 2017
Time
Event
Location
Materials
2:30 - 3:00pm EDT
Coffee/ Tea Break
Wednesday, August 2, 2017
Time
Event
Location
Materials
2:30 - 3:00pm EDT
Coffee/ Tea Break
Thursday, August 3, 2017
Time
Event
Location
Materials
2:30 - 3:00pm EDT
Coffee/ Tea Break
6:30 - 8:00pm EDT
Grad Student Panel - Isaac Solomon, Brown University
10th Floor Classroom
Friday, August 4, 2017
Time
Event
Location
Materials
2:30 - 3:00pm EDT
Coffee/ Tea Break
Monday, August 7, 2017
Time
Event
Location
Materials
2:30 - 3:00pm EDT
Coffee/ Tea Break
Tuesday, August 8, 2017
Time
Event
Location
Materials
2:30 - 3:00pm EDT
Coffee/ Tea Break
Wednesday, August 9, 2017
Time
Event
Location
Materials
2:30 - 3:00pm EDT
Coffee/ Tea Break
Thursday, August 10, 2017
Time
Event
Location
Materials
9:00 - 9:45am EDT
Comparing Songs Without Listening - Erin Bugbee, Claire Savard, & Jonathan Weisskoff
10th Floor Classroom
10:00 - 10:45am EDT
Vietoris-Rips Complexes of Regular Polygons - Adam Jaffe & Bongi Sibanda
10th Floor Classroom
11:00 - 11:20am EDT
Coffee/ Tea Break
11:20 - 12:05pm EDT
Number Theory, Dynamics and Sliding Windows - Tequania Lake & Yixuan (Monica) Zhang
10th Floor Classroom
12:15 - 2:00pm EDT
Lunch Break/ Free Time
2:00 - 2:45pm EDT
Recurrence in Dynamic Networks - Biraj Pandey, Timothy Sudijono, & Vivienne Xu
10th Floor Classroom
3:00 - 3:45pm EDT
Recovering Surfaces from Real Valued Functions - Alice Antia, Michael Lin, & Boyan Xu
10th Floor Classroom
3:45 - 4:15pm EDT
Coffee/ Tea Break
Friday, August 11, 2017
Time
Event
Location
Materials
10:00 - 10:45am EDT
Curvature Sets - Peter Eastwood & Anna Ellison
10th Floor Classroom
11:00 - 11:20am EDT
Coffee/ Tea Break
11:20 - 12:05pm EDT
Shape Matching: The case of zeolites - Gabrielle Ferra & Danny Lopez
10th Floor Classroom
12:15 - 2:00pm EDT
Lunch/ Free Time
2:00 - 2:45pm EDT
Other Filtrations and Local Persistence Diagrams - Nate Clause, Jose Angel Sanchez, & Zoe Wellner
10th Floor Classroom
3:00 - 3:10pm EDT
Group Picture
10th Floor Classroom
3:10 - 3:40pm EDT
Final Coffee Break
Final Projects
Final Student Presentations

"Comparing Songs Without Listening" by Erin Bugbee, Claire Savard, and Jonathan Weisskoff
"Vietoris-Rips Complexes of Regular Polygons" by Adam Jaffe and Bongi Sibanda
"Number Theory, Dynamics and Sliding Windows" by Tequania Lake and Yixuan (Monica) Zhang
"Recurrence in Dynamic Networks" by Biraj Pandey, Timothy Sudijono, and Vivienne Xu
"Recovering Surfaces from Real Valued Functions" by Alice Antia, Michael Lin, and Boyan Xu
"Curvature Sets" by Peter Eastwood and Anna Ellison
"Shape Matching: The case of zeolites" by Gabrielle Ferra and Danny Lopez
"Other Filtrations and Local Persistence Diagrams" by Nate Clause, Jose Angel Sanchez, and Zoe Wellner

Posters Presented at JMM 2018 in San Diego, CA

Comparing Songs Using Matrix Pattern Preservation" (Erin Bugbee and Claire Savard)
A First Approach to a General Theory of Filtration Functions" (Nathaniel Clause and Jose Angel Sanchez Gomez)
Vietoris-Rips Complexes of Regular Polygons" (Adam Jaffee)*
Shape-Matching: The Case of Zeolites" (Daniel Lopez, Gabrielle Ferra)
Delay embeddings and topological time series analysis" (Boyan Xu)
Geometry and Topology of the Curvature Sets of S 1" (Anna Ellison, Peter Eastwood)

Recipient of the MAA "Outstanding Poster Award" at JMM 2018
*Recipient of a poster prize at LatinX conference at IPAM 2018

Papers

Conference Presentation

"SuPP & MaPP: Adaptable Structure-based Representations for MIR Tasks." C. Savard, E.H. Bugbee, M.R. McGuirl, K.M. Kinnaird. Presented at the 21st International Society for Music Information Retrieval (ISMIR), 2020. Abstract, Paper, Poster, and Video presentation
Other Summer@ICERM Events