Abstract
Imagine spending eight-weeks on the beautiful Brown University campus in historic Providence, RI, working in a small team setting to solve mathematical research problems developed by faculty experts in their fields.
Imagine creating career-building connections between peers, near peers (graduate students and postdocs), and academic professionals.
Imagine spending your summer in a fun, memorable, and intellectually stimulating environment.
Now, imagine having this experience with support for travel within the U.S., room and board paid, plus a $3,500 stipend*.
The 2018 Summer@ICERM program at Brown University is an eight-week residential program designed for a select group of 16-20 undergraduate scholars from around the world.
The faculty advisers will present a variety of research projects that are interdisciplinary and represent areas in low-dimensional topology, hyperbolic geometry, dynamics, and combinatorics. Student researchers will have the opportunity to explore theoretical problems at the intersections of these subfields, and to help design software packages for visualizing and experimenting with the building blocks of hyperbolic and affine geometry.
The faculty will begin the program with brief introductory talks. Throughout the eight-week program, students will work on assigned projects in groups of two to four, supervised by faculty advisors and aided by teaching assistants. Students will meet daily, give regular talks about their findings, attend mini-courses, guest talks, and professional development seminars, practice coding, and learn Tex. Students will learn how to collaborate mathematically, and they will work closely in their teams to write up their research into a poster and/or paper by the end of the program.
ICERM provides an excellent research environment, and the students and their faculty and TA mentors will have access to shared offices and collaborative space throughout the institute. They also will have access to ICERM's computer facilities and specialized software. ICERM staff will provide logistical support for students and will help build community through fun activities and events.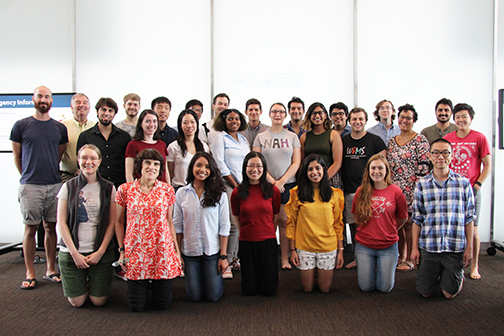 Program Details
2018 Proposed Research Project Topics

Self-intersection Number of Geodesics
Hausdorff Dimension and Hyperbolic Pair of Pants
Symmetries of Curve Graph Variants
Square Tilings
Coloring Problem for Curve and Arc Graphs
Curves Intersecting Each Other Twice
Navigating the Space of SL_2(C) Characters

Important Notes

Applicants must be matriculating undergraduate students at the time of the start of Summer@ICERM 2018.
Funding is available for a very small number of students who are not US citizens or permanent residents.

Funding Includes

$3,500 stipend
Dormitory housing
Meal plan
Travel support within U.S.
Fun events
Brown students who choose not to live in the dorm will waive the dorm, meal, and travel funding.

Deadlines

February 16, 2018 (for all non-Brown University students)

All non-Brown students must apply via MathPrograms.org by this date in order to receive full consideration. ICERM will begin making offers to non-Brown students between late February and early March 2018.

January 15, 2018 (for all Brown University Students)

Brown University students must apply for Summer@ICERM by emailing their interest to Professor Tarik Aougab, the I-Team faculty sponsor running this program. Up to six Brown students will be selected to participate, and Professor Aougab must submit the final list of Brown students to the UTRA selection committee by January 15, 2018. The I-Team UTRA Awards will be announced to the Brown student applicants on February 1, 2018.
Confirmed Speakers & Participants
Talks will be presented virtually or in-person as indicated in the schedule below.
Speaker
Poster Presenter
Attendee
Virtual Attendee
Tarik Aougab

Brown University

Jean-Philippe Burelle

CNRS-IHES

Francisco Castaneda

Instituto Tecnologico Autonomo de Mexico (ITAM)

Yassin Chandran

University of California, Santa Barbara

Moira Chas

Stony Brook University

Zichen Cui

Reed College

Charles Daly

University of Maryland

Ajeet Gary

University of Maryland

Jonah Gaster

McGill University

William Goldman

University of Maryland

Isnayni Hadi

California State University, Northridge

Paige Helms

University of California Riverside

Ian Hill

James Madison University

Jae Young Kim

Brown University

Max Lahn

Brown University

Jonghyun Lee

Brown University

Miguel Lopez

Boston University

Marissa Loving

University of Illinois at Urbana- Champaign

Aisha Mechery

Bryn Mawr College

William Menasco

University at Buffalo

Simran Nayak

Brown University

John Oakley

Concordia University Texas

Emily Rexer

Emory University

Zoe Riell

Smith College

Jenny Rustad

University of Maryland

Roberta Shapiro

Rutgers University

Brandis Whitfield

Brandeis Universiy

Yang Xiao

Brown University

Alex Xu

University of California, Santa Barbara
Summer Schedule
Monday, June 11, 2018
Time
Event
Location
Materials
8:15 - 9:00am EDT
Breakfast
11th Floor Collaborative Space
9:00 - 10:00am EDT
Welcome/ Meet & Greet
121 S Main St, 11th Floor Lecture Hall
10:00 - 12:00pm EDT
Scavenger Hunt
Brown University Campus
12:00 - 1:30pm EDT
Welcome Lunch
1:30 - 2:00pm EDT
Human Interactions
11th Floor Lecture Hall
2:00 - 3:30pm EDT
Moira Chas' Experiences - Stony Brook University
11th Floor Lecture Hall
3:30 - 4:00pm EDT
Coffee/ Tea Break
11th Floor Collaborative Space
4:00 - 5:00pm EDT
Moira Chas' Experiences (Cont.)
11th Floor Lecture Hall
6:30 - 8:30pm EDT
Dinner
Flatbread Company, 161 Cushing St, Providence, RI 02906, USA
Tuesday, June 12, 2018
Time
Event
Location
Materials
8:15 - 9:00am EDT
Breakfast
11th Floor Collaborative Space
9:00 - 10:30am EDT
Surface geometry and topology- secretly covering spaces and fundamental groups - Tarik Aougab - Brown University & Jonah Gaster - University of Illinois
11th Floor Lecture Hall
10:30 - 11:00am EDT
Coffee/ Tea Break
11th Floor Collaborative Space
11:00 - 12:00pm EDT
Surface geometry and topology- secretly covering spaces and fundamental groups (cont.) - Tarik Aougab - Brown University & Jonah Gaster - University of Illinois
11th Floor Lecture Hall
12:00 - 2:00pm EDT
Lunch Break - On Brown's Campus
Verney Woolley
2:00 - 3:30pm EDT
Mobius transformations are generated by inversions & Inversions preserve distance - Jonah Gaster - University of Illinois
11th Floor Lecture Hall
3:30 - 4:00pm EDT
Coffee/ Tea Break
11th Floor Collaborative Space
4:00 - 5:00pm EDT
Matrices + hyperbolic geometry - All Organizers
11th Floor Lecture Hall
5:30 - 7:30pm EDT
Crochet Lessons & Pizza - Moira Chas - Stony Brook University
11th Floor Collaborative Space
Wednesday, June 13, 2018
Time
Event
Location
Materials
8:15 - 9:00am EDT
Breakfast
11th Floor Collaborative Space
9:00 - 10:30am EDT
Moira Chas
11th Floor Lecture Hall
10:30 - 11:00am EDT
Coffee/ Tea Break
11th Floor Collaborative Space
11:00 - 12:00pm EDT
Moira Chas
11th Floor Lecture Hall
12:00 - 1:30pm EDT
Lunch Break
ICERM
1:30 - 3:30pm EDT
Bill Goldman
11th Floor Lecture Hall
3:30 - 4:00pm EDT
Coffee/ Tea Break
11th Floor Collaborative Space
4:00 - 5:00pm EDT
Bill Goldman
11th Floor Lecture Hall
6:00 - 8:00pm EDT
Dinner
Trinity Brewhouse, 186 Fountain St, Providence, RI 02903, USA
Thursday, June 14, 2018
Time
Event
Location
Materials
9:00 - 10:30am EDT
Jonah Gaster
11th Floor Lecture Hall
10:30 - 11:00am EDT
Coffee/ Tea Break
11th Floor Collaborative Space
11:00 - 12:00pm EDT
Jonah Gaster
11th Floor Lecture Hall
12:00 - 1:30pm EDT
Lunch Break
1:30 - 3:30pm EDT
Tarik Aougab
11th Floor Lecture Hall
3:30 - 4:00pm EDT
Coffee/ Tea Break
11th Floor Collaborative Space
4:00 - 5:00pm EDT
Tarik Aougab
11th Floor Lecture Hall
Friday, June 15, 2018
Time
Event
Location
Materials
9:00 - 10:30am EDT
Group Project Discussions
11th Floor Lecture Hall
10:30 - 11:00am EDT
Coffee/ Tea Break
11th Floor Collaborative Space
11:00 - 12:00pm EDT
Group Project Discussions
11th Floor Lecture Hall
12:00 - 1:30pm EDT
Lunch Break
1:30 - 3:30pm EDT
Group Project Assignments
11th Floor Lecture Hall
3:30 - 4:00pm EDT
Coffee/ Tea Break
11th Floor Collaborative Space
4:00 - 5:00pm EDT
Group Project Assignments
11th Floor Lecture Hall
Monday, June 18, 2018
Time
Event
Location
Materials
10:00 - 12:00pm EDT
Coloring Problem for Curve and Arc Graphs - Group Meeting
10th Floor Classroom
1:30 - 3:30pm EDT
Symmetries of Curve Graph Variants - Group Meeting
10th Floor Classroom
1:30 - 3:30pm EDT
Hausdorff Dimension and Hyperbolic Pair of Pants - Group Meeting
11th Floor Conference Room
Tuesday, June 19, 2018
Time
Event
Location
Materials
10:00 - 12:00pm EDT
Self-intersection Number of Geodesics
11th Floor Conference Room
10:00 - 12:00pm EDT
Navigating the Space of SL_2(C) Characters
10th Floor Classroom
1:30 - 3:30pm EDT
Square Tilings
10th Floor Classroom
1:30 - 3:30pm EDT
Curves Intersecting Each Other Twice
11th Floor Conference Room
Wednesday, June 20, 2018
Time
Event
Location
Materials
10:00 - 12:00pm EDT
Organizers Meeting
11th floor Conference Room
1:30 - 3:30pm EDT
Group Activity
10th Floor Collaborative Space
Thursday, June 21, 2018
Time
Event
Location
Materials
10:00 - 12:00pm EDT
Hausdorff Dimension and Hyperbolic Pair of Pants
10th Floor Classroom
10:00 - 12:00pm EDT
Symmetries of Curve Graph Variants
11th Floor Conference Room
1:30 - 3:30pm EDT
Coloring Problem for Curve and Arc Graphs
10th Floor Classroom
Friday, June 22, 2018
Time
Event
Location
Materials
10:00 - 12:00pm EDT
Square Tilings
11th Floor Conference Room
10:00 - 12:00pm EDT
Curves Intersecting Each Other Twice
10th Floor Classroom
1:30 - 3:30pm EDT
Self-intersection Number of Geodesics
11th Floor Conference Room
1:30 - 3:30pm EDT
Navigating the Space of SL_2(C) Characters
10th Floor Classroom
Tuesday, June 26, 2018
Time
Event
Location
Materials
10:00 - 12:00pm EDT
Self-intersection Number of Geodesics
11th Floor Conference Room
10:00 - 12:00pm EDT
Navigating the Space of SL_2(C) Characters
10th Floor Classroom
1:30 - 3:30pm EDT
Square Tilings
10th Floor Classroom
1:30 - 3:30pm EDT
Curves Intersecting Each Other Twice
10th floor collaborative space (near office 1001)
3:30 - 4:00pm EDT
Coffee/ Tea Break
11th Floor Collaborative Space
Wednesday, June 27, 2018
Time
Event
Location
Materials
8:45 - 10:45am EDT
Group Activity
10th Floor Collaborative Space
10:00 - 12:00pm EDT
Organizers Meeting
11th floor Conference Room
3:30 - 4:00pm EDT
Coffee/ Tea Break
11th Floor Collaborative Space
4:30 - 6:00pm EDT
Summer Student Theoretical Physics Research Session Visit
10th Floor Collaborative Space
Thursday, June 28, 2018
Time
Event
Location
Materials
10:00 - 12:00pm EDT
Hausdorff Dimension and Hyperbolic Pair of Pants
11th Floor Conference Room
10:00 - 12:00pm EDT
Symmetries of Curve Graph Variants
10th Floor Classroom
1:30 - 3:30pm EDT
Coloring Problem for Curve and Arc Graphs
10th Floor Classroom
3:30 - 4:00pm EDT
Coffee/ Tea Break
11th Floor Collaborative Space
Friday, June 29, 2018
Time
Event
Location
Materials
10:00 - 12:00pm EDT
Curves Intersecting Each Other Twice
10th Floor Classroom
10:00 - 12:00pm EDT
Square Tilings
11th Floor Conference Room
1:30 - 3:30pm EDT
Navigating the Space of SL_2(C) Characters
10th Floor Classroom
1:30 - 3:30pm EDT
Self-intersection Number of Geodesics
11th Floor Conference Room
3:30 - 4:00pm EDT
Coffee/ Tea Break
11th Floor Collaborative Space
Monday, July 2, 2018
Time
Event
Location
Materials
10:00 - 12:00pm EDT
Coloring Problem for Curve and Arc Graphs - Group Meeting
10th Floor Classroom
1:30 - 3:30pm EDT
Hausdorff Dimension and Hyperbolic Pair of Pants - Group Meeting
11th Floor Conference Room
1:30 - 3:30pm EDT
Symmetries of Curve Graph Variants - Group Meeting
10th Floor Classroom
3:30 - 4:00pm EDT
Coffee/ Tea Break
11th Floor Collaborative Space
Tuesday, July 3, 2018
Time
Event
Location
Materials
10:00 - 12:00pm EDT
Self-intersection Number of Geodesics
11th Floor Conference Room
10:00 - 12:00pm EDT
Navigating the Space of SL_2(C) Characters
10th Floor Classroom
1:30 - 3:30pm EDT
Curves Intersecting Each Other Twice
10th floor collaborative space (near office 1001)
1:30 - 3:30pm EDT
Square Tilings
10th Floor Classroom
3:30 - 4:00pm EDT
Coffee/ Tea Break
11th Floor Collaborative Space
Thursday, July 5, 2018
Time
Event
Location
Materials
10:00 - 12:00pm EDT
Hausdorff Dimension and Hyperbolic Pair of Pants
11th Floor Conference Room
10:00 - 12:00pm EDT
Symmetries of Curve Graph Variants
10th Floor Classroom
1:30 - 3:30pm EDT
Coloring Problem for Curve and Arc Graphs
10th Floor Classroom
3:30 - 4:00pm EDT
Coffee/ Tea Break
11th Floor Collaborative Space
Friday, July 6, 2018
Time
Event
Location
Materials
10:00 - 12:00pm EDT
Square Tilings
11th Floor Conference Room
1:30 - 3:30pm EDT
Navigating the Space of SL_2(C) Characters
10th Floor Classroom
1:30 - 3:30pm EDT
Self-intersection Number of Geodesics
11th Floor Conference Room
3:30 - 4:00pm EDT
Coffee/ Tea Break
11th Floor Collaborative Space
Monday, July 9, 2018
Time
Event
Location
Materials
10:00 - 12:00pm EDT
Coloring Problem for Curve and Arc Graphs - Group Meeting
10th Floor Classroom
1:30 - 3:30pm EDT
Hausdorff Dimension and Hyperbolic Pair of Pants - Group Meeting
11th Floor Conference Room
1:30 - 3:30pm EDT
Symmetries of Curve Graph Variants - Group Meeting
10th Floor Classroom
3:30 - 4:00pm EDT
Coffee/ Tea Break
11th Floor Collaborative Space
Tuesday, July 10, 2018
Time
Event
Location
Materials
10:00 - 12:00pm EDT
Navigating the Space of SL_2(C) Characters
10th Floor Classroom
10:00 - 12:00pm EDT
Self-intersection Number of Geodesics
11th Floor Conference Room
1:30 - 3:30pm EDT
Curves Intersecting Each Other Twice
10th floor collaborative space (near office 1001)
1:30 - 3:30pm EDT
Square Tilings
10th Floor Collaborative Space
3:30 - 4:00pm EDT
Coffee/ Tea Break
11th Floor Collaborative Space
Wednesday, July 11, 2018
Time
Event
Location
Materials
10:00 - 12:00pm EDT
Organizers Meeting
11th floor Conference Room
3:00 - 3:30pm EDT
Coffee/ Tea Break
11th Floor Collaborative Space
3:30 - 4:30pm EDT
Billiards and Translation Surfaces - Jenny Rustad, University of Maryland
10th Floor Classroom
Thursday, July 12, 2018
Time
Event
Location
Materials
10:00 - 12:00pm EDT
Hausdorff Dimension and Hyperbolic Pair of Pants
11th Floor Conference Room
10:00 - 12:00pm EDT
Symmetries of Curve Graph Variants
10th Floor Classroom
1:30 - 3:30pm EDT
Coloring Problem for Curve and Arc Graphs
10th Floor Classroom
3:15 - 3:45pm EDT
Coffee/ Tea Break
11th Floor Collaborative Space
3:45 - 4:30pm EDT
Neutral Networks - Eli Grigsby, Boston College
10th Floor Classroom
Friday, July 13, 2018
Time
Event
Location
Materials
10:00 - 12:00pm EDT
Square Tilings
11th Floor Conference Room
2:00 - 3:00pm EDT
A basic Thurston contribution - the meaning of wall paper symmetry- orbifolds - Dennis Sulllivan, CUNY & Stony Brook University
11th Floor Lecture Hall
3:30 - 4:00pm EDT
Coffee/ Tea Break
11th Floor Collaborative Space
Monday, July 16, 2018
Time
Event
Location
Materials
10:00 - 12:00pm EDT
Coloring Problem for Curve and Arc Graphs - Group Meeting
10th Floor Classroom
1:30 - 3:30pm EDT
Hausdorff Dimension and Hyperbolic Pair of Pants - Group Meeting
11th Floor Conference Room
1:30 - 3:30pm EDT
Symmetries of Curve Graph Variants - Group Meeting
10th Floor Classroom
3:30 - 4:00pm EDT
Coffee/ Tea Break
11th Floor Collaborative Space
Tuesday, July 17, 2018
Time
Event
Location
Materials
10:00 - 12:00pm EDT
Self-intersection Number of Geodesics
11th Floor Conference Room
10:00 - 12:00pm EDT
Navigating the Space of SL_2(C) Characters
10th Floor Classroom
1:30 - 3:30pm EDT
Curves Intersecting Each Other Twice
10th floor collaborative space (near office 1001)
1:30 - 3:30pm EDT
Square Tilings
10th Floor Collaborative Space
3:30 - 4:00pm EDT
Coffee/ Tea Break
11th Floor Collaborative Space
Wednesday, July 18, 2018
Time
Event
Location
Materials
10:00 - 12:00pm EDT
Organizers Meeting
11th floor Conference Room
2:30 - 3:00pm EDT
Coffee/ Tea Break
11th Floor Collaborative Space
3:00 - 3:45pm EDT
Graduate School Experience - Marissa Loving- University of Illinois at Urbana- Champaign
11th Floor Lecture Hall
4:00 - 5:00pm EDT
Grad School Panel - Marissa Loving - University of Illinois at Urbana- Champaign; Sunny Xiao- Brown University; Jenny Rustad- University of Maryland; and Charles Daly, University of Maryland
11th Floor Lecture Hall
6:00 - 8:00pm EDT
Night of Games and Knitting
11th Floor Collaborative Space
Thursday, July 19, 2018
Time
Event
Location
Materials
10:00 - 12:00pm EDT
Symmetries of Curve Graph Variants
10th Floor Classroom
10:00 - 12:00pm EDT
Hausdorff Dimension and Hyperbolic Pair of Pants
11th Floor Conference Room
1:30 - 3:30pm EDT
Coloring Problem for Curve and Arc Graphs
10th Floor Classroom
3:15 - 3:45pm EDT
Coffee/ Tea Break
11th Floor Collaborative Space
3:45 - 4:45pm EDT
Gauss Bonnet Theorem - Charles Daly, University of Maryland
11th Floor Lecture Hall
Friday, July 20, 2018
Time
Event
Location
Materials
10:00 - 12:00pm EDT
Square Tilings
11th Floor Conference Room
1:30 - 3:30pm EDT
Navigating the Space of SL_2(C) Characters
10th Floor Classroom
1:30 - 3:30pm EDT
Self-intersection Number of Geodesics
11th Floor Conference Room
3:30 - 3:45pm EDT
Group Photo
11th Floor Collaborative Space
3:45 - 4:30pm EDT
Coffee/ Tea Break
11th Floor Collaborative Space
Monday, July 23, 2018
Time
Event
Location
Materials
10:00 - 12:00pm EDT
Coloring Problem for Curve and Arc Graphs - Group Meeting
10th Floor Classroom
1:30 - 3:00pm EDT
Symmetries of Curve Graph Variants - Group Meeting
10th Floor Classroom
1:30 - 3:00pm EDT
Hausdorff Dimension and Hyperbolic Pair of Pants - Group Meeting
11th Floor Conference Room
3:00 - 3:30pm EDT
Coffee/ Tea Break
11th Floor Collaborative Space
3:30 - 4:30pm EDT
Total positivity and ping-pong in projective space - Jean-Philippe Burelle - IHES
10th Floor Collaborative Space
Tuesday, July 24, 2018
Time
Event
Location
Materials
10:00 - 12:00pm EDT
Self-intersection Number of Geodesics
11th Floor Conference Room
10:00 - 12:00pm EDT
Navigating the Space of SL_2(C) Characters
10th Floor Classroom
1:30 - 3:30pm EDT
Square Tilings - Bill Menasco- University of Buffalo
10th Floor Collaborative Space
1:30 - 3:30pm EDT
Curves Intersecting Each Other Twice
10th floor collaborative space (near office 1001)
3:30 - 4:00pm EDT
Coffee/ Tea Break
11th Floor Collaborative Space
Wednesday, July 25, 2018
Time
Event
Location
Materials
11:00 - 12:00pm EDT
TBD - Moon Duchin - Tufts University
10th Floor Collaborative Space
2:00 - 4:00pm EDT
Organizers Meeting
11th floor Conference Room
3:00 - 3:30pm EDT
Coffee/ Tea Break
11th Floor Collaborative Space
Thursday, July 26, 2018
Time
Event
Location
Materials
10:00 - 11:00am EDT
Hausdorff Dimension and Hyperbolic Pair of Pants
11th Floor Conference Room
10:00 - 11:00am EDT
Symmetries of Curve Graph Variants
10th Floor Classroom
1:30 - 3:30pm EDT
Coloring Problem for Curve and Arc Graphs
10th Floor Classroom
3:00 - 3:30pm EDT
Coffee/ Tea Break
11th Floor Collaborative Space
3:30 - 4:30pm EDT
Brown University's Mathematics Graduate Program Info Session - Tom Goodwillie- Brown University
10th Floor Collaborative Space
Friday, July 27, 2018
Time
Event
Location
Materials
10:00 - 12:00pm EDT
Square Tilings
10th Floor Classroom
1:30 - 2:30pm EDT
Navigating the Space of SL_2(C) Characters
10th Floor Classroom
1:30 - 2:30pm EDT
Self-intersection Number of Geodesics
11th Floor Conference Room
2:30 - 3:00pm EDT
Coffee/ Tea Break
11th Floor Collaborative Space
3:00 - 4:00pm EDT
Women in Math - Moira Chas - Stony Brook University
10th Floor Collaborative Space
4:00 - 5:00pm EDT
Diversity and Inclusion in grad school/mathematics - Marissa Loving, University of Illinois at Urbana- Champaign; Sunny Xiao, Brown University; Tarik Aougab- Brown University
10th Floor Collaborate Space
Monday, July 30, 2018
Time
Event
Location
Materials
3:15 - 3:45pm EDT
Coffee/ Tea Break
11th Floor Collaborative Space
3:45 - 4:15pm EDT
Incompressible Surfaces in 4-Punctured Sphere Bundles - Sunny Xiao, Brown University
11th Floor Lecture Hall
4:15 - 4:45pm EDT
Least Dilatation of Pure Surface Braids - Marissa Loving, University of Illinois at Urbana- Champaign
11th Floor Lecture Hall
Tuesday, July 31, 2018
Time
Event
Location
Materials
3:30 - 4:00pm EDT
Coffee/ Tea Break
11th Floor Collaborative Space
Wednesday, August 1, 2018
Time
Event
Location
Materials
10:30 - 10:45am EDT
Group Photo
11th Floor Collaborative Space
11:00 - 11:45am EDT
Group 7: Visualizing Cubic Moduli Spaces
11th Floor Lecture Hall
2:00 - 2:45pm EDT
Group 2: Hausdorff Dimension of the Limit Set of Hyperbolic Pair of Pants
11th Floor Lecture Hall
3:00 - 3:45pm EDT
Group 1: Length and Self-intersection Number of Geodesics in Hyperbolic Surfaces
11th Floor Lecture Hall
3:45 - 4:15pm EDT
Coffee/ Tea Break
11th Floor Collaborative Space
4:30 - 5:30pm EDT
Diversity and Inclusion in grad school/mathematics continued - Marissa Loving, University of Illinois at Urbana- Champaign; Sunny Xiao, Brown University; Tarik Aougab- Brown University
10th Floor Collaborate Space
Thursday, August 2, 2018
Time
Event
Location
Materials
10:00 - 10:45am EDT
Group 3: Automorphism Group of the k-Curve Graph
11th Floor Lecture Hall
11:00 - 11:45am EDT
Group 4: Minimally Intersecting Filling Pair Origamis
11th Floor Lecture Hall
2:00 - 2:45pm EDT
Group 5: Super Farey Graphs
11th Floor Lecture Hall
3:00 - 3:45pm EDT
Group 6: Complete Algebraic Two-Systems on the Surface of Genus 2
11th Floor Lecture Hall
3:45 - 4:15pm EDT
Coffee/ Tea Break
11th Floor Collaborative Space
Friday, August 3, 2018
Time
Event
Location
Materials
1:30 - 2:00pm EDT
Coffee/ Tea Break
11th Floor Collaborative Space
Final Projects
Final Student Presentations

"Length and Self-intersection Number of Geodesics in Hyperbolic Surfaces" by I. Hadi, B. Whitfield, and A. Xu
"Hausdorff Dimension of the Limit Set of Hyperbolic Pair of Pants" by F. Castaneda and I. Hill
"Automorphism Group of the k-Curve Graph" by Y. Chandran, R. Oakley, and R. Shapiro
"Minimally Intersecting Filling Pair Origamis" by Z. Cui, A. Gary, P. Helms, and T. Kim
"Super Farey Graphs" by M. Lopez, E. Rexer, and Z. Riell
"Complete Algebraic Two-Systems on the Surface of Genus 2" by M. Lahn, A. Mechery, and S. Nayak
"Visualizing Cubic Moduli Spaces" by A. Gary and J. Lee

Posters Presented at JMM 2019 in Baltimore, MD

Automorphisms of the k-curve graph* (Yassin Chandran, Roberta Shapiro, and Rob Oakley)
The Hausdorff Dimension of the Limit Set of a Pair of Pants (Ian Hill and Francisco Castaneda)
Combinatorics of k-Farey Graphs* (Miguel Lopez)
SL(2;Z) Action on Quadratic Differentials (Paige Helms)
Algebraic k-Systems of Curves* (Maxie Lahn and Aisha Mechery)
Monotonicity of Length of Closed Geodesics Given Self-Intersection Number (Isnayni Hadi, Brandis Whitfield and Alex Xu)

*Recipient of the MAA "Outstanding Poster Award" at JMM 2019

Papers

C. Daly, J. Gaster, M. Lahn, A. Mechery, and S. Nayah. Algebraic k-systems of curves. Geometriae Dedicata, March 2020.
J. Gaster, M. Lopez, E. Rexer, Z. Riell, and Y. Xiao. Combinatorics of k-Farey graphs. Rocky Mountain Journal of Mathematics, April 2020. arxiv: 1810.09011
Y. Chandran, R. Oakley, and R. Shapiro. Automorphisms of the k-curve graph. Accepted by the Michigan Journal of Mathematics. arxiv: 1912.07666
Other Summer@ICERM Events