Abstract
Imagine spending eight-weeks on the beautiful Brown University campus in historic Providence, RI, working in a small team setting to solve mathematical research problems developed by faculty experts in their fields.
Imagine creating career-building connections between peers, near peers (graduate students and postdocs), and academic professionals.
Imagine spending your summer in a fun, memorable, and intellectually stimulating environment.
Now, imagine having this experience with support for travel within the U.S., room and board paid, plus a $3,570 stipend*.
The 2019 Summer@ICERM program at Brown University is an eight-week residential program designed for a select group of 18-22 undergraduate scholars.
The faculty advisers will present a variety of interdisciplinary research projects on the theme of Computational Arithmetic Dynamics. This overarching theme will allow participants to utilize theory and computation from algebra, number theory, and algebraic geometry. Faculty will also guide the development of open-source computational tools for dynamical systems in Sage as well as work on a database of dynamical systems.
The faculty will begin the program with brief introductory talks. Throughout the eight-week program, students will work on assigned projects in groups of two to four, supervised by faculty advisors and aided by teaching assistants. Students will meet daily, give regular talks about their findings, attend mini-courses, guest talks, professional development seminars, and will acquire skill in open-source software development. Students will learn how to collaborate mathematically, working closely in their teams to write up their research into a poster and/or paper by the end of the program.
This program is partially funded by a grant from the National Security Agency.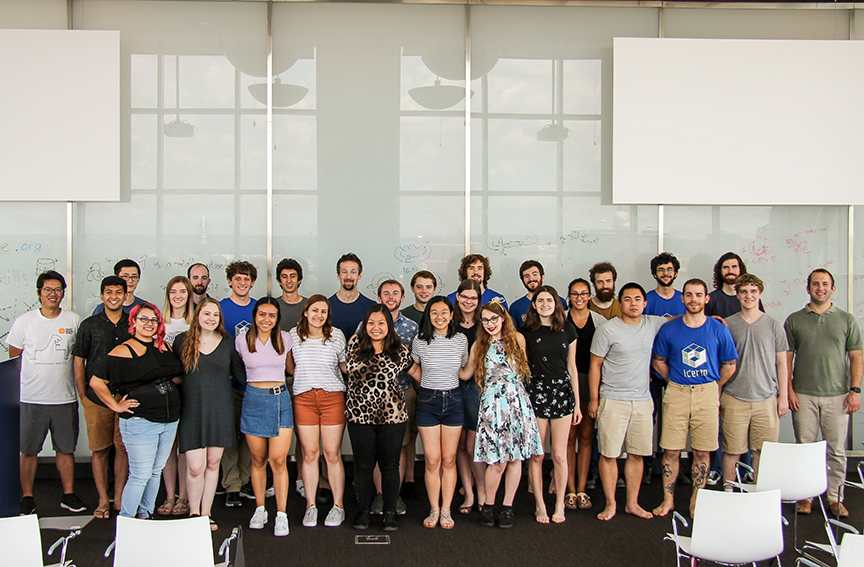 Program Details
2019 Proposed Research Project Topics

Classification of Preperiodic Graphs
Automorphisms of Rational Functions
Post-Critically Finite Maps
Randomness over Finite Fields

Important Notes

Applicants must be matriculating undergraduate students at the time of the start of Summer@ICERM 2019.
Funding is available for 2-3 students who are not US citizens or permanent residents.

Funding Includes*

$3,570 stipend
Dormitory housing
Meal plan
Travel support within the U.S.
Fun events
*Brown students who choose not to live in the dorm will waive the dorm, meal, and travel funding.
Confirmed Speakers & Participants
Speaker
Poster Presenter
Attendee
Virtual Attendee
Heidi Benham

Western Oregon University

Talia Blum

Massachusetts Institute of Technology

Julia Cai

Yale University

Jasmine Camero

California State University, Fullerton

Anna Chlopecki

University of Illinois at Urbana-Champaign

John Doyle

Louisiana Tech University

Alexander Galarraga

Swarthmore College

Brandon Gontmacher

Stony Brook University

Meghan Grip

University of Rochester

Benjamin Hutz

Saint Louis University

Trevor Hyde

University of Michigan

Grayson Jorgenson

Florida State University

Colby Kelln

University of Michigan

Juliano Levier-Gomes

Westminster College

Chieh-mi Lu

California State University San Marcos

Joey Lupo

Amherst College

Leopold Mayer

Lawrence University

Junwen Peng

University of Rochester

Emily Rachfal

Kenyon College

Olivia Schwager

Muhlenberg College

Alex Shearer

Pacific Lutheran University

Srinjoy Srimani

Brown University

Henry Talbott

Brown University

Bianca Thompson

Westminster College

Matt Torrence

Gettysburg College

Adam Towsley

Rochester Institute of Technology

Max Weinreich

Brown University

Shuofeng Xu

Colby College

Eric Zhu

Georgia Institute of Technology
Summer Schedule
Monday, June 10, 2019
Time
Event
Location
Materials
8:15 - 9:00am EDT
Registration and Breakfast - ICERM 121 South Main Street, Providence RI 02903
10th Floor
9:00 - 10:00am EDT
Meet and Greet
10th Floor
10:00 - 12:00pm EDT
Scavenger Hunt
Brown University, Providence, RI 02912, USA
12:00 - 1:30pm EDT
Welcome Lunch
10th Floor
1:30 - 2:00pm EDT
Goals of Summer - Ben Hutz, Saint Louis University
10th Floor
2:00 - 3:00pm EDT
Broad Overview of Arithemetic Dynamics - John Doyle, Louisiana Tech University
10th Floor
3:00 - 3:30pm EDT
Coffee/ Tea Break
10th Floor
3:30 - 5:00pm EDT
Dynamic Systems in Sage - Ben Hutz, St Louis University
10th floor
Tuesday, June 11, 2019
Time
Event
Location
Materials
9:00 - 10:30am EDT
Project Talk - Bianca Thompson, Westminster College
10th Floor
10:30 - 11:00am EDT
Coffee/ Tea Break
10th Floor
11:00 - 12:00pm EDT
Project Talk - Bianca Thompson, Westminster College
10th Floor
12:00 - 1:30pm EDT
Lunch Break
1:30 - 3:00pm EDT
Project Talk - Adam Towsley, Rochester Institute of Technology
10th Floor
3:00 - 3:30pm EDT
Coffee/ Tea Break
10th Floor
3:30 - 5:00pm EDT
Project Talk - Adam Towsley, Rochester Institute of Technology
10th Floor
Wednesday, June 12, 2019
Time
Event
Location
Materials
9:00 - 10:30am EDT
Project Talk - John Doyle, Louisiana Tech University
10th Floor
10:30 - 11:00am EDT
Coffee/ Tea Break
10th Floor
11:00 - 12:00pm EDT
Project Talk - John Doyle, Louisiana Tech University
10th Floor
12:00 - 1:30pm EDT
Lunch Break
1:30 - 3:00pm EDT
Project Talk - Ben Hutz, St Louis University
10th Floor
3:00 - 3:30pm EDT
Coffee/ Tea Break
10th Floor
3:30 - 5:00pm EDT
Project Talk - Ben Hutz, St Louis University
10th Floor
Thursday, June 13, 2019
Time
Event
Location
Materials
9:00 - 10:30am EDT
Sage Development
10th Floor
10:30 - 11:00am EDT
Coffee/ Tea Break
10th Floor
11:00 - 12:00pm EDT
Sage Development
10th Floor
12:00 - 1:30pm EDT
Lunch Break
1:30 - 3:00pm EDT
Group Interactions Discussion - Bianca Thompson, Westminster College
10th Floor
3:00 - 3:30pm EDT
Coffee/ Tea Break
10th Floor
3:30 - 5:00pm EDT
Introduction to Math Research - Ben Hutz, St Louis University
10th Floor
5:00 - 5:00pm EDT
Ranked project lists due
Friday, June 14, 2019
Time
Event
Location
Materials
9:00 - 10:30am EDT
Using Latex - Adam Towsley, Rochester Institute of Technology
10th Floor
10:30 - 11:00am EDT
Coffee/ Tea Break
10th Floor
11:00 - 12:00pm EDT
Group Project Assignments
10th Floor
12:00 - 1:30pm EDT
Lunch Break
1:30 - 3:00pm EDT
Group Project Meetings
10th Floor
3:00 - 3:30pm EDT
Coffee/ Tea Break
10th Floor
3:30 - 5:00pm EDT
Group Project Working Time
10th Floor
Monday, June 17, 2019
Time
Event
Location
Materials
9:00 - 12:00pm EDT
Group Project Meetings
10th Floor Collaborative Space
3:00 - 3:30pm EDT
Coffee/ Tea Break
10th Floor
Tuesday, June 18, 2019
Time
Event
Location
Materials
9:30 - 10:30am EDT
Algebraic Geometry 101 - Max Weinreich, Brown University
10th Floor Collaborative Space
3:00 - 3:30pm EDT
Coffee/ Tea Break
10th Floor
Wednesday, June 19, 2019
Time
Event
Location
Materials
10:30 - 11:30am EDT
What is a p-adic Mandelbrot set? - Jacqueline Anderson, Bridgewater State University
10th Floor Collaborative Space
2:00 - 3:00pm EDT
Dynamical Moduli Spaces - John Doyle, Louisiana Tech University
10th Floor Collaborative Space
3:00 - 3:30pm EDT
Coffee/ Tea Break
10th Floor
Thursday, June 20, 2019
Time
Event
Location
Materials
9:00 - 12:00pm EDT
Sage Development
10th Floor Collaborative Space
3:00 - 3:30pm EDT
Coffee/ Tea Break
10th Floor
Friday, June 21, 2019
Time
Event
Location
Materials
9:30 - 11:00am EDT
Group Presentations
10th Floor Collaborative Space
3:00 - 3:30pm EDT
Coffee/ Tea Break
10th Floor
Monday, June 24, 2019
Time
Event
Location
Materials
9:00 - 12:00pm EDT
Group Project Meetings
10th Floor Collaborative Space
3:00 - 3:30pm EDT
Coffee/ Tea Break
10th Floor
Tuesday, June 25, 2019
Time
Event
Location
Materials
3:00 - 3:30pm EDT
Coffee/ Tea Break
10th Floor
Wednesday, June 26, 2019
Time
Event
Location
Materials
9:30 - 10:30am EDT
An introduction to height functions - Wayne Peng, University of Rochester
10th Floor Collaborate Space
3:00 - 3:30pm EDT
Coffee/ Tea Break
10th Floor
Thursday, June 27, 2019
Time
Event
Location
Materials
3:00 - 3:30pm EDT
Coffee/ Tea Break
10th Floor
Friday, June 28, 2019
Time
Event
Location
Materials
9:30 - 11:00am EDT
Group Presentations
10th Floor Collaborative Space
2:00 - 3:00pm EDT
Potential Good Reduction and PCF Maps - Michelle Manes, University of Hawaii and NSF
10th Floor Collaborative Space
3:00 - 3:30pm EDT
Coffee/ Tea Break
10th Floor
Monday, July 1, 2019
Time
Event
Location
Materials
9:00 - 12:00pm EDT
Group Project Meetings
11th Floor Lecture Hall
3:00 - 3:30pm EDT
Coffee/ Tea Break
10th Floor
Tuesday, July 2, 2019
Time
Event
Location
Materials
10:30 - 11:30am EDT
Building telescopes for mathematicians. - Andrew Sutherland, MIT
11th Floor Lecture Hall
3:00 - 3:30pm EDT
Coffee/ Tea Break
10th Floor
Wednesday, July 3, 2019
Time
Event
Location
Materials
11:00 - 12:00pm EDT
Existence of periodic points and Sharkovsky's theorem - Trevor Hyde, University of Michigan
11th Floor Lecture Hall
3:00 - 3:30pm EDT
Coffee/ Tea Break
10th Floor
Friday, July 5, 2019
Time
Event
Location
Materials
3:00 - 3:30pm EDT
Coffee/ Tea Break
10th Floor
Monday, July 8, 2019
Time
Event
Location
Materials
3:00 - 3:30pm EDT
Coffee/ Tea Break
10th Floor
Tuesday, July 9, 2019
Time
Event
Location
Materials
10:30 - 11:30am EDT
Configurations of points on the Riemann Sphere - Rohini Ramadas, Brown University
11th Floor Lecture Hall
2:00 - 3:00pm EDT
Ethics I
11th Floor Lecture Hall
3:00 - 3:30pm EDT
Coffee/ Tea Break
10th Floor
Wednesday, July 10, 2019
Time
Event
Location
Materials
9:30 - 10:30am EDT
Rachel Locke, National Security Agency
11th Floor Lecture Hall
2:00 - 3:00pm EDT
Ethics II
11th Floor Lecture Hall
3:00 - 3:30pm EDT
Coffee/ Tea Break
10th Floor
Thursday, July 11, 2019
Time
Event
Location
Materials
3:00 - 3:30pm EDT
Coffee/ Tea Break
10th Floor
Friday, July 12, 2019
Time
Event
Location
Materials
3:00 - 3:30pm EDT
Coffee/ Tea Break
10th Floor
Monday, July 15, 2019
Time
Event
Location
Materials
3:00 - 3:30pm EDT
Coffee/ Tea Break
10th Floor
Tuesday, July 16, 2019
Time
Event
Location
Materials
9:00 - 10:00am EDT
CCV Tutorial - Paul Hall, Center for Computation and Visualization at Brown University
10th Floor Collaborative Space
10:30 - 11:30am EDT
Selected Topics in Arithmetic Dynamics - Joseph Silverman, Brown University
10th Floor Collaborative Space
3:00 - 3:30pm EDT
Coffee/ Tea Break
10th Floor
Wednesday, July 17, 2019
Time
Event
Location
Materials
3:00 - 3:30pm EDT
Coffee/ Tea Break
10th Floor
Thursday, July 18, 2019
Time
Event
Location
Materials
3:00 - 3:30pm EDT
Coffee/ Tea Break
10th Floor
Friday, July 19, 2019
Time
Event
Location
Materials
3:00 - 3:30pm EDT
Coffee/ Tea Break
10th Floor
Monday, July 22, 2019
Time
Event
Location
Materials
9:30 - 10:30am EDT
Graduate Student Panel
10th Floor Collaborative Space
3:00 - 3:30pm EDT
Coffee/ Tea Break
10th Floor
Wednesday, July 24, 2019
Time
Event
Location
Materials
3:00 - 3:30pm EDT
Coffee/ Tea Break
10th Floor
Thursday, July 25, 2019
Time
Event
Location
Materials
1:00 - 3:00pm EDT
Off Site Visit to AMS
201 Charles St, Providence, RI 02904, USA
3:00 - 3:30pm EDT
Coffee/ Tea Break
10th Floor
Friday, July 26, 2019
Time
Event
Location
Materials
1:30 - 1:45pm EDT
Group Photo
10th Floor at the stairwell
3:00 - 3:30pm EDT
Coffee/ Tea Break
10th Floor
Monday, July 29, 2019
Time
Event
Location
Materials
3:00 - 3:30pm EDT
Coffee/ Tea Break
10th Floor
7:00 - 10:00pm EDT
Summer@ICERM Game Night
10th Floor Collaborative
Tuesday, July 30, 2019
Time
Event
Location
Materials
3:00 - 3:30pm EDT
Coffee/ Tea Break
10th Floor
Wednesday, July 31, 2019
Time
Event
Location
Materials
3:00 - 3:30pm EDT
Coffee/ Tea Break
10th Floor
Thursday, August 1, 2019
Time
Event
Location
Materials
3:00 - 3:30pm EDT
Cake & Coffee/ Tea Break
10th Floor
Friday, August 2, 2019
Time
Event
Location
Materials
8:45 - 9:20am EDT
Summer@ICERM Presentations
Digital Scholarship Lab, 1st floor of the Rockefeller Library
9:20 - 9:50am EDT
Periodic points for Lattès maps over finite fields - Mentors: Bianca Thompson, Trevor Hyde Students: Jasmine Camero, Fiona Lu, Eric Zhu
Digital Scholarship Lab, 1st floor of the Rockefeller Library
10:00 - 10:30am EDT
Dynamical statistics over finite fields break - Mentors: Adam Towsley, Wayne Peng Students: Anna Chlopecki, Juliano Levier-Gomes, Alex Shearer
Digital Scholarship Lab, 1st floor of the Rockefeller Library
10:30 - 10:50am EDT
Break
10:50 - 11:20am EDT
Classification of rational preperiodic structures - Mentors: John Doyle, Bianca Thompson, Grayson Jorgenson Students: Meghan Grip, Emily Rachfal, Olivia Schwager, Matt Torrence
Digital Scholarship Lab, 1st floor of the Rockefeller Library
11:30 - 12:00pm EDT
Automorphism groups of rational maps char 0 - Mentors: Ben Hutz, Grayson Jorgenson, Max Weinreich Students: Julia Cai, Brandon Gontmacher, Leo Mayer, Srinjoy Srimani, Simon Xu
Digital Scholarship Lab, 1st floor of the Rockefeller Library
12:00 - 1:30pm EDT
Break for Lunch
1:30 - 2:00pm EDT
Automorphism groups of rational maps char p - Mentors: Ben Hutz, Grayson Jorgenson, Max Weinreich Students: Julia Cai, Brandon Gontmacher, Leo Mayer, Srinjoy Srimani, Simon Xu
Digital Scholarship Lab, 1st floor of the Rockefeller Library
2:10 - 2:40pm EDT
Post-critically finite rational maps - Mentors: Ben Hutz, Adam Towsley, Wayne Peng Students: Joey Lupo, Alex Galarraga, Heidi Benham
Digital Scholarship Lab, 1st floor of the Rockefeller Library
2:50 - 3:20pm EDT
Finite orbit sets for several polynomial maps - Mentors: Trevor Hyde, John Doyle, Max Weinreich Students: Talia Blum, Colby Kelln, Henry Talbott
Digital Scholarship Lab, 1st floor of the Rockefeller Library
3:30 - 4:00pm EDT
Coffee/ Tea Break
Final Projects
Final Student Presentations

"Periodic points for Lattés maps over finite fields" by J. Camero, F. Lu, and E. Zhu
"Dynamical statistics over finite fields break" by A. Chlopecki, J. Levier-Gomes, and A. Shearer
"Classification of rational preperiodic structures" by M. Grip, E. Rachfal, O. Schwager, and M. Torrence
"Automorphism groups of rational maps char 0" by J. Cai, B. Gontmacher, L. Mayer, S. Srimani, and Simon Xu
"Automorphism groups of rational maps char p" by J. Cai, B. Gontmacher, L. Mayer, S. Srimani, and S. Xu
"Post-critically finite rational maps" by J. Lupo, A. Galarraga, H. Benham
"Finite orbit sets for several polynomial maps" by T. Blum, C. Kelln, and H. Talbott
Posters Presented at JMM 2020 in Denver, CO

Unlikely Intersections and Portraits of Dynamical Semigroups (Colby Kelln, Talia Blum, and Henry Talbott)*
Periodic Points for Latts maps over Finite Fields (Jasmine Camero, Fiona Lu, and Eric Zhu)**
Characteristic 0 Automorphism Loci of the Moduli Space of Rational Functions (Brandon Gontmacher, Srinjoy Srimani, and Simon Xu)**
Permutation Polynomials (Anna Chlopecki)**
Rational Preperiodic Points of zd + c (Olivia Schwager, Emily Rachfal, and Matt Torrence)
Explicit Description of Degree 3 Polynomials and an Algebraic Approach to a Special Case of Thurston Rigidity (Alexander Galarraga and Heidi Benham)

*Recipient of the MAA "Outstanding Poster Award" at JMM 2020

**Recipient of an MAA "Honorable Mention" at JMM 2020