Summer@ICERM 2024: Mathematical Models to Predict, Prepare, and Prevent
Jun 10 - Aug 2, 2024
Summer@ICERM 2024: Mathematical Models to Predict, Prepare, and Prevent (Jun 10 - Aug 2, 2024)
Organizing Committee
Amanda Harsy Ramsay
Lewis University
Adam Schultze
Lewis University
Brittany Stephenson
Lewis University
Cara Sulyok
Lewis University
Abstract
Mathematical modeling allows researchers to address questions and test hypotheses that may not be feasible to study otherwise. The Summer@ICERM 2024 faculty advisors will present a variety of research projects centered around approaches to using mathematical modeling for making predictions and determining associated preparations and necessary preventions in the fields of epidemiology, precision nutrition, and sports analytics. Faculty will guide the development of appropriate models and computational tools that can aid in answering fundamental questions in these fields.
During the eight-week program, students will be introduced to the research topics through interactive lectures. Afterward, students will work on their projects in assigned groups of two to four, supervised by faculty advisors and aided by teaching assistants. Students will meet daily; give regular talks about their findings; attend mini-courses, guest talks, and professional development seminars; and practice coding. Students will learn how to collaborate mathematically while working closely with their teams to write a paper detailing their results.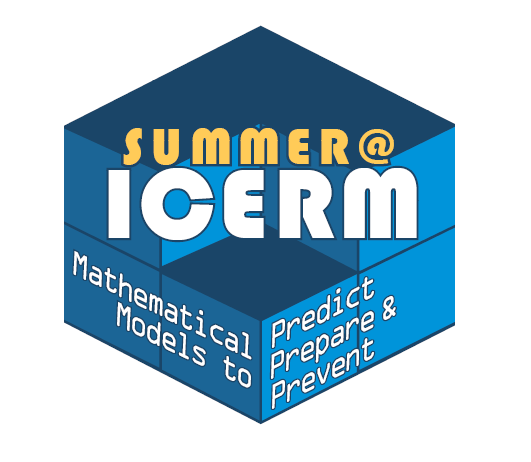 Program Details
2024 Proposed Research Topics

Ordinary Differential Equation Models of Disease Transmission and Control in Long-Term Care Facilities
Agent-Based Models to Evaluate Precision Nutrition Interventions through a Socioeconomic Lens
Predictive Modeling and Analysis of Sports Using Linear-Algebra-Based Models

Detailed Project Descriptions (PDF)

Important Notes

Applicants must be matriculating undergraduate students at the time of the start of Summer@ICERM 2024.
Funding is available for 1-2 students who are not US citizens or permanent residents.

Funding Includes*

$4,000 stipend
Providence, RI room, board, and travel funding provided for in-person programming, pandemic permitting. (Brown students who choose not to live in the dorm will waive ICERM provided housing and meal funding.)

To Apply

Applications accepted via MathPrograms.org. Applications submitted by February 13, 2024 will receive full consideration.
Other Summer@ICERM Events