This workshop will be offered virtually. The in-person meeting has been cancelled due to the COVID-19 outbreak. A schedule for virtual talks will be posted soon. Accepted participants will be notified how to access the virtual presentations.
Abstract
The structure of free resolutions plays an important role in analyzing singularities of varieties of low codimension. Codimension 2 Cohen-Macaulay varieties (resp. codimension 3 Gorenstein varieties) come from rank conditions on an n x (n+1) matrix (resp. a skew-symmetric (2n+1) x (2n+1) matrix).
This workshop seeks to push such results to Cohen-Macaulay varieties of codimension 3 and Gorenstein varieties of codimension 4.
This problem turns out to be related to the classification of semi-simple Lie algebras. These new methods allow one to create a 'map' of free resolutions of a given format. The calculations that arise are very demanding and require new computational methods involving both commutative algebra and representation theory.
The organizers have shared two sets of notes for attendees to review before the workshop. These are downloadable here: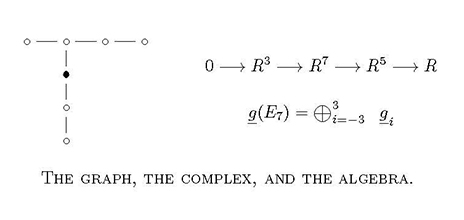 Confirmed Speakers & Participants
Talks will be presented virtually or in-person as indicated in the schedule below.
Speaker
Poster Presenter
Attendee
Virtual Attendee
Working Groups
Groups will focus on specific open problems related to each topic. There will be discussion to fill in the background of these problems, and we expect the groups to begin work on small subproblems throughout the week.
Resolutions of length 3: licci conjecture, genericity of Schubert examples (lead: Jerzy Weyman)
A connection between free resolutions of length 3 of so-called Dynkin formats and Schubert varieties is investigated in https://arxiv.org/abs/2005.01253. An open problem is to understand whether or not the examples coming from Schubert varieties are generic examples of such resolutions. A related problem is to understand whether every perfect ideal of codimension 3 with a resolution of Dynkin format is licci.
Resolutions of Gorenstein ideals of codimension 4 (lead: Ela Celikbas)
The group will discuss the existence of spinor coordinates on resolutions of Gorenstein ideals of codimension 4 (see https://arxiv.org/abs/1912.07510) and it implications for classifying such ideals, including the expectation that such classification should be easier for 6,7,8 generators. Also description of spinor coordinates in specific examples will be discussed.
Multiplicative structures on resolutions of perfect ideals of codimension 3 (lead: Oana Veliche)
The group will discuss the classification of multiplicative structures and their feasibility for resolutions of different formats. This is related to the material covered in arXiv:1812.11552.
Macaulay 2 software packages (lead: Lars Christensen)
The group will compute the multiplication tables of free resolutions of length 3 and 4 and related higher structure maps. Taking off from several existing pieces of code the group will develop robust and documented code that will be published as M2 packages.
Schubert examples (leads: Jacinta Torres and Sara Angela Filippini)
Continuing from https://arxiv.org/abs/2005.01253, there are open problems regarding how to extend the Schubert examples in Dynkin cases to non-Dynkin settings. Furthermore, the larger examples in the E_8 case are conjectural and some of the E_7 examples rely on computer calculation and a conceptual understanding is desired.
Equivariant ideals and superalgebras (lead: Claudiu Raicu)
This group will investigate the connection between classical Lie superalgebras and families of equivariant ideals in polynomial rings. The primary example is the gl_n x gl_m equivariant ideals in the ring of polynomials on the space of n x m matrices whose linear strands are representations of gl(m|n), see https://arxiv.org/abs/1411.0151.