This workshop will be offered virtually. The in-person meeting has been cancelled due to the COVID-19 outbreak. A schedule for virtual talks will be posted soon. Accepted participants will be notified how to access the virtual presentations.
Abstract
Experimental geometry labs create an environment ripe for students and faculty to treat mathematics as a laboratory science. Visualization and computational pattern discovery help guide research, formulate conjectures and develop ideas in proofs. In addition to research, experimental geometry labs foster community engagement via grassroots outreach activities in local schools, libraries, and museums. These activities spread the wonder and excitement of mathematics to people both within and outside the academy.
This workshop is partially supported by the Department of Mathematical Sciences and the College of Science at George Mason University.
For this workshop, ICERM welcomes applications from undergraduates, graduates, postdocs, and faculty who wish to participate. Undergraduate students and graduate students who apply should ask their advisor to submit a statement of support by July 3. We will ask students to present their work.

Geometry Labs United Conference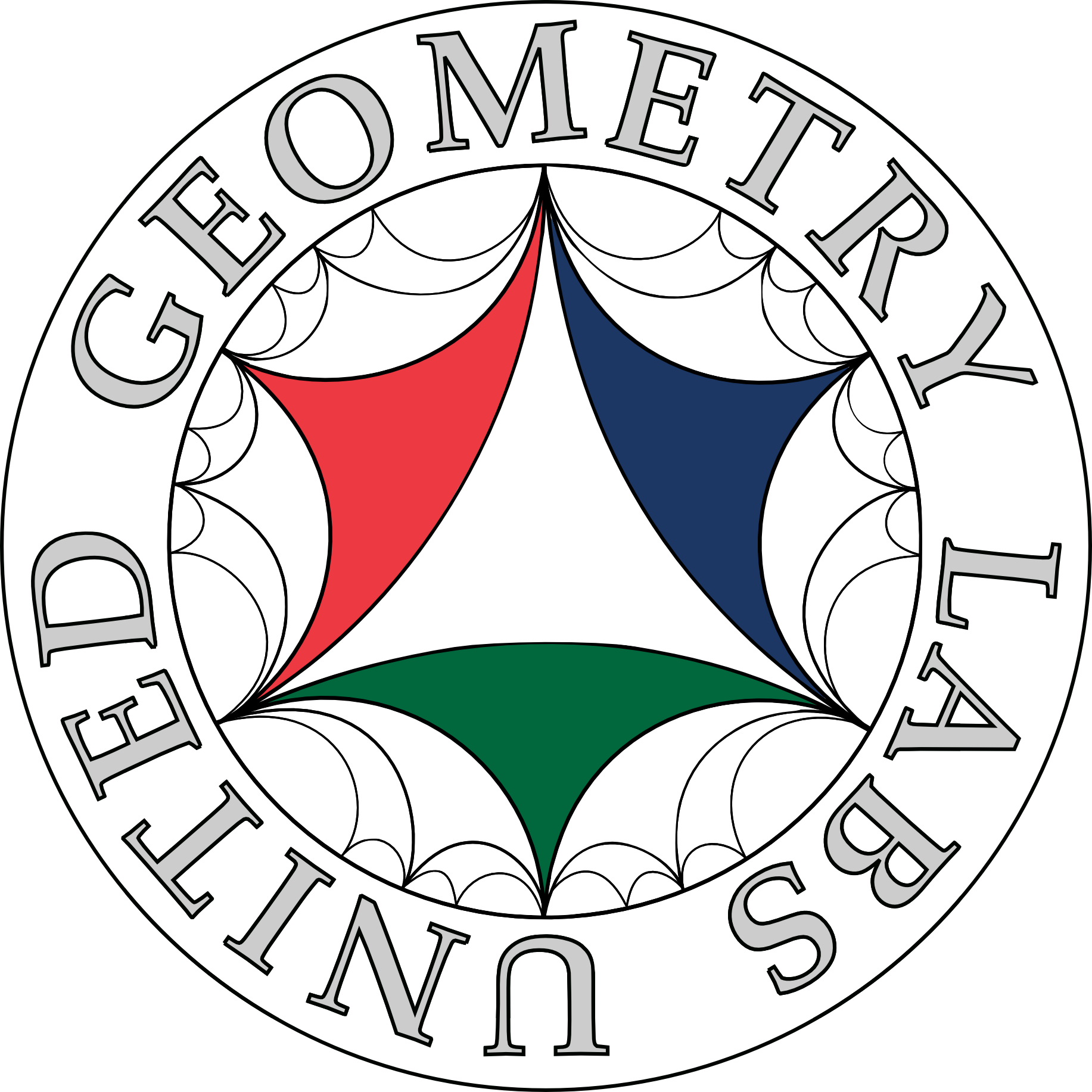 Confirmed Speakers & Participants
Talks will be presented virtually or in-person as indicated in the schedule below.
Speaker
Poster Presenter
Attendee
Virtual Attendee
Aaron Abrams

Washington and Lee University

Ilesanmi Adeboye

Wesleyan University

Elie Alhajjar

US Military Academy

Khaled Allen

University of Colorado Boulder

Caleb Ashley

University of Michigan

Jayadev Athreya

University of Washington

Nicholas Baeth

Franklin & Marshall College

Bram Bekker

Radboud University Nijmegen

Gabriele Benedetti

University of Heidelberg

Vasudha Bharathram

Riverdale Country School

Pat Boland

University of Michigan

Sebastian Bozlee

University of Colorado, Boulder

Harrison Bray

University of Michigan

Jean-Philippe Burelle

Université de Sherbrooke

Kurt Butler

Stony Brook University

Jérôme Champagne

Université de Sherbrooke

Moira Chas

Stony Brook University

Ethan Cohen

University of Michigan

Matei Coiculescu

Brown University

Julien Corriveau-Trudel

Université de Sherbrooke

Annalisa Crannell

Franklin and Marshall College

Tommaso Cremaschi

university of southern california

Jeffrey Danciger

University of Texas at Austin

Nguyen-Thi Dang

Universität Heidelberg

Satyan Devadoss

University of San Diego

Aidan Richard Donahue

George Mason University

Joseph Donato

University of Michigan

Spencer Dowdall

Vanderbilt University

David Dumas

University of Illinois at Chicago

Samantha Fairchild

University of Washington

Carlos Florentino

University of Lisbon

Jingyi Gao

University of Michigan

Ajeet Gary

New York University

Dustin Gaskins

University of Oklahoma

Jonah Gaster

Mathematics

Sayonita Ghosh Hajra

California State University

William Goldman

University of Maryland

Krishnendu Gongopadhyay

Indian Institute of Science Education and Research

Peter Gothen

University of Porto

Sergey Grigorian

University of of Texas Rio Grande Valley

Yanbing Gu

Stony Brook University

Jialun He

stony brook university

Philipp Hieronymi

University of Illinois

Michael Hill

UCLA

Ryan Hoban

Bloomberg

Christopher Hoffman

University of Washington

Michael Jablonski

University of Oklahoma

Chris John

Azim Premji University

Tejas Kalelkar

Indian Institute of Science Education and Research Pune

Alex Kapiamba

University of Michigan

Matthew Kearney

George Mason University

Aleksandr Kolpakov

University of Neuchâtel

Alex Kontorovich

Rutgers University

Cagatay Kutluhan

University at Buffalo (SUNY)

Wai Yeung Lam

Université du Luxembourg

Daniel Lautzenheiser

Cerro Coso College

Sean Lawton

George Mason University

Brice Loustau

TU Darmstadt

Jack Love

George Mason University

Anton Lukyanenko

George Mason University

Aidan Mager

University of Washington

Martin Magid

Wellesley College

Alba Málaga Sabogal

free-lance

Christopher Manon

University of Kentucky

Giuseppe Martone

University of Michigan

Sabetta Matsumoto

Georgia Institute of Technology

Daniel Mayerson

Institut of Theoretical Physics

John McCleary

Vassar College

Claire Merriman

Ohio State University

Bjoern Muetzel

Dartmouth College

Stephanie Mui

New York University

Julien Paupert

Arizona State University

Kate Ponto

University of Kentucky

Anja Randecker

Heidelberg University

Brian Ray

Daniel H Wagner Associates, INC

Steven Rayan

University of Saskatchewan

Pier-Olivier Rodrigue

Université de Sherbrooke

Olga Romaskevich

Free-lance mathematician

Tim Ryan

University of Michigan

Laurel Safranek

University of Washington

Mohammad Sajid

Qassim University

Evelyn Sander

George Mason University

Natalie Schoenhals

University of Colorado Boulder

Richard Schwartz

Brown University

Alexandra Seceleanu

University of Nebraska-Lincoln

Martin Skrodzki

RIKEN iThems

Tulsi Srinivasan

Azim Premji University

Katherine Stange

University of Colorado

Moshe Stein

Stony Brook University

Connor Stewart

Stony Brook University

Zhe Sun

University of Luxembourg

Laura Taalman

James Madison University

Diaaeldin Taha

n/a

Susan Tarabulsi

George Mason University

Ying Hong Tham

Stony Brook University

Lio Thomas

The Bronx High School Of science

Cigole Thomas

George Mason University

Rodrigo Treviño

University of Maryland

Jeremy Tyson

University of Illinois at Urbana-Champaign

Caglar Uyanik

Yale University

Glen Whitney

StudioInfinity.org

Michael Wijaya

Bard High School Early College (Queens)

Aaron Wilson

The University of Texas Rio Grande Valley

Grace Work

Girls' Angle

Meg Wynne

University of Michigan

Ajmain Yamin

Stony Brook University

Jackson Zariski

University of Washington

Zoe Zhou

University of Michigan, Ann Arbor
Workshop Schedule
Thursday, July 16, 2020
Time
Event
Location
Materials
10:00 - 10:45am EDT
Welcome & Lab Updates
11:15 - 12:00pm EDT
Inclusivity in mathematics and computer discoveries about loops on surfaces - Moira Chas, Stony Brook University
1:00 - 1:45pm EDT
Running a Lab Panel - chaired by Jayadev Athreya and Jeremy Tyson
2:15 - 3:15pm EDT
Student Talks
3:45 - 4:05pm EDT
Career Development - Brian Ray, Daniel H Wagner Associates, INC
4:15 - 5:00pm EDT
Mathematics through 3D printing, a GMU capstone course - Evelyn Sander, George Mason University
Friday, July 17, 2020
Time
Event
Location
Materials
10:00 - 10:45am EDT
Updates from Labs
11:15 - 12:00pm EDT
Supervising undergraduate research in mathematical visualization - David Dumas, University of Illinois at Chicago
1:00 - 1:45pm EDT
Panel on Outreach - Chaired by Jack Love, Grace Work, and Aaron Wilson
2:15 - 3:15pm EDT
Student Talks
3:45 - 4:05pm EDT
Career Development - Ryan Hoban, Bloomberg
4:15 - 5:00pm EDT
The spheres of Sol - Richard Schwartz, Brown University