Organizing Committee
Robyn Brooks
Boston College
Ty Frazier
University of MInnesota
Paige Helms
University of Washington
Ryan Moruzzi Jr
California State University, East Bay
Anisah Nu'Man
Spelman College
Christopher O'Neill
San Diego State University
Javier Ronquillo Rivera
Bridge to Enter Advanced Mathematics
Sherilyn Tamagawa
Davidson College
Abstract
The primary mission of the Underrepresented Students in Topology and Algebra Research Symposium (USTARS) is to showcase the excellent research conducted by underrepresented students studying topology and algebra. Dedicated to furthering the success of underrepresented students, USTARS seeks to broaden participation in the mathematical sciences by cultivating research and mentoring networks. USTARS is open to all people interested in the topological and algebraic fields.
A note from the organizing committee:
Applicants, for those wanting to give a talk at the conference there is an application deadline of February 26 at 11:59 pm for speakers in order to make a timely decision. We have funding from the NSA for some per diem for both days of the conference, which will also be decided from applicants who apply by the deadline. If you do receive funding, you are required to attend the entire conference.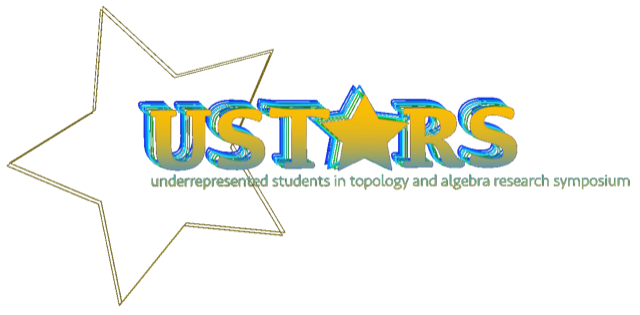 Confirmed Speakers & Participants
Speaker
Poster Presenter
Attendee
Virtual Attendee
Nachiketa Adhikari

University of Illinois at Urbana-Champaign

Jonathan Alcaraz

University of California, Riverside

Jose Aranda Cuevas

University of Iowa

Andrea Arauza Rivera

Cal State East Bay

Shivam Bhatt

University of Toronto

Robyn Brooks

Boston College

Abigail Burnett

Iowa State University

Maxine Calle

University of Pennsylvania

Nikita Campos

California State Polytechnic University, Pomona

Yassin Chandran

The Graduate Center, City University of New York

Henry Chimal-Dzul

Ohio University

Shakuan Frankson

Howard University

Ty Frazier

University of MInnesota

Jacob Garcia

University of California, Riverside

Helen Grundman

Bryn Mawr College

Kimberly Hadaway

Williams College

Pamela Harris

Williams College

Paige Helms

University of Washington

Lydia Holley

University of Illinois at Chicago

Kim Holman

Auburn University

Emily Hoopes-Boyd

Kent State University

Janet Huffman

University of Kentucky

Erik Insko

Florida Gulf Coast University

Leah Leiner

Temple University

Marissa Loving

Georgia Institute of Technology-Main Campus

Brittney Marsters

San Diego State University

Gage Martin

Boston College

Ryan Moruzzi Jr

California State University, East Bay

Mariah Moschetti

San Diego State University

Evangelos Nastas

SUNY

Anisah Nu'Man

Spelman College

Christopher O'Neill

San Diego State University

Ashley Pallone

Ohio University

Candice Price

Smith College

Sarah Pritchard

Georgia Institute of Technology

Asiyeh Rafieipour

Ohio University

Stephanie Reyes

None

Elena Rodriguez Chavez

University of California Riverside

Javier Ronquillo Rivera

Bridge to Enter Advanced Mathematics

Amanda Ruiz

University of San Diego

Noelle Sawyer

Southwestern University

Mohd Ibrahim Sheikh

Pusan National University

Shannon Talbott

Moravian College

Sherilyn Tamagawa

Davidson College

Andrew Tawfeek

Amherst College

Kalani Thalagoda

University Of North Carolina at Greensboro

Trang Tran

Ucsc

Jagerynn Verano

University of Illinois at Chicago

Andres Vindas Melendez

University of Kentucky

Brandis Whitfield

Temple University

Robin Wilson

California State Polytechnic University, Pomona

Majed Zailaee

Ohio University
Application Information
ICERM welcomes applications from faculty, postdocs, graduate students, industry scientists, and other researchers who wish to participate. Please fill out the application form to register for the event.
Your Visit to ICERM
ICERM Facilities

Traveling to ICERM

Lodging

Childcare/Schools

Technology Resources

Discrimination and Harassment Policy

Exploring Providence
Visa Information
Contact visa@icerm.brown.edu for assistance.
Eligible to be reimbursed

B-1 or Visa Waiver Business (WB)

Ineligible to be reimbursed

B-2 or Visa Waiver Tourist (WT)

Already in the US?

F-1 and J-1 not sponsored by ICERM: need to obtain a letter approving reimbursement from the International Office of your home institution PRIOR to travel.

H-1B holders do not need letter of approval.

All other visas: alert ICERM staff immediately about your situation.

ICERM does not reimburse visa fees. This chart is to inform visitors whether the visa they enter the US on allows them to receive reimbursement for the items outlined in their invitation letter.
Financial Support
ORCID iD

As this program is funded by the National Science Foundation (NSF), ICERM is required to collect your ORCID iD if you are receiving funding to attend this program. Be sure to add your ORCID iD to your Cube profile as soon as possible to avoid delaying your reimbursement.

Acceptable Costs

1 roundtrip between your home institute and ICERM
Flights on U.S. or E.U. airlines – economy class to either Providence airport (PVD) or Boston airport (BOS)
Ground Transportation to and from airports and ICERM.

Unacceptable Costs

Flights on non-U.S. or non-E.U. airlines
Flights on U.K. airlines
Seats in economy plus, business class, or first class
Change ticket fees of any kind
Multi-use bus passes
Meals or incidentals

Advance Approval Required

Personal car travel to ICERM from outside New England
Multiple-destination plane ticket; does not include layovers to reach ICERM
Arriving or departing from ICERM more than a day before or day after the program
Multiple trips to ICERM
Rental car to/from ICERM
Flights on a Swiss, Japanese, or Australian airlines
Arriving or departing from airport other than PVD/BOS or home institution's local airport
2 one-way plane tickets to create a roundtrip (often purchased from Expedia, Orbitz, etc.)

Reimbursement Requests

Request Reimbursement with Cube

Refer to the back of your ID badge for more information. Checklists are available at the front desk and in the Reimbursement section of Cube.

Reimbursement Tips

Scanned original receipts are required for all expenses
Airfare receipt must show full itinerary and payment
ICERM does not offer per diem or meal reimbursement
Allowable mileage is reimbursed at prevailing IRS Business Rate and trip documented via pdf of Google Maps result
Keep all documentation until you receive your reimbursement!

Reimbursement Timing

6 - 8 weeks after all documentation is sent to ICERM. All reimbursement requests are reviewed by numerous central offices at Brown who may request additional documentation.

Reimbursement Deadline

Submissions must be received within 30 days of ICERM departure to avoid applicable taxes. Submissions after thirty days will incur applicable taxes. No submissions are accepted more than six months after the program end.