Abstract
FEEC is a recent advance in the mathematics of finite element methods that employs differential complexes to construct stable numerical schemes for several important types of application problems. It has aroused great interest because it both presents interesting mathematical problems and shows great potential for application in computational science and engineering. The concentrated sequence of lectures in this program will provide participants with an understanding of the mathematical tools required to fully grasp the concepts in FEEC. ICERM is pleased to host this NSF-CBMS Regional Research Conference.
Douglas Arnold will deliver 10 lectures, one in the morning and one in the afternoon of each day of the workshop. Richard Falk and Anil Hirani will both give one presentation.
Limited funding is available to support participants.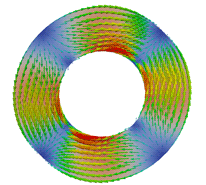 Confirmed Speakers & Participants
Talks will be presented virtually or in-person as indicated in the schedule below.
Speaker
Poster Presenter
Attendee
Virtual Attendee
Harbir Antil

George Mason University

Douglas Arnold

University of Minnesota

Gerard Awanou

University of Illinois, Chicago

Constantin Bacuta

University of Delaware

Jerome Bonelle

Electricite de France R&D

Carlos Borges

NYU

Zhiqiang Cai

Purdue University

Juan Calvo

University of Costa Rica

Fernando Camacho

University of Kentucky

Shuhao Cao

Pennsylvania State University

Fun Chan

University of Delaware

Hongtao Chen

Princeton University

Shue-Sum Chow

Brigham Young University

James Collins

Colorado State University

Alan Demlow

Texas A&M University

Andrea Dziubek

SUNY

Richard Falk

Rutgers University

Andrew Gillette

University of Arizona

Johnny Guzman

Brown University

Holger Heumann

University Nice-Sophia Antipolis

Anil Hirani

University of Illinois at Urbana-Champaign

Xiaozhe Hu

Tufts University

Kaushik Kalyanaraman

Rensselaer Polytechnic Institute

James Kamm

Sandia National Laboratories

Shelvean Kapita

University of Georgia

Omid Khanmohamadi

Florida State University

Saeja Kim

University of Massachusetts Dartmouth

Matt Knepley

Rice University

Michael Kraus

Max Planck Institute for Plasma Physics

Marc Laforest

Ecole Polytechnique de Montreal

Thinh Le

Pennsylvania State University

Young Ju Lee

Rutgers University

Dmitriy Leykekhman

University of Connecticut

Martin Licht

University of California, San Diego

Fernando Lopez Garcia

Cal Poly Pomona

Youli Mao

Halliburton Landmark

Jun Masamune

Hokkaido University

Michael Neilan

University of Pittsburgh

Minah Oh

James Madison University

Ashraf Owis

Cairo University

Faranak Pahlevani

Pennsylvania State University, Abington College

Edmond Rusjan

Suny Polytechnic Institute

Manuel Sanchez-Uribe

Brown University

Marcus Sarkis

Worcester Polytechnic Institute

Francisco-Javier Sayas

University of Delaware

Murugan Selvan

Bharathiar University

Carlos Trenado

Universitatsklinikum Dusseldorf

Gantumur Tsogtgerel

McGill University

Monika van Leeuwen-Polner

University of Szeged

Umberto Villa

University of Texas at Austin

Andy Wan

McGill University

Ming Wang

Kansas University

Luwai Wazzan

King Abdulaziz University

Li Wu

University of Rhode Island

Takaharu Yaguchi

Kobe University

Yang Yang

Michigan Technological University

Kai Yang

Pennsylvania State University

Thomas Yu

Drexel University

Yi Zhang

University of Notre Dame

Lin Zhong

Amazon

Frank Zizza

Colorado State University Pueblo