Abstract
This workshop will bring together mathematicians working on combinatorial, geometric and topological properties of arrangements. In addition to fundamental open problems in the area, we will emphasize connections to tropical geometry, configuration spaces, and applications (coding theory, statistical economics, topological robotics), building bridges between those working on different aspects of the area. The main aim of the workshop is to discuss computational issues that arise in studying topological and combinatorial invariants of arrangements.
The workshop will be comprised of two main activities: A series of short courses by leading experts and research or expository talks. The short courses will be aimed at a broad audience; in particular they will be appropriate for advanced graduate students and early career mathematicians. In addition to theory, talks will highlight computational aspects of the problems, and the state of the art on the main open conjectures in the field. We will also have a pair of research talks each afternoon.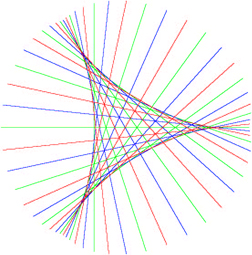 Confirmed Speakers & Participants
Talks will be presented virtually or in-person as indicated in the schedule below.
Speaker
Poster Presenter
Attendee
Virtual Attendee