Abstract
Over the last 20 years or so, Newton-Krylov methods have developed to maturity, allowing effective fully-coupled treatment of a broad range of large-scale nonlinear problems. This development has set the stage for addressing more difficult problems with more challenging features. Additionally, applications for which state-of-the-art Newton-Krylov approaches are inapplicable have recently exposed several basic research questions. At the same time, there remain many problem-specific methods and legacy codes that are still useful and can be regarded as a resource for further development.
This workshop will include mathematicians and computer scientists who work on algorithm design, implementation, and analysis, together with disciplinary scientists and engineers who use the algorithms in applications and have a working knowledge of their capabilities, weaknesses, and limitations. The major foci of the workshop will be acceleration methods, in particular Anderson acceleration; methods for nonlinear problems that have significant stochastic aspects; methods for nonsmooth problems; and various techniques for improving robustness, such as nonlinear preconditioning.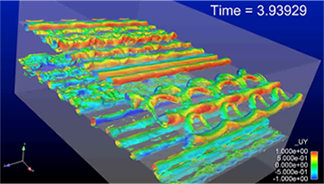 Confirmed Speakers & Participants
Talks will be presented virtually or in-person as indicated in the schedule below.
Speaker
Poster Presenter
Attendee
Virtual Attendee