Abstract
In the theory of error correcting codes, a sender (Alice) wants to send a message to a receiver (Bob), over a noisy channel. Strategies for Alice and Bob have been studied since the works of Shannon and Hamming from the late 1940's, from many different communities. Coding theory is a fundamental solution to challenges that arise in communication, storage, cryptography, and others; as the world changes, our challenges in these areas change, and the scenario changes for Alice and Bob. Fueled by these new scenarios, coding theory remains a rapidly advancing area of research.
One trend in many of these new scenarios in coding theory is the need for algorithmic solutions. For many problems in coding theory, it is possible to come up with nearly optimal solutions (information-theoretically speaking) which are likely very hard for Alice and Bob to actually implement. The goal of algorithmic coding theory is to design solutions which are not only combinatorially good, but are also computationally efficient.
The goal of this workshop is to bring together researchers from several different communities -- applied math, theoretical computer science, communications and electrical engineering -- to focus on a few quickly-moving topics in algorithmic coding theory. Topics will include:
polar codes,
codes for interactive communication,
local decoding and coding for distributed storage, and
non-malleable codes.
This workshop is part of a series of NSF Secure and Trustworthy Cyberspace funded workshops designed to make mathematicians aware of issues in cybersecurity.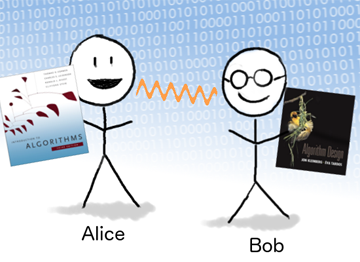 Confirmed Speakers & Participants
Talks will be presented virtually or in-person as indicated in the schedule below.
Speaker
Poster Presenter
Attendee
Virtual Attendee