Abstract
This workshop is a one-week program aimed at 20-25 researchers interested in the opportunity to shape the future of research on the mathematics of crime. Small teams will come together to work on real problems with real crime and policing data provided by the Providence Police Department. Five teams will be assembled, each with a technical advisor who will share their expertise and serve as an anchor point and leader for hands-on research that will take place over the course of the week. This will be a truly hands-on experience in which groups will spend time brainstorming mathematical methods and models to approach the problem at hand, analyzing data provided, and creating code to implement ideas as necessary. There will also be research presentations from the technical advisors throughout the week, as well as closing presentations by each team to present their ideas and progress at the end of the workshop. We fully anticipate that lasting collaborations will be formed, and that work on the projects will continue after the workshop ends. The following topical problems will focus the research activities:
Police Patrol Analysis: Police departments are increasingly adopting technologies such as GPS to track police patrols, but widespread adoption is far off. However, departments commonly track calls for service, giving brief glimpses into where officers are located at specific points in time. Can this limited data be used to estimate more detailed pictures of police distribution across the city? And, given these estimates, can we attempt to measure quantitatively the effect that patrols have on crime?


Dynamic prediction of crime events and crime patterns: Work on this topic has greatly expanded in recent years, using statistical techniques and differential equation based methods. But, new methods of data analytics and techniques such as data assimilation may also prove promising. Can the team use historical crime records from Providence to develop new methods of predicting future crime?


Criminal networks big and small: Criminal offending is often a solo activity, but it also can occur in a social context. Can arrest and event data as well as fragmentary information on co-offending patterns be used to infer criminal network structure and processes? Can we detect when larger criminal networks adopt formal organizational structures?


Crowds and social unrest: Social unrest is a common occurrence, but only recently have technologies such as smartphones and social media enabled specific events to be quantitatively analyzed after the fact and potentially even predicted in real time. Can data such as geocoded social media activity be used to understand the dynamics of events such as riots, and be used to identify them as they begin to occur?


Social media and hate: Social media, and the internet more broadly, is a tremendous platform for creativity, but it also has a dark side. Hate speech is common and hate groups are well represented and not just in the corners of the internet. Can natural language processing and other machine learning methods be used to detect and map the spread of hate speech within social media spaces?
Note: some familiarity with coding, statistics, networks/graphs, the concept of "machine learning", ordinary and partial differential equations, analysis, and numerical solving will be helpful to applicants, but not required.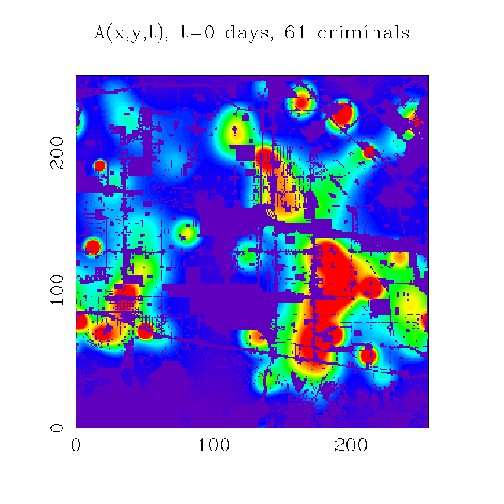 Confirmed Speakers & Participants
Talks will be presented virtually or in-person as indicated in the schedule below.
Speaker
Poster Presenter
Attendee
Virtual Attendee
Workshop Schedule
Monday, August 8, 2016
Time
Event
Location
Materials
8:30 - 8:45am EDT
Registration
11th Floor Collaborative Space
8:55 - 9:00am EDT
Welcome Remarks
11th Floor Lecture Hall
9:00 - 9:15am EDT
Opening Remarks
11th Floor Lecture Hall
9:15 - 9:45am EDT
Opening Presentation 1- Crime and Policing
11th Floor Lecture Hall
9:45 - 10:15am EDT
Opening Presentation 2- Math and Crime
11th Floor Lecture Hall
10:15 - 10:45am EDT
Opening Presentation - Questions and Conversations
11th Floor Lecture Hall
10:30 - 10:45am EDT
Coffee/Tea Break
11th Floor Collaborative Space
10:45 - 11:30am EDT
Introduction of Project Leads
11th Floor Lecture Hall
11:30 - 11:45am EDT
Introduction of Projects
11th Floor Lecture Hall
11:45 - 12:00pm EDT
Project Selection
11th Floor Lecture Hall
12:00 - 1:00pm EDT
Lunch / Free Time
1:00 - 2:00pm EDT
Team Announcements, Logistics, First Meeting
11th Floor Lecture Hall
2:00 - 2:15pm EDT
Break
11th Floor Collaborative Space
2:15 - 3:45pm EDT
Team Activities
3:45 - 4:00pm EDT
Coffee/Tea Break
11th Floor Collaborative Space
4:00 - 5:00pm EDT
Team Activities
5:00 - 6:30pm EDT
Welcome Reception
11th Floor Collaborative Space
Tuesday, August 9, 2016
Time
Event
Location
Materials
8:45 - 10:15am EDT
Team Activities
10:15 - 10:30am EDT
Coffee/Tea Break
11th Floor Collaborative Space
10:30 - 12:00pm EDT
Team Activities
12:00 - 1:30pm EDT
Lunch / Free Time
1:30 - 4:15pm EDT
Team Activities
4:15 - 4:30pm EDT
Coffee/Tea Break
11th Floor Collaborative Space
4:30 - 5:00pm EDT
Talk 1
11th Floor Lecture Hall
5:00 - 5:30pm EDT
Talk 2
11th Floor Lecture Hall
Wednesday, August 10, 2016
Time
Event
Location
Materials
8:45 - 10:15am EDT
Team Activities
10:15 - 10:30am EDT
Coffee/Tea Break
11th Floor Collaborative Space
10:30 - 12:00pm EDT
Team Activities
12:00 - 1:30pm EDT
Lunch / Free Time
1:30 - 4:15pm EDT
Team Activities
4:15 - 4:30pm EDT
Coffee/Tea Break
11th Floor Collaborative Space
4:30 - 5:00pm EDT
Talk 3
11th Floor Lecture Hall
5:00 - 5:30pm EDT
Talk 4
11th Floor Lecture Hall
Thursday, August 11, 2016
Time
Event
Location
Materials
8:45 - 10:15am EDT
Team Activities
10:15 - 10:30am EDT
Coffee/Tea Break
11th Floor Collaborative Space
10:30 - 12:00pm EDT
Team Activities
12:00 - 1:30pm EDT
Working Lunch & Plan Report
1:30 - 4:15pm EDT
Team Activities
4:15 - 4:30pm EDT
Coffee/Tea Break
11th Floor Collaborative Space
4:30 - 5:00pm EDT
Talk 5
11th Floor Lecture Hall
Friday, August 12, 2016
Time
Event
Location
Materials
8:00 - 9:00am EDT
Breakfast & Report Preparation
9:00 - 9:30am EDT
Report Preparation
9:30 - 9:45am EDT
Coffee/Tea Break
11th Floor Collaborative Space
9:45 - 11:00am EDT
Report Preparation
11:00 - 12:00pm EDT
Lunch & Report Preparation
12:00 - 12:30pm EDT
Team 1 Report
11th Floor Lecture Hall
12:30 - 1:00pm EDT
Team 2 Report
11th Floor Lecture Hall
1:00 - 1:30pm EDT
Team 3 Report
11th Floor Lecture Hall
1:30 - 2:00pm EDT
Team 4 Report
11th Floor Lecture Hall
2:00 - 2:30pm EDT
Team 5 Report
11th Floor Lecture Hall
2:30 - 2:45pm EDT
Break
11th Floor Collaborative Space
2:45 - 3:45pm EDT
Reception/Group Discussion & Law Enforcement Commentary
11th Floor Lecture Hall
Working Groups
Calls for Service
David Lloyd, Team Leader (University of Surrey)
Mahesh Agarwal (University of Michigan-Dearborn)
Stephen DeSalvo (UCLA)
Monica Moreno (Edmonton Police Service)
Naratip Santitissadeekorn (University of Surrey)
Talitha Washington (Howard University)
Crime and Mobility
Marta Gonzalez, Team Leader (MIT)
Haiyan Cheng (Willamette University)
Monica Ribero (Quantil)
Chuntain Wang (University of California)
Networks
Chad Topaz, Team Leader (Macalester College)
Scott Anderson (Washington State Dept. of Corrections)
Toby Davies (University College London)
Bryan Martin (University of Washington)
Rose Nguyen (University of Washington)
Stephan Sturm (WPI)
Riots
Hannah Fry, Team Leader (University College London)
Alethea Barbaro (Case Western Reserve University)
Chris Browne (Cornell University)
Cynthiaann Bryant, (Hunter college)
Daniel Cooney (Princeton University)
Louis Ellam (University of Warwick)
Robin Thompson (University of Oxford)
Twitter Topic Modeling
Blake Hunter, Team Leader (Claremont McKenna)
Jorge Barreras (Quantil S.A.S.)
Yifan Cui (University of North Carolina at Chapel Hill)
Kun Dong (Cornell University)
Yves van Gennip (University of Nottingham)
Zhenzhen Li (HKUST)
Najmeh Salehi (Temple University)