Abstract
On financial markets one never observes the same data twice; market configurations are subject to change across time. This poses some specific challenges to inference, prediction, and optimal control in financial contexts. Classically, strong model assumptions are needed, while current research aims at methods which are robust with respect to model misspecification. This issue lies at the heart of the envisaged workshops, and the program of the workshops will reflect recent developments in this direction.
The last decade saw a rise of robust methods in probability and finance resulting in new numerical and theoretical challenges. Interestingly, these challenges bring together methodologies from PDEs, probability, stochastic analysis, and control theory. Mathematically speaking, robustness typically translates into nonlinearity showing up as a defining feature. Examples in this direction are nonlinear expectations, nonlinear PDEs, and H-infinity optimal stochastic control. Finance has a long tradition of fruitful interactions between these areas. Numerical results often build the first step for subsequent theoretical analysis (and vice versa), thus fitting specifically into ICERM's orientation towards computational and experimental research.
Topics of particular interest are dynamic and robust methods in the following areas: filtering, prediction, optimal control, calibration, pricing, risk management, and machine learning.
This workshop is held under the auspicies of the VI-MSS program, in collaboration with the University of Freiburg.
Note: four of the original organizers from this workshop held a follow-up workshop in Freiburg, Germany.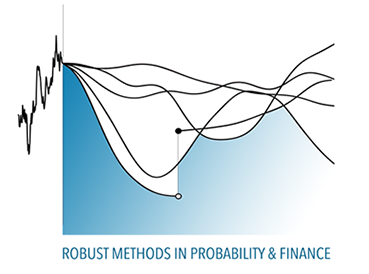 Confirmed Speakers & Participants
Talks will be presented virtually or in-person as indicated in the schedule below.
Speaker
Poster Presenter
Attendee
Virtual Attendee
Workshop Schedule
Monday, June 19, 2017
Time
Event
Location
Materials
8:30 - 8:55am EDT
Registration
121 South Main Street Providence RI 11th Floor Collaborative Space
8:55 - 9:00am EDT
Welcome - ICERM Director
11th Floor Lecture Hall
9:00 - 9:40am EDT
Robust Asymptotic Growth in the Presence of Stability - Scott Robertson, Questrom School of Business, Boston University
11th Floor Lecture Hall
9:50 - 10:30am EDT
Adaptive Robust Control Under Model Uncertainty - Igor Cialenco, Illinois Institute of Technology
11th Floor Lecture Hall
10:30 - 11:00am EDT
Coffee Break
11th Floor Collaborative Space
11:00 - 11:40am EDT
Mini course I - Pathwise integration for functionals of paths with finite quadratic variation and applications in mathematical finance - Rama Cont, Imperial College London
11th Floor Lecture Hall
11:50 - 12:30pm EDT
Mini course II - Pathwise integration for functionals of paths with finite quadratic variation and applications in mathematical finance - Rama Cont, Imperial College London
11th Floor Lecture Hall
12:30 - 2:15pm EDT
Break for Lunch / Free Time
2:15 - 2:55pm EDT
Supply and Shorting in Speculative Markets - Marcel Nutz, Columbia University
11th Floor Lecture Hall
3:05 - 3:45pm EDT
From the master equation to mean field game limits, fluctuations, and large deviations - Daniel Lacker, Brown University
11th Floor Lecture Hall
3:45 - 4:15pm EDT
Coffee/Tea Break
11th Floor Collaborative Space
4:15 - 4:55pm EDT
What is accomplished by successful non-stationary stochastic prediction - Glenn Shafer, Rutgers University
11th Floor Lecture Hall
5:00 - 6:30pm EDT
Welcome Reception
11th Floor Collaborative Space
Tuesday, June 20, 2017
Time
Event
Location
Materials
9:00 - 9:40am EDT
Mini course III - Pathwise integration for functionals of paths with finite quadratic variation and applications in mathematical finance - Rama Cont, Imperial College London
11th Floor Lecture Hall
9:50 - 10:30am EDT
Mini course IV - Pathwise integration for functionals of paths with finite quadratic variation and applications in mathematical finance - Rama Cont, Imperial College London
11th Floor Lecture Hall
10:30 - 11:00am EDT
Coffee Break
11th Floor Collaborative Space
11:00 - 11:40am EDT
Model risk in term structure modeling - Philipp Harms, University of Freiburg
11th Floor Lecture Hall
11:50 - 12:45pm EDT
Contributed Talks - Yavor Stoev, University of Michigan Tolulope Fadina, University of Freiburg Po-Keng Cheng, The State University of New York at Stony Brook Wenjian Liu, City University of New York
11th Floor Lecture Hall
12:45 - 2:15pm EDT
Break for Lunch / Free Time
2:15 - 2:55pm EDT
Overview of the Stochastic Theory of Portfolios (I) - Ioannis Karatzas, Columbia University
11th Floor Lecture Hall
3:05 - 3:45pm EDT
Overview of the Stochastic Theory of Portfolios (II) - Ioannis Karatzas, Columbia University
11th Floor Lecture Hall
3:45 - 4:15pm EDT
Coffee Break
11th Floor Collaborative Space
Wednesday, June 21, 2017
Time
Event
Location
Materials
9:50 - 10:30am EDT
Data-driven nonlinear expectations - Samuel Cohen, University of Oxford
11th Floor Lecture Hall
10:30 - 11:00am EDT
Coffee Break
11th Floor Collaborative Space
11:00 - 11:40am EDT
Dependence between components of multivariate Markov chains - Markov consistency and Markov Structures - Tomasz Bielecki, Illinois Institute of Technology
11th Floor Lecture Hall
11:50 - 12:30pm EDT
Contributed Talks - Stephan Sturm, WPI Hyungbin Park, Worcester Polytechnic Institute Junbeom Lee, National University of Singapore
11th Floor Lecture Hall
12:20 - 12:30pm EDT
Group Photo
11th Floor Lecture Hall
12:40 - 2:15pm EDT
Break for Lunch / Free Time
2:15 - 2:55pm EDT
Overview of the Stochastic Theory of Portfolios (III) - Ioannis Karatzas, Columbia University
11th Floor Lecture Hall
3:05 - 3:45pm EDT
Overview of the Stochastic Theory of Portfolios (IV) - Ioannis Karatzas, Columbia University
11th Floor Lecture Hall
3:45 - 4:15pm EDT
Coffee Break
11th Floor Collaborative Space
4:15 - 4:55pm EDT
Risk-Averse Designs, Robustness, and Stochastic Games - Tamer Basar, University of Illinois at Urbana-Champaign
11th Floor Lecture Hall
Thursday, June 22, 2017
Time
Event
Location
Materials
9:00 - 9:40am EDT
Robust feedback switching control - dynamic programming and viscosity solutions and ergodicity - Erhan Bayraktar, University of Michigan
11th Floor Lecture Hall
9:50 - 10:30am EDT
Mean-field optimization problems and non-anticipative optimal transport - Beatrice Acciaio, LSE
11th Floor Lecture Hall
10:30 - 11:00am EDT
Coffee Break
11th Floor Collaborative Space
11:00 - 11:40am EDT
A Mean Field Competition - Yuchong Zhang, Columbia University
11th Floor Lecture Hall
11:50 - 12:45pm EDT
Contributed Talks - Florian Stebegg, Columbia University Haoran Wang, The University of Texas at Austin Ning Ning, University of California, Santa Barbara Tushar Vaidya, Singapore University of Technology and Design
11th Floor Lecture Hall
12:30 - 2:15pm EDT
Break for Lunch / Free Time
2:15 - 2:55pm EDT
Nonlinear affine processes - Thorsten Schmidt, University of Freiburg
11th Floor Lecture Hall
3:05 - 3:45pm EDT
Constrained Optimal Transport - Ibrahim Ekren, ETH Zurich
11th Floor Lecture Hall
3:45 - 4:15pm EDT
Coffee Break
11th Floor Collaborative Space
4:15 - 4:55pm EDT
Synchronization of the circadian rhythm: a MFG model for jet lag - René Carmona, Princeton University
11th Floor Lecture Hall
Friday, June 23, 2017
Time
Event
Location
Materials
9:00 - 9:40am EDT
Workshop Recap/ Research Session Overview - Workshop Organizers
11th Floor Lecture Hall
9:40 - 10:10am EDT
Coffee Break
11th Floor Collaborative Space
10:10 - 12:30pm EDT
Research Session
11th Floor Lecture Hall
12:30 - 2:15pm EDT
Break for Lunch / Free Time
2:15 - 3:30pm EDT
Research Session
11th Floor Lecture Hall
3:30 - 4:00pm EDT
Coffee Break
11th Floor Collaborative Space
4:00 - 4:45pm EDT
Research Session
11th Floor Lecture Hall