Abstract
Fractional partial differential equations (FPDEs) are emerging as a powerful tool for modeling challenging multiscale phenomena including overlapping microscopic and macroscopic scales. Compared to integer-order PDEs, the fractional order of the derivatives in FPDEs may be a function of space and time or even a distribution, opening up great opportunities for modeling and simulation of multi-physics phenomena, e.g. seamless transition from wave propagation to diffusion, or from local to non-local dynamics. In addition, data-driven fractional differential operators may be constructed to fit data from a particular experiment or specific phenomenon, including the effect of uncertainties. FPDEs lead to a paradigm shift, according to which data-driven fractional operators may be constructed to model a specific phenomenon instead of the current practice of tweaking free parameters that multiply pre-set integer-order differential operators. This workshop will cover all these areas, including (but not limited to) FPDE modeling, stochastic interpretation of FPDEs, efficient and accurate numerical solutions of FPDEs, mathematical analysis of FPDEs, and application of FPDE models.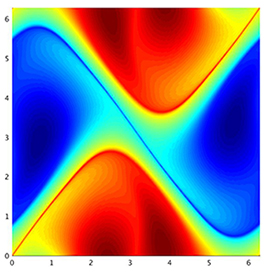 Confirmed Speakers & Participants
Talks will be presented virtually or in-person as indicated in the schedule below.
Speaker
Poster Presenter
Attendee
Virtual Attendee
Harbir Antil

George Mason University

Mario Bencomo

Rice University

Animesh Biswas

Iowa State University

Andrea Bonito

Texas A&M University

Juan Pablo Borthagaray

University of Maryland

Evan Camrud

Iowa State University

Matthew Causley

Kettering University

Cem Celik

Dokuz Eylül University

YangQuan Chen

UC Merced

Zhen-Qing Chen

University of Washington

Yanlai Chen

University of Massachusetts, Dartmouth

Brian Choi

Boston University

Shue-Sum Chow

Brigham Young University

Justin Crum

University of Arizona

Marta D'Elia

Sandia National Laboratories, NM

Weihua Deng

Lanzhou University

Beichuan Deng

Wayne State University

Sougata Dhar

The University of Maine

Geoffrey Dillon

University of South Carolina

Siwei Duo

University of South Carolina

Sergei Fedotov

The University of Manchester

Nicolas Garcia Trillos

Brown University

Roberto Garrappa

University of Bari

Varsha Gejji

Savitribai Phule Pune University

Yiqi Gu

Purdue University

Mamikon Gulian

Brown University

Ling Guo

Shanghai Normal University

Zhaopeng Hao

Worcester Polytechnic Institute

Md Mehedi Hasan

Brown University

Derek Hollenbeck

University of California, Merced

Youngjoon Hong

University of Illinois, Chicago

Xiaozhe Hu

Tufts University

Fukeng Huang

Purdue University

Olaniyi Iyiola

Minnesota State University Moorhead

Jiahua Jiang

University of Massachusetts Dartmouth

George Karniadakis

Brown University

Nikolaos Kavallaris

Brown University

James Kelly

Michigan State University

Abdul Khaliq

Middle Tennessee State University

Dustin Kremer

University of Siegen

Svenja Lage

Heinrich-Heine Universität Düsseldorf

Ying Li

Missouri University of Science and Technology

Yulong Li

University of Wyoming

Xianjuan Li

FUZHOU University/BROWN UNIVERSITY

Changpin Li

Shanghai University

Anna Lischke

Brown University

Yuan Liu

Mississippi State U

Yuri Luchko

Beuth Hochschule für Technik

Marcin Magdziarz

Wrocław University of Science and Technology

Francesco Mainardi

University of Bologna

Zhiping Mao

Brown University

Maryam Naghibolhosseini

Michigan State University

Alberto Nogueira Junior

IBM Research Brazil

Deepak Pachpatte

Dr. Babasaheb Ambedkar Marathwada University

Jeungeun Park

University of Iowa

Charles Parker

Brown University

Camelia Pop

University of Minnesota

Sivaguru Ravindran

University of Alabama in Huntsville

Enrico Scalas

University of Sussex

Peter Scheffler

University of Siegen

Jie Shen

Purdue University

Fangying Song

Brown University

Pablo Raúl Stinga

Iowa State University

Yanhui Su

Brown University

Tim Thompson

The University of Waterloo

Nan Wang

Brown University

Hong Wang

University of South Carolina

Tingting Wang

Brown University

Mahamadi Warma

University of Puerto Rico

Bruce West

US Army Research Office

wuzhe xu

University at Buffalo

Chuanju Xu

Xiamen University

Mohsen Zayernouri

Michigan State University

Yanzhi Zhang

Missouri University of Sciences and Technology

Zhongqiang Zhang

Worcester Polytechnic Institute

Kaixuan Zhang

Brown University

Tinggang Zhao

Lanzhou City University

Lifei Zhao

Brown University

Yue Zhao

Brown University

Tingtao Zhou

Massachusetts Institute of Technology