Abstract
Liquid crystals (LCs) are classic examples of partially ordered materials that combine the fluidity of liquids with the long-range order of solids, and have great potential to enable new materials and technological devices. A variety of LC phases exist, e.g. nematics, smectics, cholesterics, with a rich range of behavior when subjected to external fields, curved boundaries, mechanical strain, etc. Recently, new systems came into focus, such as bent-core LC phases, twist-bend-modulated nematics, chromonics and polymer-stabilized blue phases, with more to be discovered.
Best known for applications in displays, LCs have recently been proposed for new applications in biology, nanoscience and beyond, such as biosensors, actuators, drug delivery, and bacterial control (related to active matter). Indeed, it is believed that the LC nature of DNA once enabled the mother of all applications, namely life itself. New numerical methods and scientific computation is needed to guide new theory and models for these systems that capture the interplay of symmetry, geometry, temperature and confinement in spatio-temporal pattern formation for LCs and extended LC-like systems.
This workshop provides an interdisciplinary platform for computational and experimental research in extended LC-like systems, and how these approaches can yield new theoretical insight for novel LC systems.
Image: Cholesteric LC shells with a thin top let light through from above, resulting in multiple internal selective reflection events. The shells act as a selective optical echo chamber. Picture credit: Dr. Yong Geng.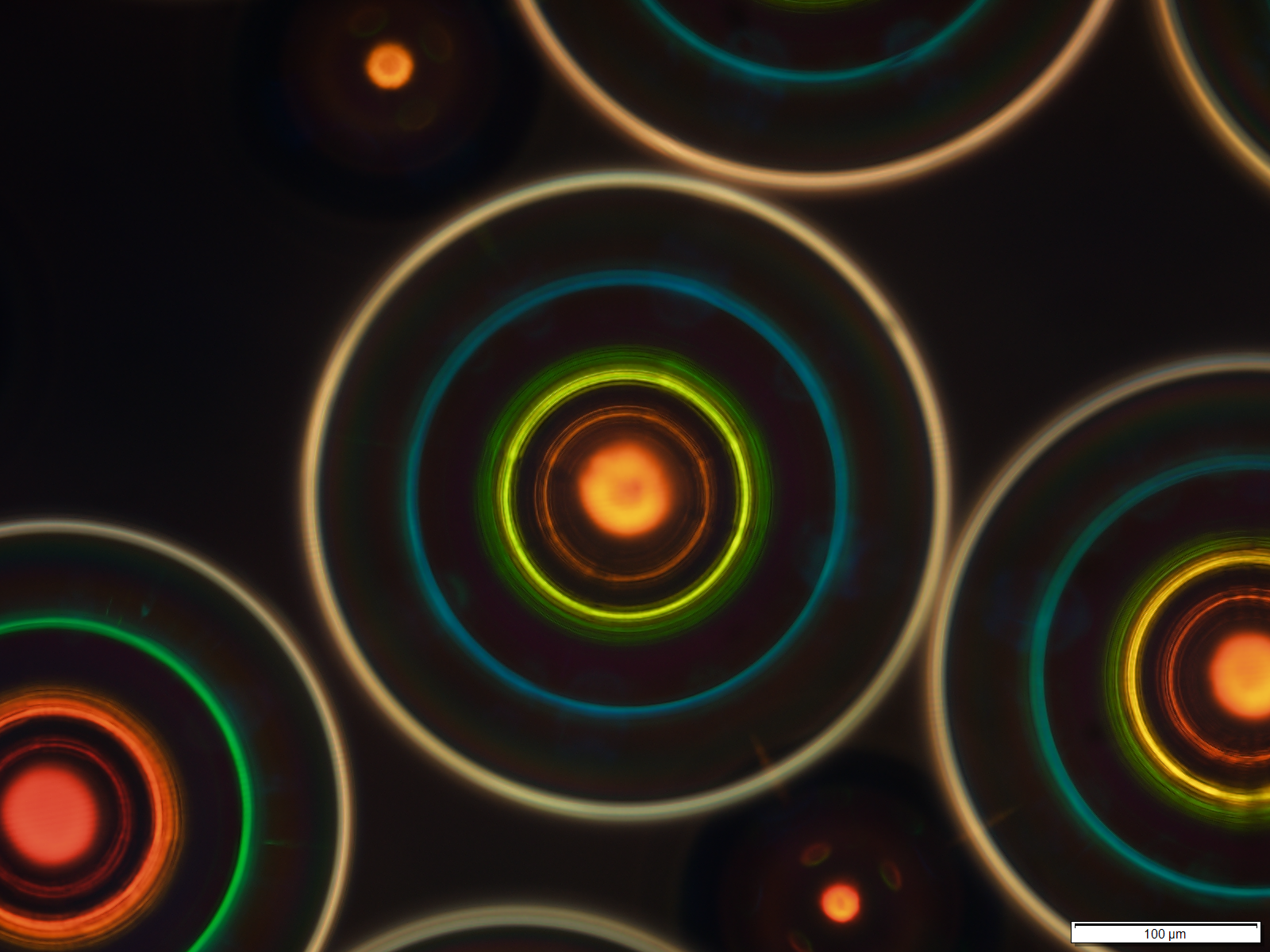 Confirmed Speakers & Participants
Speaker
Poster Presenter
Attendee
Virtual Attendee
James Adler

Tufts University

roberta almeida

University thecnolgy of Paraná

Anca Andrei

Tufts University

Timothy Atherton

Tufts University

Konark Bisht

Indian Institute of Technology Delhi

Maria-Carme Calderer

University of Minnesota

Douglas Cleaver

Sheffield Hallam University

James Dalby

University of Strathclyde

Michael Dimitriyev

Georgia Institute of Technology

Thomas Fai

Brandeis University

Lidong Fang

Shanghai Jiao Tong University

Patrick Farrell

University of Oxford

Zhiyuan Geng

Courant Institute of Mathematical Scieneces

Helen Gleeson

University of Leeds

Joseph Harris

University of Strathclyde

Kirsten Harth

Otto von Guericke University

Alfa Heryudono

University of Massachusetts, Dartmouth

Andrew Hicks

Louisiana State University

Jan Lagerwall

University of Luxembourg

Dmitriy Leykekhman

University of Connecticut

Jichun Li

University of Nevada Las Vegas

Yuan Liu

Wichita State University

Scott MacLachlan

Memorial University of Newfoundland

Ruma Maity

Indian Institute of Technology Bombay

Apala Majumdar

University of Bath/University of Strathclyde

Sabetta Matsumoto

Georgia Institute of Technology

Lidia Mrad

Mount Holyoke College

Ricardo Nochetto

University of Maryland

Peter Palffy-Muhoray

Kent University

Sourav Patranabish

Indian Institute of Technology (IIT) Delhi

Tom Powers

Brown University

Denisse Reyes Arango

Universidad Nacional Autónoma de México

Michele Ruggeri

TU Wien

Giusy Scalia

Université du Luxembourg

Francesca Serra

John Hopkins University

Jie Shen

Purdue University

GIORDANO TIERRA CHICA

UNIVERSITY OF NORTH TEXAS

Epifanio Virga

Università di Pavia

Shawn Walker

Louisiana State University

SULIN WANG

Michigan State University

Qi Wang

University of South Carolina

Yiwei Wang

Illinois Institute of Technology

Jingmin Xia

University of Oxford

Yue Yu

Lehigh University

Ziyao Yu

Purdue University

Jia Zhao

Utah State University
Request Reimbursement
ORCID iD

As this program is funded by the National Science Foundation (NSF), ICERM is required to collect your ORCID iD if you are receiving funding to attend this program. Be sure to add your ORCID iD to your Cube profile as soon as possible to avoid delaying your reimbursement.

Acceptable Costs

1 roundtrip between your home institute and ICERM
Flights on U.S. or E.U. airlines – economy class to either Providence airport (PVD) or Boston airport (BOS)
Ground Transportation to and from airports and ICERM.

Unacceptable Costs

Flights on non-U.S. or non-E.U. airlines
Flights on U.K. airlines
Seats in economy plus, business class, or first class
Change ticket fees of any kind
Multi-use bus passes
Meals or incidentals

Advance Approval Required

Personal car travel to ICERM from outside New England
Multiple-destination plane ticket; does not include layovers to reach ICERM
Arriving or departing from ICERM more than a day before or day after the program
Multiple trips to ICERM
Rental car to/from ICERM
Flights on a Swiss, Japanese, or Australian airlines
Arriving or departing from airport other than PVD/BOS or home institution's local airport
2 one-way plane tickets to create a roundtrip (often purchased from Expedia, Orbitz, etc.)

Reimbursement Request Form

https://icerm.brown.edu/money/

Refer to the back of your ID badge for more information. Checklists are available at the front desk.

Reimbursement Tips

Scanned original receipts are required for all expenses
Airfare receipt must show full itinerary and payment
ICERM does not offer per diem or meal reimbursement
Allowable mileage is reimbursed at prevailing IRS Business Rate and trip documented via pdf of Google Maps result
Keep all documentation until you receive your reimbursement!

Reimbursement Timing

6 - 8 weeks after all documentation is sent to ICERM. All reimbursement requests are reviewed by numerous central offices at Brown who may request additional documentation.

Reimbursement Deadline

Submissions must be received within 30 days of ICERM departure to avoid applicable taxes. Submissions after thirty days will incur applicable taxes. No submissions are accepted more than six months after the program end.