Abstract
Only recently has it become feasible to do large scale verification of the predictions of the Langlands program in higher rank cases and to present the results in a way that is accessible widely to mathematicians. Moving from the understanding of Galois representations attached to elliptic curves to those attached to surfaces and other higher-dimensional varieties poses interesting problems in both arithmetic, algebra, geometry, and analysis.
In this workshop, we will consider computational and other explicit aspects of modular forms in higher rank. Topics covered will include: K3 surfaces and their connections to modular forms on orthogonal groups, algebraic modular forms associated to classical groups and their computation, and motives arising from general Calabi-Yau varieties accessible to explicit methods, including hypergeometric motives.
This workshop will bring together researchers who approach the Langlands program from a number of different perspectives, and our goal is to work in developing both the theoretical and computational aspects in tandem.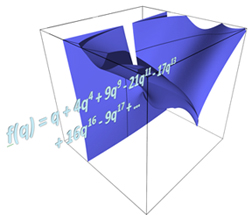 Confirmed Speakers & Participants
Talks will be presented virtually or in-person as indicated in the schedule below.
Speaker
Poster Presenter
Attendee
Virtual Attendee