GirlsGetMath
Is a five-day non-residential program open to 20-25 high schoolers, regardless of gender, who will be rising 10th or 11th-grade students at the time of the program
Occurs at Brown University's Institute for Computational and Experimental Research in Mathematics (ICERM)
Seeks to motivate young adults to consider careers in mathematics, computation, and quantitative fields
Provides an affirming environment that encourages participants to explore, and invites them to excel in, the mathematical sciences
Incorporates interactive lectures, hands-on activities, and games that help bring home mathematical concepts in fun ways
Has daily computer-labs to introduce participants to programming skills and coding
Covers topics like cryptography, the mathematics of voting, image processing, fractals, prime numbers and factoring
Is taught by accomplished professors, undergraduate and graduate teaching assistants, all serving as career models and scientific mentors
Expanding the Program Nationally
ICERM's long-term goal has been to replicate GirlsGetMath on a national basis, and started by making its interactive and engaging educational modules now available on-line by request in 2016 (see Curriculum below).
Thanks to funding from the JetBlue Foundation in 2018, ICERM developed a train-the-trainer opportunity for nine faculty who were interested in replicating a GirlsGetMath program at their home institutions. The observational training occurred during ICERM's summer 2019 GirlsGetMath program. The train-the-trainer participants were then given the opportunity to apply for start-up seed funds to run their own programs. Six out of the nine trainees applied for the four available seed grants. Through the seed grants, GirlsGetMath programs were held at Boston University, Colorado State University, Stonehill College, the University of Central Oklahoma, and the University of Michigan - Dearborn. We are grateful to the JetBlue Foundation for their flexibility.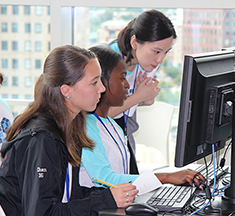 How You Can Make a Difference
Donations and gifts to the GirlsGetMath@ICERM program can come in many forms. A gift as small as $1,000 will cover the cost for one participant's experience; a $50,000 donation will seed the planned national franchise of this program. Gifts and donations can be named or anonymous.
$500 funds two Alumni Counselors
$1,000 funds a scholarship for one student to attend the program
$18,000 funds one Alumni Reunion Event (career panels, coding marathons, ICERM RI high school math teacher of the year award ceremony)
$25,000 sponsors one summer GirlsGetMath program
$50,000 provides seed funding for a GirlsGetMath franchise
All gifts to GirlsGetMath@ICERM program are tax-deductible to the extent allowed by federal law under the umbrella of Brown University's status as a 501(c)(3) charitable institution.
Comments & Feedback about GirlsGetMath
Recent Press and Write-ups about GirlsGetMath
Brown University's student newspaper, the Brown Daily Herald featured an article about the 2018 GirlsGetMath@ICERM program.
GirlsGetMath organizer Katharine Ott wrote a guest post on the American Mathematical Society blog about the 2017 GirlsGetMath program. Visit the AMS blog to learn more about the event.
GGM 2019 Alumnae Feedback
100% of the 2019 program's exit survey respondents would recommend GirlsGetMath to their friends.
"All of the faculty leaders and TAs in the GirlsGetMath program were welcoming, knowledgeable, and a joy to be around. They made it clear from the first day that we were going to be in an environment of exploration and collaboration. They all engaged will all the students and were very helpful in the help. Their lectures were interactive creating a communal learning process."
"The computer labs in the program were an incredible opportunity for us to apply the knowledge we had gained to different situations in a hands on way. Although this was my first time working with MatLab, the TA's and professors helped to guide me through the program, and by the end of the week, I was comfortable writing and exploring lines of code. Each day in the lab, we had more skills to build on and were able to see our abilities grow. I particularly liked the lab in which we were editing images because it brought together the coding we were learning and the mathematical concept of matrices we had learned about together to form art."
"The highlight of this program for me was to see math through new perspectives and applications. In this program, I was able to see and experiment with the ways in which math affects our daily lives which helped my love for the subject to grow."
"For me, the highlight of participating in the GGM program was going to the Brown University campus. It was really interesting to learn about everything that goes on there and it helped me to get an idea of what I might want to when I go to college and what options I'll have when that time comes."
"My favorite was getting to know people who were just as excited to learn math as I am."
"I liked meeting new people who share my interests from all over Rhode Island."
"The highlight for me was being able to learn some more advanced math and math concepts that are not typically covered in math classes at school. Specifically, the image manipulation and cryptography lessons were my favorite."
"I am so grateful for this opportunity which has truly broaden my horizons, connected me with others who have a passion for math, and has pushed me to learn more about math and its interactions with the world."
"The topic that I enjoyed the most was apportionment and gerrymandering. I enjoyed these topics because they showed me the role that mathematics has in ensuring fairest within society. This topic also represented an unsolvable problem that required critical thinking to find the closest possible solution."
"I really liked image processing. It was interesting to learn about how image filters are created, and the MATlab activity we did was really fun!"
"I liked the photo editing and the cryptography the most. I personally enjoy cryptography, there is no specific reason, but I loved the photo editing and the uses of matrixes because it felt the most math-related course to me. I also love matrixes so it may be a bias opinion."
GGM 2019 Parent Feedback
"My daughter benefitted greatly from seeing the different ways to use math in the "real world" but also from the experience of meeting both faculty and other students who she had shared interests with and could form easy relationships. Thank you so much for the experience."
"It introduced math in a very fun, non text book way. It was amazing to see my daughter talk about all the 'fun' things she did during this camp. Thank you."
"She learned about new opportunities in math and how she can apply it to future studies/career. She also learned about various topics that would not be covered in a school and expanded her knowledge significantly. The labs provided great exposure in computer science that she also would not have received at school. Overall she came out with a great enthusiasm for math and all of the possibilities it holds for the future."
"It was an amazing week! It truly made math beautiful and exposed my daughter to multiple real-world applications across a variety of topic areas and fields. And it was FUN! She could not stop talking about the content and the demonstrations and what she learned each day. Plus, the relationships she built with professors and students. She did not want to leave!"
"The program offered an opportunity to meet other girls and professional women with similar interests and career goals. My daughter truly enjoyed her week at ICERM. She was exposed to many new topics and many different ways to approach mathematics. It was a wonderful environment to learn in. I also feel that opportunity such as this help discern what areas are of possible interest, or not interest when deciding what path the student may take."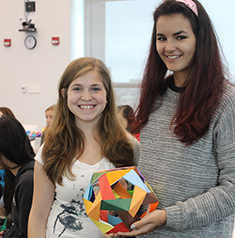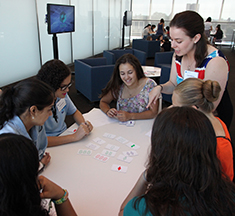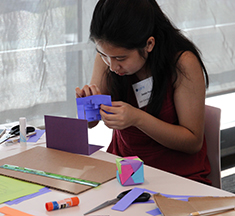 Curriculum
GirlsGetMath Curriculum Overview
ICERM makes modules of its GirlsGetMath curriculum available to high school STEM teachers looking for challenging material for their students, and to college or university faculty members interested in replicating a GirlsGetMath program at their institutions (see sample GirlsGetMath program schedule). These curriculum modules have been developed and vetted over time at the GirlsGetMath@ICERM program (see a summary of the available curriculum modules).
GirlsGetMath Video Module Overview
The GirlsGetMath faculty leaders have developed a small selection of online modules related to the GirlsGetMath curriculum. They consist of the following videos that interested students can complete on their own or with a teacher's guidance.
Request access to the GGM curriculum modules and/or the video module solution sets
Lab: An Introduction to vectors and matrices in Octave
In this lab you will learn how to perform matrix computations in Octave, a free numerical software that uses a language compatible with MATLAB. To perform the operations below, point your web browser to octave-online.net. For this entire lab, you will only need to enter lines of code into the Octave Command Prompt. No sign-in is necessary.
Materials and Resources
Lab: Recommendation Systems
In this lab you will work through some examples of the computations needed to create a basic recommendation system and then go on to make a recommen- dation system based on a sample of survey data. The activities below are written to be completed using Octave, which you can access at octave-online.net. To become familiar with basic matrix and vector commands in Octave, it is recommended that you complete the introductory lab before this activity.
Materials and Resources
Lab: Modular Arithmetic
This module introduces modular arithmetic, sometimes known as "clock arithmetic." The module covers basic properties of addition, multiplication, and multiplicative inverses modulo n.
Materials and Resources
Lab: Modular Arithmetic and Cryptography
In this lab we will practice modular arithmetic and encoding/decoding messages using Octave, which you can access at octave-online.net.
Materials and Resources
Acknowledgements
With appreciation to the following sources:
GirlsGetMath Past Programs