Abstract
The Nobel-Prize-winning detection of gravitational waves from binary black hole systems in 2015 by the Laser Interferometer Gravitational-Wave Observatory (LIGO) and the LIGO Scientific Collaboration has opened a new window on the universe. In addition, the 2017 observation of both gravitational and electromagnetic waves emitted by a binary neutron star system marked a new era of multi-messenger astronomy. While these successes are a remarkable experimental feat, they also constitute a significant computational achievement due to the crucial role played by accurate numerical models of the astrophysical sources in gravitational-wave data analysis. As current detectors are upgraded and new detectors come online within an international network of observatories, accurate, efficient, and advanced computational methods will be indispensable for interpreting the diversity of gravitational wave signals. This semester program at ICERM will emphasize the fundamental mathematical and computational challenges in computational relativity and gravitational-wave data science.
The aim of this semester program is to bring together pure and applied mathematicians, physicists, and statisticians with the goals of fostering an environment for in-depth collaboration and cross-pollination of ideas between these communities, working towards solving the most pressing mathematical modeling and numerical simulation issues facing the gravitational wave community, and cultivating new subfields within mathematics that focus on important, pressing issues related to gravitational waves as well as providing mathematicians with new questions and problems to explore.
The program's areas of focus will be: (i) mathematical and computational approaches for solving the source-free Einstein field equations (a nonlinear, coupled, hyperbolic-elliptic PDE system) including fundamental aspects of general relativity or alternative theories of gravity, (ii) mathematical and computational approaches for the Einstein field equations with matter and magnetic fields, as well as the multi-scale, multi-physics modeling challenges for such problems, and (iii) methods for the detection, classification, and Bayesian inference of relativistic objects and gravitational-wave datasets, especially by considering under-explored techniques such as machine learning or uncertainty quantification.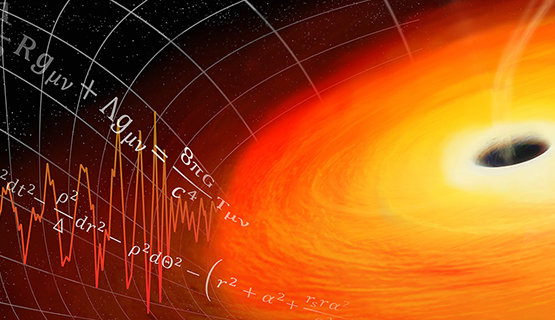 Confirmed Speakers & Participants
Speaker
Poster Presenter
Attendee
Daniel Appelö

University of Colorado Boulder

Sep 9-Dec 11, 2020

Stefanos Aretakis

University of Toronto

Oct 5-9, 2020

Thomas Baumgarte

Bowdoin College

Oct 26-30, 2020

Andreas Bauswein

Heidelberg Institute for Theoretical Studies

Oct 26-30, 2020

Marc Casals

CBPF

Sep 9-Dec 11, 2020

Yingda Cheng

Michigan State University

Oct 5-9, 2020

Mihalis Dafermos

Princeton University

Oct 5-9, 2020

Claudia De Rham

Imperial College London

Oct 26-30, 2020

Marcelo Disconzi

Vanderbilt University

Oct 26-30, 2020

Kenneth Duru

Australian National University

Oct 5-9, 2020

Zachariah Etienne

West Virginia University

Oct 5-9, 2020

Scott Field

University of Massachusetts Dartmouth

Sep 9-Dec 11, 2020

Robert Fisher

University of Massachusetts Dartmouth

Sep 9-Dec 11, 2020

Francois Foucart

University of New Hampshire

Oct 26-30, 2020

Jonathan Gair

University of Edinburgh

Sep 9-Dec 11, 2020

Elena Giorgi

Columbia University

Oct 5-9, 2020

Tom Hagstrom

Southern Methodist University

Oct 5-9, 2020

Michael Holst

University of California, San Diego

Sep 9-Dec 11, 2020

Jae-Hun Jung

SUNY Buffalo

Sep 9-Dec 11, 2020

Gaurav Khanna

University of Massachusetts Dartmouth

Sep 9-Dec 11, 2020

Stephen Lau

University of New Mexico

Sep 9-Dec 11, 2020

Luis Lehner

Perimeter Institute

Sep 9-Dec 11, 2020

Jichun Li

University of Nevada Las Vegas

Sep 9-Dec 11, 2020

Steven Liebling

Long Island University

Sep 9-Dec 11, 2020

Lionel London

MIT Kavli Institute for Astrophysics and Space Research

Sep 9-Dec 11, 2020

Jonathan Luk

Stanford University

Oct 5-9, 2020

Georgos Moschidis

University of California, Berkeley

Oct 26-30, 2020

Scott Noble

The University of Tulsa

Oct 26-30, 2020

Maria Okounkova

California Institute of Technology

Oct 5-9, 2020

Carlos Palenzuela

Universitat de les Illes Balears

Sep 9-Dec 11, 2020

Rosalba Perna

Stony Brook University

Oct 26-30, 2020

Harald Pfeiffer

Albert-Einstein-Institute, Potsdam, Germany

Oct 5-9, 2020

Richard Price

Massachusetts Institute of Technology

Sep 9-Dec 11, 2020

David Radice

Pennsylvania State University

Oct 26-30, 2020

Deirdre Shoemaker

Georgia Institute of Technology

Oct 5-9, 2020

Chi-Wang Shu

Brown University

Sep 9-Dec 11, 2020

Jared Speck

Vanderbilt University

Sep 9-Dec 11, 2020

Barry Wardell

University College Dublin

Sep 9-Dec 11, 2020

Jeffrey Winicour

University of Pittsburgh

Sep 9-Dec 11, 2020

Helen Yee

NASA Ames Research Center

Sep 9-Dec 11, 2020
Visit dates listed on the participant list may be tentative and subject to change without notice.
Application Information
ICERM welcomes applications from faculty, postdocs, graduate students, industry scientists, and other researchers who wish to participate in one of our semester-long programs. Some funding may be available for travel and lodging. Applications will be accepted up until the start of the semester program and will be considered as long as funds and space are available.
Any graduate student who applies should have research interests that relate to the program topic; a statement of support from the advisor is required. In addition, graduate students will only be considered if they can remain in-residence for a minimum of six weeks.
Postdoctoral Fellowships
Interested in applying for a salaried postdoc position for this program? Applications are accepted via Mathjobs.org (search under "B" for Brown University/ICERM) between June and December in the year prior to the program's start date.
Your Visit to ICERM
ICERM Facilities

Traveling to ICERM

Lodging/Housing

Childcare/Schools

Technology Resources

Discrimination and Harassment Policy

Exploring Providence
Visa Information
Contact visa@icerm.brown.edu for assistance.
Need a US Visa?

J-1 visa requested via ICERM staff

Eligible to be reimbursed

B-1 or Visa Waiver Business (WB) –if you already have either visa – contact ICERM staff for a visa specific invitation letter.

Ineligible to be reimbursed

B-2 or Visa Waiver Tourist (WT)

Already in the US?

F-1 and J-1 not sponsored by ICERM: obtain a letter approving reimbursement from the International Office of your home institution PRIOR to travel.

H-1B holders do not need letter of approval.

All other visas: alert ICERM staff immediately about your situation.

ICERM does not reimburse visa fees. This chart is to inform visitors whether the visa they enter the US on allows them to receive reimbursement for the items outlined in their invitation letter.
Financial Support
Acceptable Costs

1 roundtrip between your home institute and ICERM
Flights on U.S. or E.U. airlines – economy class to either Providence airport (PVD) or Boston airport (BOS)
Ground Transportation to and from airports and ICERM.

Unacceptable Costs

Flights on non-U.S. or non-E.U. airlines
Flights on U.K. airlines
Seats in economy plus, business class, or first class
Change ticket fees of any kind
Multi-use bus passes
Meals or incidentals

Advance Approval Required

Personal car travel to ICERM from outside New England
Multiple-destination plane ticket; does not include layovers to reach ICERM
Arriving or departing from ICERM more than a day before or day after the program
Multiple trips to ICERM
Rental car to/from ICERM
Flights on a Swiss, Japanese, or Australian airlines
Arriving or departing from airport other than PVD/BOS or home institution's local airport
2 one-way plane tickets to create a roundtrip (often purchased from Expedia, Orbitz, etc.)

Reimbursement Request Form

https://icerm.brown.edu/money/

Refer to the back of your ID badge for more information. Checklists are available at the front desk.

Reimbursement Tips

Scanned original receipts are required for all expenses
Airfare receipt must show full itinerary and payment
ICERM does not offer per diem or meal reimbursement
Allowable mileage is reimbursed at prevailing IRS Business Rate and trip documented via pdf of Google Maps result
Keep all documentation until you receive your reimbursement!

Reimbursement Timing

6 - 8 weeks after all documentation is sent to ICERM. All reimbursement requests are reviewed by numerous central offices at Brown who may request additional documentation.

Reimbursement Deadline

Submissions must be received within 30 days of ICERM departure to avoid applicable taxes. Submissions after thirty days will incur applicable taxes. No submissions are accepted more than six months after the program end.
Associated Semester Workshops